[Compiling many of the statistics from XNA Community Games' initial data dumps, Gamasutra sister site GamerBytes' editor Ryan Langley takes an in-depth look at regional sales and sales over time for two notable XNACG games.]
Over the past week, we've looked at the
sales data for tens of XNA games
, but today we're specifically looking at two of the most popular ones --
Word Soup
and
ZP2K9
. A reminder -- as you'll see from our
previous posts
,
Word Soup
has had 46,405 trial downloads and 9,153 purchases (a 19.7 percent conversion ratio) for total revenue to the developer of $31,010, one of the most successful XNACG titles.
ZP2K9
has had
19,628 downloads and 3,386 purchases for a total revenue to developer of $5,735, and a 17 percent conversion ratio. We look into the regional sales for both titles and discuss how each region has reacted to XNA Community Games, and which aren't paying attention to the XNA Community Game space. We also look at what conversion rates from trials to sales are like at the later points in the life. Starting off, here's the regional breakdown for
Word Soup
: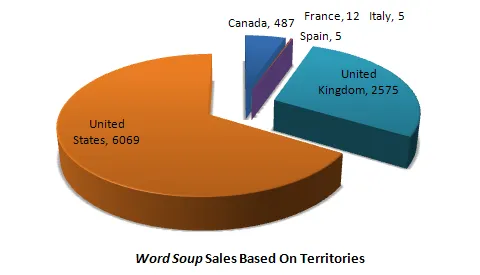 Word Soup
, while a version of a very popular pub game in Great Britain, still had its largest base in America. 66 percent of the overall sales were in the United States with the United Kingdom taking up 26 percent of sales, and Canada third with 6 percent. The final 3 regions -- France, Italy and Spain all did incredibly poorly, making up a total of 0.25 percent of the total sales. Less than a percent, a mere 22 copies in all.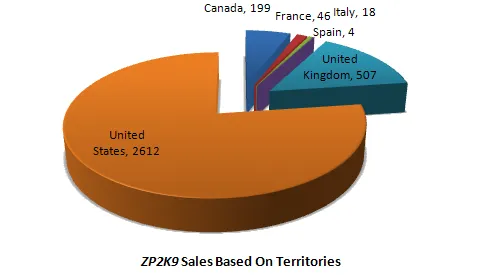 At the same time
ZP2K9
has has somewhat similar results. 77 percent of sales were from the United States, 15 percent in the United Kingdom and 6 percent in Canada. Again the collection of France, Italy and Spain made up very little -- a total of 2 percent of overall sales with 68 copies out of the 3386 copies the game sold. Generally speaking the lower United Kingdom and Canada numbers are expected, as they've both had
far
lower
sales than that of the United States. While France, Italy and Spain have certainly not been that big in terms of Xbox sales, these statistics seem quite low. Currently, France stands at
around a million
systems while Spain sits
probably
near half a million at this point. However, It appears that these regions may be a little confused about where exactly the XNA Community Games are currently available, and I can't blame them - with so few regions available many Xbox 360 owners in those three may just believe Europe as a whole do not have access to these games, or simply don't know they exist at all. In addition,
Word Soup
may have some problems due to the English nature of the game - and lack of localized versions is definitely a potential problem -- but it still seems far too drastic of a drop. It's something that certainly has to be worked on by Xbox teams in those regions. Both developers were kind enough to let us look at sales data for their games, to give us an understanding of the sales XNA games follow throughout their life. Both games had sudden surges during their life, so this data is not the best to analyze, but we'll do with what we have. Despite the low sales, it is still worth releasing these games in all regions. Currently few games really have much text in them, so translating what is there is generally not as difficult as it may appear. It will also help further down the line when XNA Community Games are open to other regions, and a whole new resource for sales.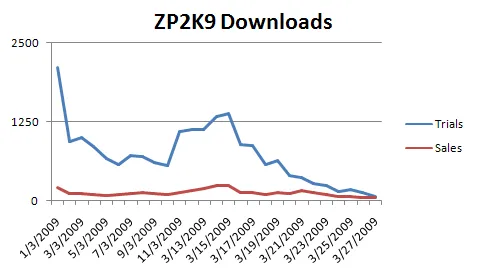 For
ZP2K9
the title saw a great amount of trial games downloaded on its first day of release, but little further on. Its sudden spike was unfortunately short lived, but despite the appearance of low sales, the game has continued to be in Major Nelson's Top 10 lists every week, so in overall terms, it's been doing quite well.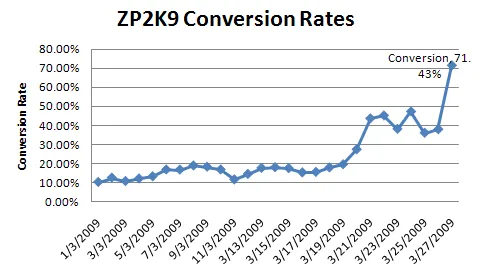 When a game has gone off the newest releases list and out of the public eye, you will find that despite lower sales overall, the conversion rate increases. This is due to a couple of reasons, we believe. Firstly, more people are specifically looking for your game, and therefore more likely to buy it. Secondly, it's likely that people who already downloaded the trial version some time beforehand (when download numbers were much bigger) have subsequently bought it some days later, thereby making the ratio of downloads that day to sales that day look much higher. ZP2K9 has experienced a 40 percent conversion rate to even 80% on some individual days, just looking at downloads versus sales.

The people behind Word Soup were kind enough to provide us with this graph showing their overall sales. Their huge peak was during the start of XNA Community Games being available, while peaks post launch were due to a bug in the system which causes updated games to be in the new releases list. The game has been selling quite steady for several months now. We can also reveal that the daily 'downloads vs. sales' conversion rate for the last month of was quite high, usually around 50 percent.In fact, one day actually got a conversion rate of 108 percent, meaning more people bought the game than downloaded the demo. Certainly not the norm, but always nice to see such an anomaly. Next week, we'll look at what both Microsoft and developers can do to help the XNA Community Games get more exposure.