[Following up his XBLA and PSN analysis sister console download site GamerBytes' editor Ryan Langley looks at Xbox Live Community Games charts for March, including new standouts like Little Racers and ZP2K9.]
With the March NPD U.S. game sales numbers just a few hours away, GamerBytes looks back at the last month of sales for downloadable spaces, with the data available to us and the public. Specifically, every week, Larry 'Major Nelson' Hryb posts a Top 10 for the Xbox Live Community Games, which gives us somewhat an inside look at which games are selling better than others. It's no secret that the XBL Community Games
are not selling as well as some developers hoped
. But many of the games that appeared in the Top 10 list were not a part of the analysis we did. Below, we have a look at the new titles for the month, look at the comparison between the sales of
ZP2K9
and its positions each week, and then finish it off with a bit of armchair analysis and hard opinion. Let's start out with the top 10 rankings, as revealed by Major Nelson, for the month on XBLCG: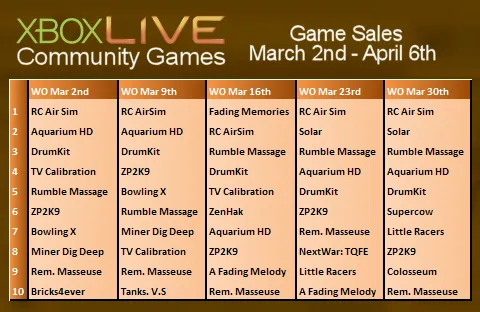 Standout Titles
The list has not changed a lot from month to month. For the most part, new titles such as
Fading Memories, NextWar, Tank V.S
or
ZenHak
have appeared for a single week and then dropped off quickly. The 3 standout new titles for the month were
ZP2K9, Solar
and
Little Racers
, all which got past a week of being in the Top 10. While
ZP2K9
was released at the very end of February, it has stayed in the Top 10 for the whole month of March.
Solar
has kept itself in 2nd place for two weeks running, and
Little Racers
has continued to stay in the lower parts of the countdown for two weeks now. Considering its price of 400MSP, that's not too bad. Speaking of price, there are few games in the list that are above the 200MSP price point, which is not surprising. Besides
Little Racers
, the only other titles are
Supercow
,
ZenHak
and the return of
Colosseum
after a price cut at the end of the month. As all these games are twice as expensive, they would have made twice as much money, so being 400MSP or above and not being on the list doesn't mean they're doing badly, relatively speaking.
ZP2K9 Sales And Position
A few weeks ago we delved into the sales of
ZP2K9
, and going by those statistics, we can see how other games are doing, based on its position in the Top 10. On the week of March 2nd
ZP2K9
sold 769 units and got 6th place. On the week of the 9th it sold 1,177 units and reached 4th place, and on the week of the 16th it sold 1,130 units and fell to 8th place. So it's not doing so bad at all, and the stats mean that those games above it are doing more units than that per week.
RC Air-Sim
, for example, has as of today been on the top of the list for 10 of the last 11 weeks, so going by that it has done better than any other XBLCG title. We'd speculate that it could have done at least 20,000 units, and
Aquarium HD
has been sitting quite high as well for 6 weeks, and should have hit at least 5,000+ units as well just during that time. So it's perhaps not too bad for some developers, but it still looks like a lot of developers looking to create more "core" games -- rather than cheaper software toys -- might have some work ahead of them if they wish to make a good amount of money off of their title.
[We thank Major Nelson for releasing these statistics, as well as James Silva for releasing his statistics for ZP2K9 to us. We also thank our colleagues at Gamasutra and on NeoGAF for spurring discussion and bringing more analysis to the table.]