[
Gamasutra analyst Matt Matthews looks at the changing U.S. retail game landscape as part of our November NPD analysis, finding that Xbox 360 software is surging into the sales gap left by a declining Nintendo market.
] Amazing Wii growth drove much of the surge in software sales through the end of 2008. Some of the year-on-year decline in 2009 must be attributed to the failure of Nintendo's platform to repeat that performance. According to Michael Pachter, an industry analyst for Wedbush Securities, Wii software revenue in November 2009 declined 18 percent from the same time in 2008. The only systems to see more dramatic decreases were Sony's PlayStation 2 and PlayStation Portable (PSP), which were down 69 percent and 21 percent, respectively. While that certainly paints a dire picture for Sony's decade-old system and its star-crossed handheld, we find it especially troubling that the industry-leading console saw its software sales fall so far. It is possible, although unlikely, that Wii software unit sales remained roughly the same from November 2008 to 2009. Given that software prices have, on average, declined over the past year, we suspect that there was a modest decline in Wii software unit sales, between 10-15 percent. Unfortunately for Nintendo, software sales for its Nintendo DS also fell in November. As a result, Nintendo's total share of the software market declined significantly. According to data released by Microsoft and comments made by analysts, the following picture of the software market in November emerges. As the figure below shows, Nintendo's two key platforms – the Wii and DS – claimed nearly 47 percent of all software dollars in November 2008.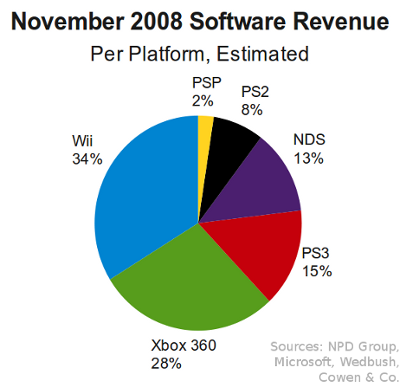 The share we can attribute to the Xbox 360 amounts to 28%. Sony accounts for exactly one quarter of the software revenue with its three platforms: PlayStation 3, PlayStation 2, and PSP. After 12 months, the picture has shifted dramatically. As the following figure shows, software revenue from the Wii now accounts for under 30% of the market. Combined with the share from DS software, Nintendo now holds only around 40% of the market – a drop of 7 points from the previous year.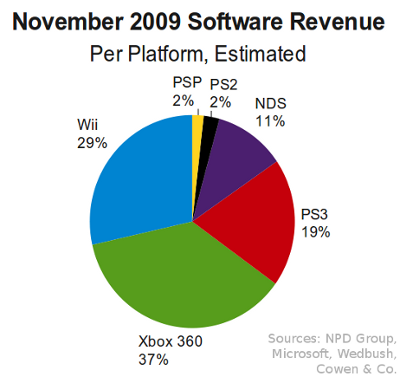 Software performance for the PlayStation 3 has improved throughout the year, and it was one of the two platforms (along with the Xbox 360) to show year-over-year growth in November. Unfortunately for Sony, revenue from PlayStation 2 software has nearly collapsed. We now estimate that Sony's total share of the market contracted slightly to around 23% in November of 2009. Microsoft's Xbox 360 has stepped into the gap left by its competitors and increased its share of the November software market almost 10 points, from 28% in 2008 to 37% in 2009. In raw dollar terms, that's an increase of over $100 million. Given that the Xbox 360 version of
Call of Duty: Modern Warfare 2
brought in at least $260 milllion by our estimates, all of the growth of Microsoft's software revenue can be attributed to its commitment to making the Xbox 360 the platform most associated with the best-selling game of the year.