[Gamasutra analyst Matt Matthews looks at Microsoft's surprise Xbox 360 hardware win in U.S. November sales as part of today's NPD analysis, linking it to Modern Warfare 2's launch and a resulting surge of Xbox-centric console buyers -- also touching on Wii and PSP sales.]
One of the more interesting twists in this month's figures was the reversal of fortunes for the Xbox 360 and the PlayStation 3. We (and others, like analysts for EEDAR and Wedbush Securities) expected Sony's console to post higher hardware sales than its rival, yet the final tally showed that Microsoft had sold better than 100,000 more systems. Ultimately the decision to purchase a console probably comes down to what the consumer feels is the best value for his gaming dollar. Sony has spent its time in purgatory building value into its console was not capable of lowering the price. Once Sony was able to drop its price, it effectively relaunched the system at $300 using a new Slim design in August of this year. Given that the $300 model of the Xbox 360 has recently outsold the cheaper one, we felt that consumers would view the similarly priced PS3 Slim as a better value. In both September and October, that concept appeared to play out as the PS3 outsold the Xbox 360. So the question becomes: What changed in November? Furthermore, one must ask what we can expect in December and beyond. As with almost everything in November 2009, a key factor was the launch of
Call of Duty: Modern Warfare 2
. Clearly the Xbox 360 is the preferred platform for this game, and Microsoft has made multiplayer games and Xbox Live a key selling point for its system. While we are not privy to the number of Xbox 360 systems bundled with the
Modern Warfare 2
, we can observe that the average price of Microsoft's system appears to have seen a significant increase in its average selling price in November. That suggests that consumers were buying the
Modern Warfare 2
bundles and possibly a higher proportion of the $300 Xbox 360 Elite systems, the ones geared for online gaming out-of-the-box. Here's the full set of sales and year on year comparisons for U.S. retail console sales for this and last November: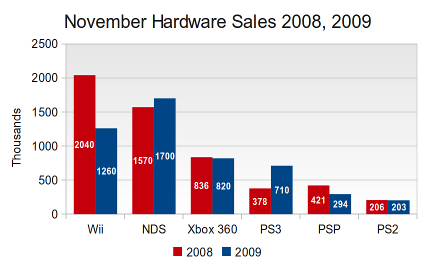 In this context, we believe that it wasn't so much that we overestimated the PlayStation 3 – that system's sales were quite strong, historically – but rather that we underestimated the Xbox 360. As the effect of
Modern Warfare 2
diminishes in December, so too may the advantage for the Xbox 360. Back in September of this year, while reflecting on PlayStation 3 sales in August, we suggested that Sony's current-generation console could reach 2.0 – 2.5 million systems in the final quarter of 2009. Entering December, the console is already halfway to that goal and we now expect the PlayStation 3 will reach the lower end of that estimate. As for Nintendo's Wii, its year-to-date sales are down 28%. Even with the system's price cut to $200, the demand in November simply wasn't as frantic as it was last year. But, with over 1.2 million systems for the month, there is simply no reason to be bearish about the system's future. Look for Wii sales of around 2 million systems in December, which will again be healthy by anyone's standards. We remain baffled by Sony's strategy for the PlayStation Portable. With a new model on the market and a strong software push, both at retail and online, one would expect the handheld to have at least some traction with consumers. However, sales are down 34% for the year and, as the figure above shows, over 30% in just the month of November.