[
As part of his monthly analysis of NPD numbers, Gamasutra analyst Matt Matthews contextualizes October's modest U.S. game software retail revenue growth in the face of a larger, much more complex picture for video game software year to date, including platform leaders and a startling annual five-fold decline for the music genre.
] While there was a modest 6% year-over-year increase in software revenue for October 2010, total software revenue so far in 2010 is still down 7%, or $400 million. To understand what's going on beneath the surface, we've broken out software revenue in a variety of ways. For example, one could consider the question of how much the year-to-date revenue on each system has changed. There are currently six active systems on the market: Sony's PlayStation 2 and 3 and Portable, Nintendo's Wii and DS, and Microsoft's Xbox 360. Considering the month-to-month (relative) changes in revenue for each system reported by analysts and comments by Microsoft and Sony about revenue for their respective platforms, we have pieced together estimates for each of these six systems. The figure below breaks out YTD software revenue from 2009 and 2010 by platform. The systems are ranked from top to bottom by YTD software revenue in 2010. (Note that this figure shows only the January to October period for both 2009 and 2010. Even though full-year figures are available for 2009, we're making a comparison between the same period in both years.)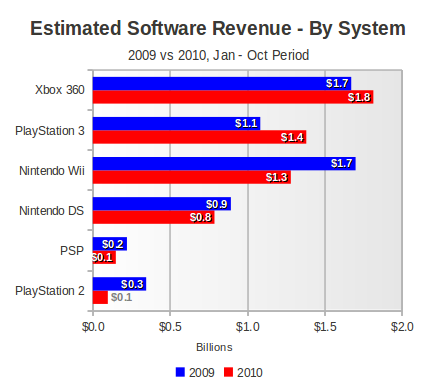 Starting at the bottom, the venerable PlayStation 2 has seen its YTD software revenue drop by 70%, which is not that unexpected for a system which just completed ten years in the U.S. market. The PSP, which has been on the market for over five and a half years, also saw a dramatic decline (over 30%) in its software revenue so far this year. Its slower fall has put it ahead of the PS2 in terms of revenue this year, but it still accounts for less than 3% of the software market, by our estimates. Software revenue on Nintendo's DS platform, which this month begins its seventh year on the market, dropped by a somewhat more modest 12% from 2009 to 2010. Still, it accounts for nearly 1 in ever 7 software dollars spent so far this year. The top three software revenue generators are the current-generation consoles, and here is where things get interesting. In October 2009, the Wii had generated the most software revenue of any single system on the market, just slightly ahead of the Xbox 360. However, at this point in 2010 it is third, behind the PlayStation 3. In contrast, the Xbox 360 has nudged its revenue up over 8%, helped in great part by sales of
Halo: Reach
in September and October. The PlayStation 3 has done even better, relatively speaking, with software revenue going up by over 25%. These figure are even more striking when one considers the installed hardware bases. The Nintendo Wii has passed the 30.5 million system mark, or over 2.2 times the size of the PS3 installed base of 13.7 million systems. With that kind of advantage, it is notable that the PS3 has moved approximately $100 million more software this year than has the Wii. Simply put, the average PS3 owner is spending significantly more money on software than is the average Wii owner. Note, however, that this does not mean that the PS3 is selling more unit of software – just that it is generating more revenue. Due to the differential in average software prices for each of the platforms, the Wii undoubted has moved more units of software in 2010, but more money has been spent on PS3 software. To sum up our first look at software revenue: The three oldest systems on the market along with the Wii are all seeing declines in software revenue (down 27% or about $840 million), while the Xbox 360 and PS3 are showing increases (up 16% or about $440 million). If we group platforms by manufacturer, we get another view of software revenue, shown below.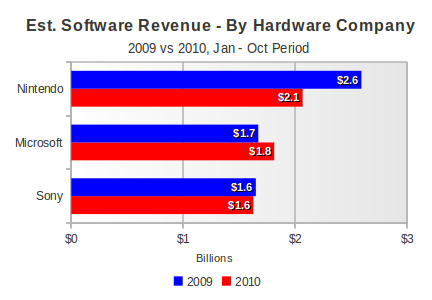 Since Microsoft has only the one platform, the Xbox 360, the story we see here is the same: over $100 million in software revenue growth. For Sony, the so-called PlayStation family of systems has realized a small, approximately $20 million, decline in software revenue. The company has at last generated enough demand with its flagship console to overcome almost all of the software losses its is experiencing on the PS2 and PSP. However, these systems appear to be on terminal trajectories, and if their revenues effectively go to zero in 2011 then the question becomes whether the PS3 can fill that gap – about $450 million – in Sony's revenue stream. The larger story in the figure above, however, is the $500 million contraction in software revenue on Nintendo's platforms. Industry-wide, retail video game software revenue has fallen only $400 million, and Nintendo's systems have contributed all of that loss and more. If it weren't for strong Xbox 360 software revenue this year, the industry's hole would be even deeper. One last view of all software, just to show how the current decline has many faces. Below we pulled out the PlayStation 2 revenue, since it is both small and an anomaly in the current market. Then we considered consoles (Xbox 360, PS3, and Wii) versus handhelds (PSP and NDS).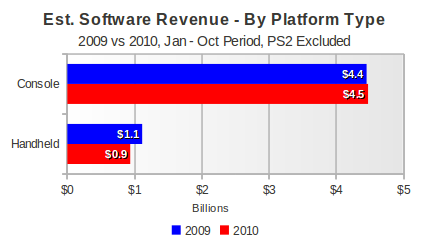 As the figure shows, when the current-generation consoles are grouped together their YTD software revenue has actually increased slightly from 2009 to 2010. Given the other figures above, we know that this increase comes from growth on the Xbox 360 and PS3 slightly out pacing contraction on the Wii. On the handheld side, however, the story is much different. The decline here is part of what analysts like Michael Pachter, of Wedbush Securities, point to when they say that the handheld market is under attack from other mobile forms of entertainment. Think of it this way: The Nintendo DS, the best selling system so far this year (4.5 million units, a million more than the Xbox 360), has seen its software sales fall five points more than the industry average (-12% versus -7%). Sony's PSP has suffered even more indignity with both hardware unit sales and software revenue down by 1/3 so far in 2010.