[
Gamasutra analyst Matt Matthews looks at 2009's NPD U.S. console retail results, with his final analysis for the month comparing software sales across the three major consoles and finding Nintendo's Wii ahead, life-to-date.
] When we examined U.S. game software sales at the end of September 2009, we noted that year-to-date Wii software sales were essentially flat at that point when compared to the same period in 2008. With the figures for the full year now in, and further illuminating comments from Michael Pachter of Wedbush Securities, we now estimate that Wii software sales grew by a modest 1.0 – 1.5% in 2009. While the Wii had been showing year-over-year declines in both October and November, we expect that December sales more than made up for those misses. By our estimates, well over 30 million units of Wii software were sold in the final quarter of 2009. In fact, Nintendo's utter software dominance becomes manifest when we combine our software sales estimates for all platform stakeholders, including Microsoft and Sony, during the last quarter of 2009. With Sony claiming an estimated 22% (across three platforms) and Microsoft 20% (with only the Xbox 360), the remaining 58% of all software units we estimate were sold for Nintendo's console and handheld.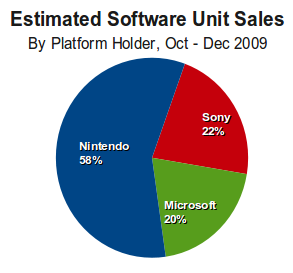 Perhaps the bigger story that we perceive in our estimates is that Nintendo Wii has finally overtaken Microsoft's Xbox 360 in life-to-date sales. Recall that the Xbox 360 launched a year prior to both the Wii and PlayStation 3. With that headstart Microsoft has often touted its strong record in selling a high number of units of software per system owner (also known as a tie ratio). According to Microsoft's latest press release on Xbox 360 sales, the system now has a tie ratio of 8.8, suggesting LTD software sales of 164 million units after 50 months on the market. While the Nintendo Wii has historically had a lower tie ratio, even when sales were launch-aligned, the system's extraordinary hardware sales have yielded similarly strong overall software sales. According to our estimates, the Wii has now sold in excess of 175 million units of software in a mere 38 months. After 38 months on the market (December 2008), the Xbox 360 had achieved software sales of around 112 million units. The diagram below makes clear just how the Wii has achieved this feat. With annual software unit sales tens of millions of units above the competition, it was merely a matter of time before the Wii surpassed Microsoft's console.
Again, going by our own estimates, we believe the PlayStation 3 is closing in on LTD sales of 75 million units of software. This suggests total Wii software sales exceeded PS3 sales by 100 million units in the same period of time. As Michael Pachter is fond of saying, strong hardware sales can drive software sales. Both the PlayStation 3 and Wii experienced accelerating hardware sales at the end of 2009, and both also saw increasing software sales. Should robust Wii and PS3 hardware sales continue through the beginning of 2010, we fully expect the software sales to follow. Furthermore, the Xbox 360 has a dedicated hardware base that is enthusiastic about buying software. Therefore, Xbox 360 software sales should be strong through much of 2010. This would set the stage for increasing total software sales in the coming year.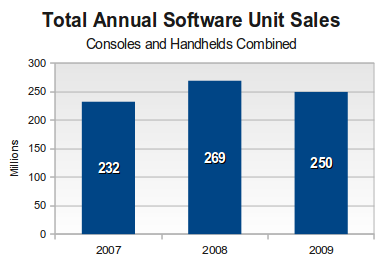 As the figure above shows, the industry experienced a contraction in software unit sales in 2009. However that loss was modest – about 5% – and we can easily see sales matching and even increasing beyond the 2008 level during 2010. We caution that the rise of digital distribution, sales of software through each system's online store, could temper any growth in software sales. With the exception of the Nintendo DS Lite, every system currently on the market permits owners to purchase and download software. We sincerely hope that in the coming year some party – if not the NPD Group itself, then individual publishers or platform stakeholders – will begin releasing reliable information on digitally distributed sales and not the facile top 10 lists that are currently available.