[Is Madden NFL 09's lackluster launch on Wii a sign that the rebranded 'All-Play' feature was less than successful? Here, Gamasutra correspondent Matt Matthews compares last year's Madden performance, including exclusive NPD data, against this year's multi-platform launch to show notable 'long tail' possibilities.]
According to figures released by the NPD Group two weeks ago,
Madden NFL 09
dominated sales
during August 2008. While versions for Microsoft's Xbox 360 and Sony's PlayStation 3 registered healthy year-on-year growth, the version for the Wii languished. Today, we'll take a closer look at
Madden sales
in 2007 and in 2008, with a special eye on Wii sales, and make two observations: 1. Flat year-on-year
Madden
launch sales on the Wii are extremely unusual, especially compared to the other platforms. 2. Despite poor launch figures, the Wii version sold extremely well through the end of 2007, ending the year in a surprisingly strong position.
The Launch Month Sales Anomaly
To put
Madden
Wii launch figures in context, it is instructive to compare with the situation on the PlayStation 3. From August 2007 to August 2008, both the Nintendo Wii and the PlayStation 3 tripled their installed hardware bases in the United States. Last year, Sony had 1.74 million PS3 users, while this year, they have 5.26 million. Likewise, the Wii grew from 4.02 million users to 11.86 million. With three times the owners in 2008 as in 2007, one would naturally expect software sales of an annual franchise like
Madden NFL
to increase. And, indeed, sales did increase on the PlayStation 3. Sales were up 91 percent year-on-year, from 336 thousand copies in August 2007 to 643 thousand copies in August 2008. However,
Madden
Wii sales were flat year-on-year, at around 116,000 units during both August 2007 and August 2008. So, when targeting a userbase that had tripled in size, EA Sports was unable to demonstrate any growth in sales. Put another way, 1 in 35 Wii owners purchased
Madden
in August 2007, yet only 1 in 100 purchased it in August 2008. While the Xbox 360 has been out a year longer than the Wii and the PS3, its software sales increased when the hardware base increased. Microsoft's installed base was 6.23 million systems in August of last year, and that population increased by 75 percent to 10.89 million in August of this year. For that increase in Xbox 360 consumers, EA Sports managed a 12 percent increase in
Madden
sales to those consumers. This data fits nicely with Nintendo's claim that it is reaching out to non-traditional gamers, ones who may not know about nor even care for a game like
Madden NFL
. However, EA Sports has made at least some attempt to appeal to those users with its All-Play rebranding of its sports franchises on the Wii. Judging from just first-month sales, it would appear that EA Sports must work even harder if it wishes to tap the quickly growing population of Wii owners.
First Month Not the Whole Story
While the lack of growth of
Madden
Wii launch sales is an important angle, it does not fully demonstrate the dynamics of Wii software sales. Platforms like the Xbox 360 and PlayStation 3 drive huge software sales during a launch month and severely diminished sales in subsequent months. Look at a game like
Metal Gear Solid 4
on the PlayStation 3: it was number one across all platforms in July 2008 -- and out of the top 10 completely the very next month. By comparison, popular software titles like
Guitar Hero
and
Mario Kart
can continue to sell extremely well on the Wii over the course of several months, not just the launch month. In fact,
Wii Fit
sales have accelerated for the past two months, which is precisely the opposite of how most software sells. So while first-month sales of
Madden NFL
are poor on the Wii, how does the franchise tend to sell in the longer term? A lot better than you might have thought. Below, we graph the total sales of
Madden NFL 08
on each platform – the Xbox 360, the PlayStation 3, and the Nintendo Wii – during calendar 2007. The sales corresponding to the August launch are in blue, while the sales from the rest of the year are in red.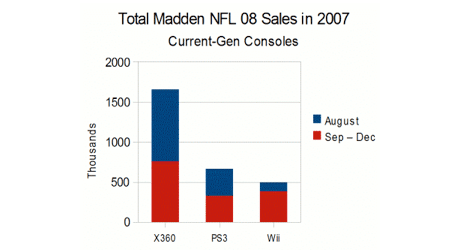 Note the following: - Despite the weak first-month sales, the Wii version of
Madden NFL 08
eventually sold nearly 500 thousand copies. (The PS3 version ended just over 660 thousand.) -After August 2007, the Nintendo Wii version of
Madden NFL 08
outsold the PlayStation 3 version through the end of December. -Sales of
Madden NFL 08
on the Xbox 360 and PS3 were extremely front-loaded. This is a very interesting set of data, because it shows us that a title like
Madden NFL
can start out more slowly on the Wii, but eventually sell a decent number of copies in the longer term. This has obviously been true for Nintendo's own software,
Guitar Hero III
, and
Rock Band
, but difficult to measure for games which don't make the top 10 lists released by the NPD Group. While the graph above shows how important August launch sales were to each platform, the following graphs make the relationships a bit more explicit.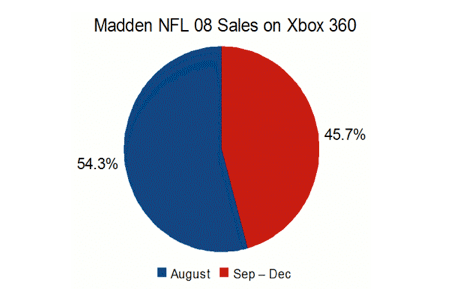 In 2007, the Xbox 360 version of Madden NFL was slightly more front-loaded than the PlayStation 3 version.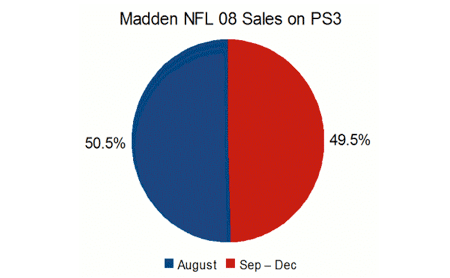 One could say simply that half of Madden NFL 08 sales on the PS3 and Xbox 360 were from August and the rest were from the following four months. On the Wii, August Madden NFL 08 sales were less than one quarter of the overall sales for the year.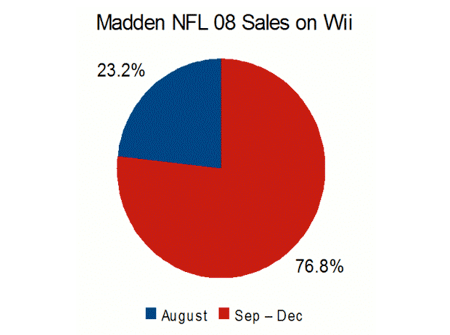 This demonstrates just how difficult it is to measure success on the Wii. Consider that the PlayStation 3 version of
Madden NFL 08
started 220,000 copies ahead of the Wii version in August, but was just over 160,000 copies ahead by the end of December.
Whither Madden All-Play?
While
Madden NFL 08
showed legs on the Wii last year, this year it looks decidedly less successful when compared to the other platforms. In just August 2008,
Madden NFL 09
for the PS3 has sold 96 percent of what
Madden NFL 08
sold in five months of 2007. If this year's version again sells about half of its copies in August and the rest from September to December, then it will easily hit a million copies. The Xbox 360 version could hit over 1.8 million copies. Even if this year's Wii version manages the same kind of long-term sales that last year's version did, it will still be dwarfed by the Xbox 360 and PS3 versions. It seems unlikely that EA Sports will count its rebranded All-Play version of
Madden
a runaway success, given the stagnant launch-month sales figures. However, last year's longer-term, low-level sales on the Wii ensured that that version grossed between $20 and $25 million in revenue in 2007. That's still a profitable venture, and unless
Madden NFL
sales begin to drop precipitously on Nintendo's console, we can expect to see Madden on the Wii for years to come.
Acknowledgments
Thanks to the NPD Group, and especially David Riley, for the data used in this article.