[As PSP Go's launch approaches, Sony is making a massive PlayStation Store-based digital distribution push -- and Gamasutra examines the shift, alongside exclusive stats on the top PSP downloads via PSN.]
Within 12 weeks, Sony will release the latest iteration of its PlayStation Portable handheld, the PSP Go. According to
comments by Jeff Rubenstein
, Social Media Manager for Sony's PlayStation Blog, a majority of the existing PSP software catalog -- previously released on proprietary UMD discs -- will be available for download on the PlayStation Store by the time the new system reaches retail. Since the PSP Go lacks a UMD drive, the online release of the PSP software library factors heavily in that system's success. As of the last U.S. PlayStation Store update on 9 July 2009, exactly 50 such UMD Legacy games were available. According to various sources -- like Sony's own PlayStation.com game listings -- the PSP's domestic UMD catalog consists of around 450 games. To reach its "majority" goal, an average of 15 new UMD Legacy games will have to be added to the PlayStation Store each week from now until the beginning of October. Given the scale and timeframe, it appears Sony is in the midst of one of the biggest digital distribution publishing pushes ever undertaken.
A Brief History
The mid-November 2007 release of
Gangs of London
and
WipEout Pure
, both first-party PSP titles, marked the first appearance of downloadable UMD Legacy games on the PlayStation Store. Only one other such title,
SOCOM: Fireteam Bravo
, was published on the store in 2007. Throughout calendar 2008 an additional 26 games made the jump from UMD to digital distribution. Almost half of those titles were released in the eight-week period leading up to the launch of the PSP-3000 hardware revision on 15 October 2008. By the end of 2008 there were 29 UMD Legacy titles available on the PlayStation Store. In June 2008 Sony also
increased the prices
of downloadable PSP software. Since that change, most popular PSP software has been priced at $15 to $23 on the PlayStation Store. Sony has also launched a series of PlayStation Store exclusive titles, ones which never received a UMD release in the U.S., starting in December 2007 with the music rhythm game,
Beats
. Throughout 2008 the store expanded its online-only offerings to include
Ape Quest
, an episodic game based on Sony's
Ape Escape
series, and handheld versions of
echochrome
and
Super Stardust Portable
, both of which are also PlayStation 3 games (with the latter called
Super Stardust HD
in its console incarnation). In November 2008
PBR Out of the Chute
by D2C Games became the first third-party PlayStation Store exclusive game. It had previously been released at retail for the PlayStation 2 and Nintendo Wii.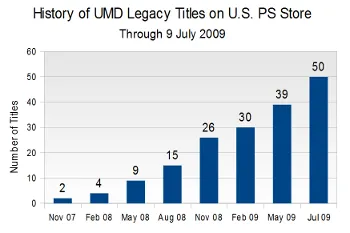 In 2009 an additional 21 UMD Legacy games have been made available on the PlayStation store.
Patapon 2
, originally thought to be a UMD release, was published at retail in May 2009 as a PlayStation Store voucher and simultaneously made available for purchase on the store. In total, Sony's online store contains 65 PSP-only titles, including one digital comic and three
Talkman
travel guides. While the PSP has been able to play classic PlayStation/PS1 games downloaded from the PlayStation Store since 2006, we have declined to include that software here, choosing instead to focus on PSP-exclusive software.
What's Selling
Sony provided us with lists of the top five best-selling UMD Legacy games since the store began offering the downloads in 2007.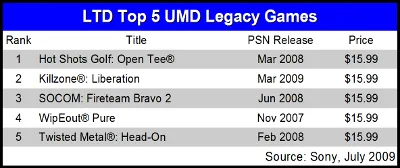 Notably, three of the top-selling UMD Legacy games are also titles that launched with the original PSP back in 2005:
Hot Shots Golf: Open Tee
,
WipEout Pure
, and
Twisted Metal: Head-On
. The first two of those titles launched at a price of $10.99 on the PlayStation Store but were marked up to $15.99 in the June 2008 price adjustments. At that time the
Twisted Metal
title was marked up from its original $14.99 to $15.99. That
Killzone: Liberation
appears second on this list is interesting since it was only released on the store in March of this year in conjunction with the publication of
Killzone 2
for the PlayStation 3. It is probable that Sony and other publishers will perceive this as a reason to pursue future concurrent releases across franchises. Sony declined a request for any specifics on the number of downloads of these games through its store. Such a policy is common across most online software distribution outlets, usually out of respect for the privacy of publishing partners. However, the NPD Group was able to provide us with information on U.S. retail sales of these same games. Of the top five UMD Legacy games as shown above, the one that sold best at retail was
SOCOM: Fireteam Bravo 2
, with over 800,000 units as of June 2009.
Twisted Metal: Head-On
did less well at retail, although still over 500,000 units. The other three games which top the UMD Legacy download chart all sold fewer than 500,000 units at retail, with
Killzone: Liberation
the weakest. All of the top 5 UMD Legacy games on PSN are published by Sony (as SCEA) and would be considered first-party games. By contrast, the top 5 PSP games at retail, according to NPD Group data, are all third-party games.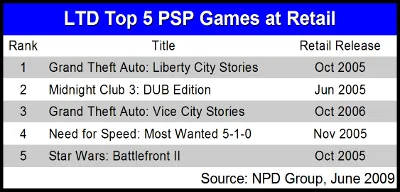 All of the games listed above have sold in excess of a million units in the U.S., and the top game has exceeded 2 million units. The table below shows the top-selling PSP software available exclusively on the PlayStation Store. (Note:
echochrome
was released on UMD in Japan, Europe, and Australia but not in the U.S.)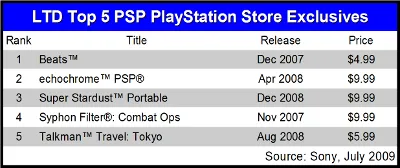 Beats
no doubt benefits on this chart from its lower price, only $4.99, and longer availability period. We suspect that the next two titles on the list,
echochrome
and
Super Stardust Portable
, both benefit from cross-promotion with the console versions of the same games on the PlayStation 3. Other PS3-to-PSP games like
Everyday Shooter
and
flOw
appear not to have sold better than Sony's
Talkman
application for Tokyo, a fact we find surprising. While Sony also declined to release sales data for these exclusives, we note that a copy of
Super Stardust Portable
purchased from the U.S. PlayStation Store shows that over 8,200 users have submitted their scores through the game's online score reporting capability.
Impending Flood
With the PlayStation Store apparently tripling its PSP-only software offerings from fewer than 70 to over 200 in the near future, the new PSP Go will have no shortage of software to purchase when it arrives. While Sony has pushed a higher volume of PSP software onto the store in recent weeks, it is nowhere near the level needed to reach its stated goal by the first week in October. As far as we know, no one had previously observed the two month drive of UMD Legacy software onto the PlayStation Store prior to the October 2008 launch of the PSP-3000 model. As Sony begins a public awareness campaign for the PSP Go, probably in August, we suspect that it will ramp up its UMD Legacy software releases and then increase the rate of publication dramatically in September. While the PSP system software already includes a handheld version of the PlayStation Store, we also expect that Sony will update the PlayStation Store interface on the PlayStation 3 to make PSP software more visible and easier to browse. The U.K. version of the PlayStation Store, for example, already offers a PSP-specific section where games are grouped by genre, a dramatic improvement over the current U.S. arrangement. The U.K. store also has significantly more and newer UMD Legacy software than the U.S. store does. Finally, the launch of the PSP Go will also usher in a higher price bracket for new PSP games. Currently all PSP software on the PlayStation Store is $23 (actually $22.99) or less. However,
in a recent interview Sony's Eric Lempel
, Director of PlayStation Network Operations, stated that the company's policy is to retain price-parity with retail. (Sony reaffirmed this policy in communication with us.) Retailers are currently listing the PSP version of
Gran Turismo
, set to launch alongside the PSP Go in October, at $39.99. Consequently the PlayStation Store should offer the same game as a download for the same price. When that happens, the PlayStation Store will sell PSP software at prices ranging from $5 to $40. We suspect there will be some significant consumer discomfort with the higher prices. The key question now is timing. Will Sony continue to limit itself to a handful of UMD Legacy games each week right up until the launch of the PSP Go and then hit the Store with everything else at once on 1 October? Will it gradually ramp up the releases each week, garnering headlines with each list of newer and more impressive titles from the PSP's back catalog? Sony has but one opportunity to relaunch the PSP and its software, and we will be watching eagerly to see how they play it. (We wish to thank Abigail Murphy of Sony Computer Entertainment America and Emil Rodriguez of Porter Novelli Seattle for their assistance with the PlayStation Network data. Further thanks to the NPD Group, and in particular David Riley, for the U.S. retail sales data shown above. Finally, thanks to NeoGAF user Tntnnbltn for the PlayStation Store data through mid-March 2009. The PSN release data used in this article is an extension of that user's work.)