[Gamasutra analyst Matt Matthews has been examining 2009's console hardware results, revealing year-on-year revenue drops for all three firms' consoles, but a major $1.3 billion decline for Sony.]
In press releases last week, both Microsoft and Sony touted total platform revenues for 2009 -- including first-party hardware and software sales and third-party games, plus accessories -- based on figures provided by the NPD Group. We have combined those figures with analogous figures obtained in 2007 and 2008 to obtain a better picture of how fortunes of these platform stakeholders have shifted over time. As the figure below shows, the total revenue for each stakeholder's platforms dropped. For Microsoft, whose only platform is the Xbox 360, this is the second decline in a row. We will show later that Microsoft sold more hardware and software on its platform in 2009 than it did in 2008, so we expect that Xbox 360 hardware price cuts drove most of that drop in revenue. Similarly, the Wii price cut no doubt explains most of the fall in Nintendo's revenue, which also includes DS hardware, software, and accessory numbers. The truly alarming figure here is the $1.3 billion drop in Sony's revenues from its line of PlayStation systems. Here's overall first and third party game industry revenue by hardware manufacturer for 2007 through 2009: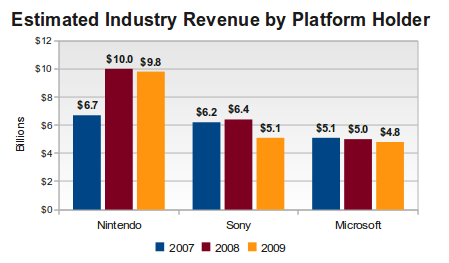 According to comments made by Wedbush Morgan analyst Michael Pachter, we estimate that PlayStation 2 software revenues dropped by around $700 million in 2009, compared to 2008. That decline alone would explain more than half of Sony's loss. The PlayStation 2 hardware also received a price cut in 2009, which could have contributed another $150 million in lost revenue. Another $225 million or more have come from the annual loss of 1.3 million PSP system sales. According to Creutz of Cowen & Company, the handheld software segment shed $200 million in annual revenue from 2008 to 2009, and we estimate at least half of that loss can be attributed to declining PSP software sales. Without more precise figures, we cannot illuminate the situation further. However, the general outline is clear: The PlayStation 3 platform -- albeit the subject of a recent price cut -- is still growing, but the contraction in Sony's legacy and handheld segments has overwhelmed those gains.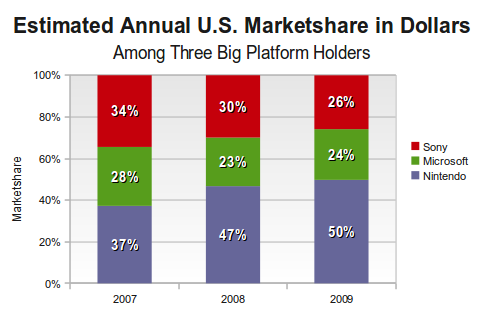 Sony cannot revive the PlayStation 2, and that system's revenue contribution is on a terminal trajectory. (To use Pachter's terms, the PlayStation 2 will "cease being relevant in 2010.") We furthermore remain skeptical that Sony can reverse the fortunes of the PSP, at least at retail. By mid-2010 we should know more about whether Sony will continue to back the PSP platform, and in particular the premium PSP Go model. We would not be surprised to hear of a successor to the PSP in 2010, especially if it provides backward compatibility to first-generation PSP software and network integration comparable to modern mobile devices.