[
As part of his monthly look at NPD results, Gamasutra analyst Matt Matthews looks at a bleak November in U.S. retail for Sony, offering a fascinating comparison of its Move strategy versus Microsoft's for Kinect.
.] Except for the record-setting launch of
Call of Duty: Black Ops
for the PlayStation 3, there were few reasons to cheer Sony's fortunes in
November's U.S. game retail figures
. Of its three platforms – PlayStation 2, PlayStation 3, and PlayStation Portable – only the PlayStation 3 isn't moribund. The PlayStation 3 enjoyed a good run after the PS3 Slim was launched at $300 at the end of August 2009, but as soon as the year-over-year comparisons started coming due in September, the system's sales figures have looked anemic. Clearly the understated launch of Sony's new Move controller has not significantly moved the needle on hardware or software sales. While the hardware bundles were modestly popular in October (when 1/3 of PS3 hardware systems were Move bundles), that popularity has waned through November with the fraction of Move bundles falling to 1/5. According to Wedbush's Pachter, PS3 titles with "Move" in the title have sold fewer than 200,000 units collectively. (That doesn't count games that have been retrofitted for Move compatibility.) The NPD Group provided an exclusive software listing to us, one which shows the top-selling Move-compatible games in November 2011. That table is below.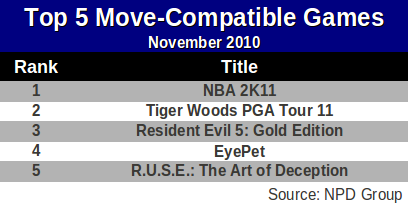 We were also provided with the top-selling Kinect titles during the same month.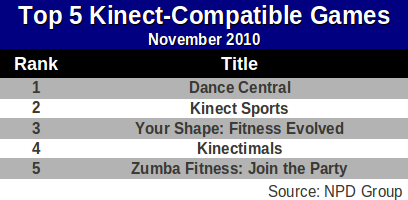 In both cases, these do not include games bundled with hardware, so we are unable to speak to sales of
Kinect Adventures
– which is bundled with Kinect. These two charts demonstrate neatly the different strategies used by Sony and Microsoft for their new controller systems. Whereas Sony has encouraged new Move titles (several available for download from the PlayStation Store) alongside Move-compatibility patches for games like
Resident Evil 5: Gold Edition
, the titles which happen to be selling best right now are of the latter category. We also can't say for sure that those sales are motivated by Move compatibility. Microsoft, however, has required that the focus be on Kinect-only games, and the sales chart above clearly shows that they are reaching their target: music games, fitness games, and family-friendly games. As for Sony's other systems, the PS2 and PSP, we have little to say. The PSP's hardware sales of about 288,000 units were practically flat in November compared to November 2009. At the same time, software sales have tumbled further, to about half the level seen in November last year. It is becoming extremely difficult to explain why hardware sales continue at an extremely modest pace while software sales go to zero, outside of some explanation involving firmware hacks and illegally distributed software copies. If consumer are buying the PSP as a media device only, they are inexplicably declining to purchase more powerful and more feature-rich devices at a similar price. Finally, the venerable PS2 will probably be considered a dead system after this Christmas. With November sales around 80,000 units, this is the first year since its launch in October 2000 that the system has not sold more than 1 million units.