[As part of his monthly NPD review, Gamasutra analyst Matt Matthews takes a close look at February 2010 U.S. console hardware sales, estimating just 6-10,000 PSP Go-s sold in the month, and suggesting "a slow death at retail" for the UMD-less SKU.]
It has been several months since we examined the hardware market in the detail, and there are many trends worth examining in that segment. There are currently 10 different major hardware models on the market across six platforms, and for the first time we wish to provide a one-month snapshot of how we believe each model is selling relative to all the others. Before showing our estimates, however, we wish to make a few points clear. First, the NPD Group does not provide the level of detail that we are attempting to extrapolate here. Second, we decline to consider the effect of retailer promotions on pricing, and use only the standard prices set by the manufacturers. Finally, we have made what we feel are reasonable assumptions about the PSP market to arrive at our PSP Go sales figure. With that said, based on pricing data provided to us by the NPD Group, the figure below shows what we believe is an approximate breakdown of hardware model sales for the month of February 2010.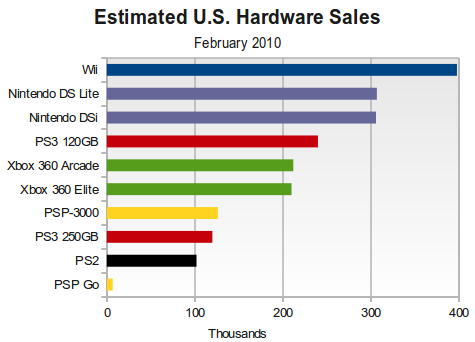 There are several notable points on this graph, but we'll start with the one we find most interesting: the PSP Go. By our estimation, between 6,000 and 10,000 PSP Go systems were sold in February 2010. According to official data, the average price across both PSP models in February 2010 was only $185. The PSP-3000 is currently available both in a standalone package for $170 and in bundles for $200. The standard PSP Go is priced at $250. Given the three configurations, it is difficult at best to get how much each system contributes to the average price but some modeling provides a bit of insight. For example, given the standard prices, it is effectively impossible for the core $170 package to account for less than 50% of PSP hardware sales. In fact, between 50% and 80% of all PSP systems sold in February were this base model. The same model reveals that 0% – 50% of all PSP systems sold in February were hardware bundles, priced at $200. The remaining were PSP Go systems. According to figures provided to us in late 2007, it appears that consumers have often found the PSP hardware bundles quite attractive, with those models even outselling the core system in some months. For this reason, we believe that bundles accounted for 40% – 45% of all PSP system sales in February 2010. Consequently, the model shows that the PSP Go would account for between 5% – 10% of all PSP systems that month. Again, we stress that this is an educated guess based on some hard data and some experience, and would welcome the release of harder figures from Sony. With PSP Go sales this low, and the PSP-3000 itself demonstrating historically weak sales, we feel even more confident in our conclusions from last month: Sony will replace the PSP with a successor platform, possibly announcing its intentions sometime in 2010. Beyond that, we expect the PSP Go to experience a slow death at retail. As for Sony's other modern system, the PlayStation 3, the average price provided by the NPD Group reveals that approximately two $300 models (with a 120GB hard drive) were sold for each $350 model (with a 250GB hard drive). Sony has claimed hardware shortages, and ironically that is good news in light of our sales estimates. If the $300 PS3 is outselling each of the $200 Xbox 360 Arcade and the $300 Xbox 360 Elite, as our estimates suggest, then that means that Sony has successfully made its case to the consumer for the price/value ratio of its system. This doesn't mean that it's beating the Xbox 360 – Microsoft's two models are still collectively outselling the PS3 – but rather that consumers have embraced Sony's system alongside Microsoft's. In fact, we would argue that Microsoft's Xbox 360 itself is doing quite well for a system in its fifth year. The company has increased sales each February since the system's launch, and the strong software offerings this year – including a new Halo title – should help propel the platform through the rest of 2010. We remain dubious on whether Microsoft's Project Natal will actually lift and sustain the platform significantly, but are open to the possibility that the motion controls along with a $50 price cut might welcome more casual players into Microsoft's fold. According to the average prices provided by the NPD Group, we estimate that the Nintendo DSi still accounts for about 50% of all Nintendo DS sales. That represents no change from the situation in October 2009, when we last got a read on DSi sales. We expect that the installed base for the Nintendo DSi now stands in the neighborhood of 5.8 million units or around 15% of the total Nintendo DS hardware base. This is the last month in which Nintendo DS sales will be this easy to interpret. On 28 March Nintendo will launch the Nintendo DSi XL at a price of $190. Should that revision be even half as successful as the Nintendo DSi, the average price of Nintendo DS systems being sold in the U.S. will probably have risen by mid-year, an amazing feat for a platform now in its sixth year.