[Gamasutra analyst Matt Matthews examines how Sony reclaimed dominant platform-holder status for the Madden franchise, selling around 1 million Madden NFL 11 units across all three PlayStation systems -- after losing its lead to Xbox 360 last year.]
For years, the
Madden NFL
franchise found its strongest sales on Sony's PlayStation platforms, but last year's
Madden NFL 10
launched strongest on Microsoft's Xbox 360. Along with defection of former PlayStation exclusive titles, one must also count this victory as an important milestone for Microsoft's console. Even when August 2009 unit sales from the PlayStation 3, PlayStation 2, and PSP versions of
Madden
were combined, they could not top the 1 million units sold for the Microsoft console. Sony reclaimed its dominant position this year, with August 2010 Madden NFL 11 sales of around 1 million units across the three PlayStation systems. Despite the rapidly weakening PlayStation 2 market, where
Madden
sales were down over 45 percent, the PlayStation 3 version rallied by more than 220,000 units over last year's first-month total, more than making up for the loss. Those figures don't include sales of copies bundled with PlayStation 3 hardware, exclusively available at Best Buy, nor copies bundled with the custom PSP color released as part of a
Madden NFL 11
bundle. What explains the flat sales on the Xbox 360 and robust PlayStation 3 expansion? We would speculate that this is a side-effect of Sony's introduction of the PlayStation 3 Slim model at $300 over a year ago. That relaunch of the hardware came too late to affect August 2009 software sales significantly, but did grow the PS3 installed base by 60 percent. Subsequently, those 4.9 million new PS3 owners no doubt contributed to the extra
Madden
sales in August 2010.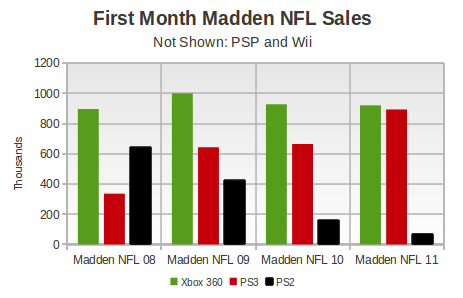 That is, while the Xbox 360 was already priced to appeal to consumers willing to buy a $300 console, that was not a possibility until last August for potential PlayStation 3 owners. Since the pricing of the Xbox 360 hasn't changed significantly in the intervening period, its population of
Madden
fans likewise hasn't increased. As the figure below shows, the first month of
Madden NFL
sales across all platforms used to regularly ring in at 2 million or more units. The last time it achieved that mark was 2008, when sales of Madden NFL 09 hit 2.3 million units, and it missed this year by a mere 30,000 units.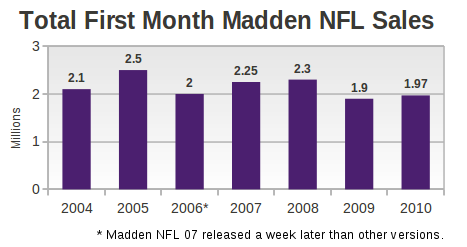 The challenge for EA Sports, and for Sony, is to continue the growth through next year's version. It seems likely that
Madden
PS2 sales will fall at least another 50 percent when the next version launches in August 2011. Furthermore, the PSP version may well cease to exist. Likewise, sales of the Wii version are down again this year, from 67,000 last year to around 55,000 by our estimate, and we believe that the former "All-Play" version may soon get no play at all. That is, it does not appear to us that the custom models and motion controls of the Wii version are consistent with EA's plans to focus only on profitable projects. Even if the smaller versions continue to exist, their combined sales will be dwarfed by the HD versions of
Madden NFL 12
. If sales have peaked on the Xbox 360 (quite likely given the last three years) and Sony can't continue to expand the audience on its PS3, we may have seen the best years for the Madden franchise until a new generation of hardware is launched (if indeed there is a new generation). For the time being, EA may be willing to bide its time as the hardware market sorts itself out. While unit sales were only up 5.7 percent from last year, revenue for
Madden
was up a healthy 9 percent according to Michael Pachter, analyst for Wedbush Securities. The difference, no doubt, was the increase in sales of the game at the $60 level, with a corresponding decrease in sales in the $40 and $50 versions.