New data from a three-year research project demonstrates the growth in film-to-game adaptations, particularly in the realm of simultaneously-released titles. The first portion of that analysis has been
published in English by university lecturer Alexis Blanchet
, following references to a French-language version of it in the most recent version of Gamasutra sister magazine Game Developer. The academic's weblog posting includes graphs showing the yearly frequency of both adaptations released simultaneously with their source films, as well as film adaptations in total. Blanchet teaches and studies at the Universite Paris Ouest Nanterre La Defense; his work is part of a study of "the cultural, economical and technical synergies between cinema and the video game." In general, Blanchet's data indicates that while the overall number of adapted game SKUs across all platforms seems to follow a highly cyclical pattern, the actual number of unique games has increased at a relatively more linear and constant rate, as demonstrated in the graph below. This is likely due in large part to fluctuations in the number of simultaneously viable console platforms over the years. While most systems have traditionally seen about eight to 11 percent of their libraries comprised of adaptations, the current generation of home consoles has seen a higher proportion -- particularly the Wii, whose library may be about one-fifth adaptations.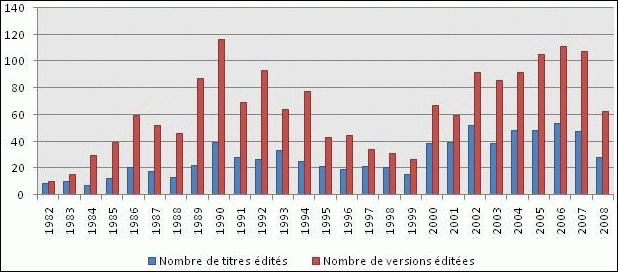 Adaptation releases by year: unique games (blue) and individual platform versions (red)
Handheld systems have traditionally had much higher adaptation ratios, but the current handheld systems have actually seen a much lower rate, and are now more in line with their home console counterparts. What has seen a much more definite rise is the practice of simultaneous releases, which took a significant jump up in 2002 and have remained extremely common ever since, as demonstrated in the graph below. This reflects the growing sensibility in modern business and marketing to maximize cross-marketing and cross-medium opportunities as much as possible.
Simultaneous adaptation releases by year (color groupings are purely visual aids)
Blanchet found that the overwhelming majority, about three quarters, of adaptations are drawn from live action films, while only about nine percent are based on CG animated films -- but of the CG animated films that are released in theatres, almost all of them end up getting video game tie-ins. Nearly half of game adaptations are based on films with original screenplays; 30 percent about based on films adapted from novels; and 10 percent are based on films adapted from comic books. Much smaller proportions are based on film remakes or adaptations of other sources. But sequelitis is still at play: almost half of the total adapted films are sequels or are part of multiple-entry series.