[
Nintendo's Wii price cut spurred a turnaround in U.S. Wii sales in October -- but why did Nintendo wait so long? In our Gamasutra-exclusive analysis, Matt Matthews examines the company's hardware trends.
] Whereas Sony's console is doing well and its handheld is faltering, the story is nearly the reverse for Nintendo. The Wii had seen diminishing sales through the middle of 2009 while the Nintendo DS Lite and DSi maintained extremely strong sales. However, Nintendo's Wii experienced a tremendous turnaround in sales during October, shooting up to nearly 127,000 units per week, compared to only 93,000 units per week in September. While this falls well short of the 188,000 units per week that Nintendo enjoyed in February of this year, it does demonstrate that cutting the Wii price to $200 was immensely effective. However, we do feel that Nintendo took too much time to drop the price of its console. Looking at a simple 12-month moving average of Wii hardware sales for the past two years reveals that sales of the system peaked in February of this year, and have dropped steadily since then. A key part of the picture here is that Wii hardware sales were extraordinarily high during the last half of 2008 and into the first half of 2009. As those insane sales figures drop out of the back end of the 12-month moving average and are replaced with the strong-but-lower sales of mid-to-late 2009, the average is bound to drop. But we fail to see any reason for Nintendo to have waited as sales dropped so dramatically before dropping the system price. October's Wii sales show that the demand is still there for Nintendo's console, and we believe an earlier price drop would have given the Wii more momentum heading into the end of the year. We don't wish to overstate Nintendo's difficulties. We hasten to point out that the Wii is still well ahead of both the Xbox 360 and PlayStation 3 in hardware sales and, to a lesser extent, software sales for the year. The real puzzle going forward is what to make of the slower growth rate of Wii software sales in 2009. According to data from Wedbush's Pachter, the Wii software market contracted by 20% in September and by 35% in October.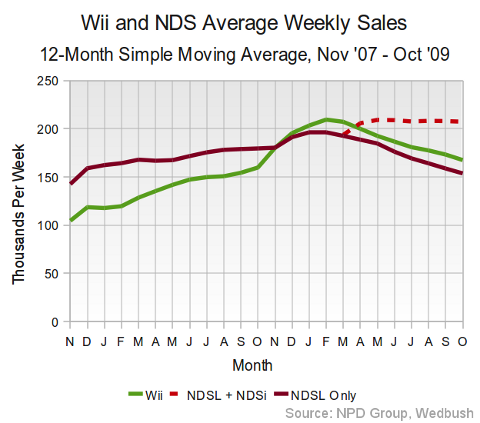 The graph above shows both Wii and Nintendo DS sales and reveals an interesting trend. The running average dropped slightly for both the Wii and the Nintendo DS in March, and Wii has been declining since. The launch of the Nintendo DSi appears to have reversed the trend for the Nintendo DS platform, and in fact the average weekly rate of sales has stabilized at just over 200,000 systems per week for seven months running. When Nintendo last announced consumer sales of the Nintendo DSi at the end of July, the total installed base was 2.0 million systems. In August and September no data was available, but according to data provided exclusively to Gamasutra the average price of all Nintendo DS systems sold in October 2009 was $150. In the absence of retailer promotions, that suggests a 50/50 split between Nintendo DS Lite hardware (priced at $130) and Nintendo DSi hardware (priced at $170). This is completely in line with the trend through July. For the first four months after the DSi launched its share of Nintendo DS hardware sales dropped steadily from 80% down to 54%. Thus we feel confident that the Nintendo DSi now accounts for approximately 50% of all DS systems sold in October. Given these figures, we estimate that the Nintendo DSi has reached an installed base of nearly 2.8 million systems in the United States. That's an immensely strong showing for seven months into a launch, and the only system launches which are stronger included November and December – a benefit that the Nintendo DSi is just now experiencing. (Results of November sales will be available in about one month's time.) Here's a full graph of year to date U.S. hardware sales in millions: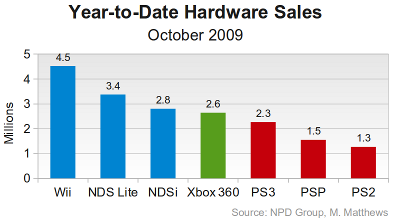 In fact, were we to break our Nintendo DSi estimate out separately, it would be the third best-selling platform of 2009 behind the Wii and Nintendo DS Lite and just ahead of the Xbox 360. Should the current Nintendo DSi sales trend continue and should the Nintendo DS platform overall perform approximately as it did in 2008, then the Nintendo DSi could have an installed hardware base of around 5 million systems by the end of 2009. With a large enough installed base, Nintendo and third parties will move more overtly toward DSi-specific software in the near future.
[The preceding analysis was conducted as part of Gamasutra's in-depth NPD article, examining October 2009's U.S. console retail sales.]