A new
Gamasutra-exclusive analysis
of engagement in some of this generation's top action games has use biometric feedback to quantify how "the most successful FPS titles encourage close combat, dangling emotions of reward to compel players into high-risk, adrenaline-pumping scenarios." The analysis, which was originally conducted by San Francisco-based technology company Emsense and published in Gamasutra sister publication
Game Developer magazine
, measured players' responses to the first 90 minutes of major FPS and action titles. These included
Battlefield 2142, Call of Duty 3, F.E.A.R., Gears of War, Ghost Recon Advanced Warfighter 2
, and
Resistance: Fall of Man
, as well as two "classics,"
Halo 2
and
Half-Life 2
. The survey's creators note that "more than 300 hours of physiological and gameplay data were generated and analyzed to develop our findings", with player responses including brainwaves, heart activity, breathing, blinking, temperature and motion analyzed. One particularly focused-on feature was the use of close combat in these generally gun-toting action games, something that Emsense indicated was extremely important to a compelling experience. The article extract reads as follows: "Close combat was the most reliable method of creating engagement, adrenaline, reward, and all the emotions that make shooters so much fun. Certainly, this is nothing new to the genre, but the next-gen games that excelled in this area were exceptionally strong at creating high-paced close combat frequently. It was no surprise to us that the three games in this study widely considered "game of the year" (
Gears of War
,
Halo 2
, and
Half-Life 2
) all designed and executed exceptional melee weapons to encourage or force close combat. The most successful FPS titles encourage close combat, dangling emotions of reward to compel players into high-risk, adrenaline-pumping scenarios that dramatically increased their level of engagement and feelings of reward. For instance, in both
Halo 2
and
Gears of War
, players were rewarded with an instant kill for using the energy sword and chainsaw. An energy sword kill in
Halo 2
, for instance, evoked 30 percent more recorded positive emotion and reward than the genre benchmark.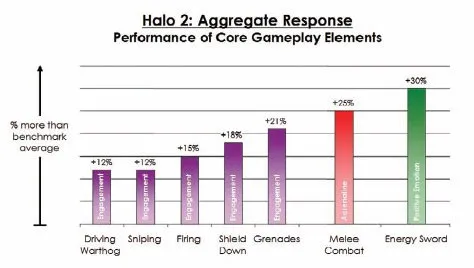 In addition,
Gears of War
players recorded high emotional reward for the spray of enemy blood after they succeeded. Of course, we can't forget the ubiquitous
Half-Life 2
crowbar, the only weapon players initially have for fighting.
Other games don't only encourage close combat -- they force it. In
Ghost Recon
, we've already mentioned how players are instructed to destroy an armored vehicle in the only way possible: planting a charge in close proximity to the vehicle. In
Call of Duty 3
, players are thrown into a close-quarters mini-game struggle with a German soldier. Both events led to high measures of engagement, but these events occurred once or twice in a session, unlike the dozens and dozens of exhilarating moments found in the games that distinguished themselves. It's not just the melee weapon itself that encourages close combat. Just listen to battles in
Gears of War
. Amidst the cacophony of bullets, players can hear their teammates tell them to flank the enemy. What the comrades forget to say is that narrow firefight areas and emergence holes can immediately make these flanking expeditions devolve into melee combat. Consistently, we measured increased engagement and intensity to these episodes. The takeaway for developers is that creating next-gen experiences is about exhilaration. Nowhere did these shooters distinguish themselves more than in the ability to consistently throw gamers into close combat." You can now read the
full Gamasutra feature on the subject
, including lots more analysis and comparisons of action titles from an engagement perspective.