[Courtesy of sister console downloadable site GamerBytes, Ryan Langley examines May 2009's Xbox Live Arcade debuts, from Space Invaders Extreme to Wallace & Gromit and beyond, to find out what soared and what faltered last month.]
The NPD Group revealed the top retail sales of May 2009 some two weeks ago, and every month, Gamasutra sister site GamerBytes looks at what NPD numbers don't cover: the games released via the Xbox Live Arcade and the PlayStation Network. We're analyzing the weekly Top 10 Xbox Live Arcade game purchase list released by Microsoft through the Major Nelson weblog, checking out Leaderboard data for games when available, and seeing which new releases have done well and which have fallen off the map. Please note that we do not have the Top 10 list for the week of May 25th. Due to the Electronic Entertainment Expo and Larry Hryb's trip to see the troops in Iraq, the numbers were never posted. But thankfully, we do have Leaderboard data for those titles. The month of May brought 10 new games to the Xbox Live Arcade, meaning 2 to 3 titles were released each week – all costing from 400 to 800 Microsoft Points each. Can the Xbox Live Arcade handle so many titles at once? Let's try to work it out, starting with the public releases of the weekly Top 10 XBLA charts: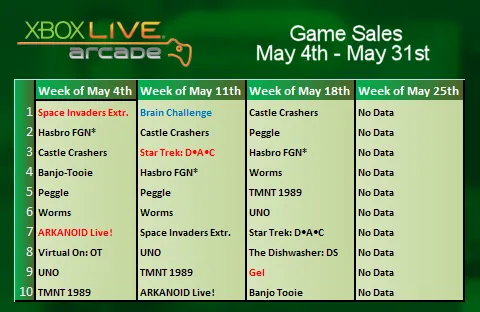 A Return Of Taito Classics
Taito previously released their
EXIT
titles on Xbox Live Arcade, and now May brings
Space Invaders Extreme
and
Arkanoid Live
.
Space Invaders Extreme
did very well at first, hitting the top of the charts, but fell to 7th place and then right out of the charts.
Arkanoid Live
, despite being a well-known classic, only came in at 7th place in its first week, and just held on to 10th place for the second week. Through Leaderboard data, we can see that
Space Invaders Extreme
has had over 22,000 people play the game long enough to register a score -- not too bad for just a few weeks of release.
Space Invaders Extreme
was critically acclaimed on other platforms, and it is a perfect fit for digital download. But the game's quick trip down the new release list may have caused the fanfare to die off more quickly than anticipated.
Arkanoid
is a strange one – it's part of a long line of sequels, but we have had so many varieties of
Breakout
games that they may meld together in consumers' eyes. While
Arkanoid
stays very close to its roots, it might need a
Space Invaders Extreme
-style makeover to truly speak to the masses. Perhaps Sidhe's upcoming
Shatter
on the PlayStation Network will have a better chance.
The Unloved Zombie
Zombie Wranglers
has quite a history – it was originally set for a late October release last year, but got lost in the merger of Vivendi and Activision. When Activision dropped projects from the Sierra label,
Zombie Wranglers
was apparently thrown to the wayside – even though it was already finished. Halfway through 2009 the game was finally released via Microsoft, but the game didn't make it to the Top 10 at all. The online Leaderboard states that a little over 4,000 people have played the game (likely a high percentage, but not 100%, of sales numbers). But looking at the
review response
to the game, it's not too surprising. As a PG-13 Zombie game with a childish aesthetic, it sounds like the game didn't hit a chord with XBLA users.
Zombie Wranglers
is the latest digital title from developer Frozen Codebase that's never really hit a market – its two previous Xbox Live Arcade games,
ScrewJumper
and
Elements Of Destruction
, also did quite poorly. Hopefully this Wisconsin developer can have better luck with its next project.
XBLA, The Final Frontier
To complement the new
Star Trek
film in theaters, Paramount Interactive sought to test the waters by only releasing one title alongside it –
Star Trek D.A.C
on Xbox Live Arcade. It follows the same path as
Watchmen: The End Is Night
, where movie studios with attached game publishers have gone a digital-only route. The movie did very well at the box office, but
Star Trek D.A.C
couldn't beat Castle Crashers in its first week, and it then drifted down to 7th place in its second week. While there are many twin stick shooters on Xbox Live Arcade, only a few of them, including
Shred Nebula
and
Wing Commander Arena
, have focused on online multiplayer, and neither did well on the marketplace.
Star Trek
appears to have done better than either of them.
Texas Cheat'em & Blazing Birds Fall Flat
Wideload Games'
Texas Cheat'em
was released alongside
Star Trek D.A.C
, and it appears to be the worst-selling game we've seen in some time. As of the middle of June,
Texas Cheat'em
has only 1,145 people on its Leaderboards, and a whole 6 people on the Ranked Leaderboards. While it got some
decent scores
, the games' presentation came in for some stick from reviewers, even
being deemed
an "eyesore" and "amateurish" by IGN's Daemon Hatfield.
Texas Cheat'em
appears to be a clever twist on the game of Poker, but it wasn't enough to drag people away from the ever popular
Texas Hold'em Poker
that is already on the service. Another poorly-selling title was
Blazing Birds
, one of the Dream.Build.Play winners from 2007 alongside
The Dishwasher: Dead Samurai
, Unfortunately the game has an very niche concept -- robot badminton -- and no online play. So there was little chance that people would pick this up, even with a neat idea and costing only 400MSP. When Microsoft decided to award all finalists of Dream.Build.Play with invites for XBLA publishing,
Blazing Birds
got the nod. Arguably,
Blazing Birds
' problem is that it would have fit in well with other Xbox Live Arcade games in 2007, but perhaps doesn't fit so well with the expectations of Xbox Live Arcade in 2009. The unfortunate part is that Vector2Games did not win the Dream.Build.Play competition in 2008 for their second title
Blow. Blow
is currently available on Xbox Live Indie Games, and some consider it a far more robust experience than
Blazing Birds
. You can't win them all, I guess.
Puzzle Games Get No Love
Gel: Set & Match
is a semi-sequel to
Fuzzee Fever
, a game originally part of the first Xbox's XBLA Lineup. It's a game that is so overlooked that it's near impossible to find anything about it online. It looks like it's the same story for
Gel
, landing at 9th place on its opening week. As of the middle of June, there's a mere 5,500 players on the game's Leaderboards. Gastronaut Studios had previously brought
Peggle
to the Xbox Live Arcade. That game continues to be in the Top 10, and indie firm was subsequently bought by PopCap just before its release. It's sad that, despite PopCap seeing their potential in the casual game space, that
Gel
has not done well in its first weeks of release. On a similar note,
Yosumin Live
was released in the final week of the month. Much like
Gel
it also does not appear to have been welcomed by the Xbox community. As of mid-June, there are a little less than 4,500 people on the Leaderboards. It's not that surprising given the very Japanese title the game has. Simply getting people to download a game called
Yosumin
would be a feat in itself, even if it's a clever little puzzle title -- and an even harder task on the Xbox 360. For a small puzzle game it may have also been priced too high at 800 Points, especially since you can play the main portion of the game free through a web browser.
The Episodic Conundrum
Wallace & Gromit: Fright of the Bumblebees
, the first part of the episodic series by TellTale Games, was released in the final week of the month. This is Telltale's first foray onto the Xbox 360 for episodic content, after having decent success with their
Strongbad
titles on WiiWare. As of the 13th of June
Wallace & Gromit #1
has garnered around 12,000 people on the Leaderboards – far less than the debut episode of the
Penny Arcade
game, which was twice as expensive. Realistically, the first episode of any series will sell more than each consecutive episode due to waning interest, and with no option to buy all episodes for a slightly discounted price,
Wallace & Gromit
is unlikely to do huge numbers on the Xbox Live Arcade. Hopefully, the release of the two
Sam & Max Seasons
for Xbox Live Arcade will help Telltale sell more
Wallace & Gromit
in the long run. When all 4 Wallace & Gromit episodes are released, we'll be able to get a good perspective for the effectiveness of episodic content on the platform.
It Boggles The Mind
The final release of the month was
Boggle
, the second to last game left for
Hasbro Family Game Night
. While the Major Nelson Top 10 does not separate
Family Game Night
titles we do know that Boggle has over 15,000 people on the its internal leaderboards, and
Family Game Night
itself has garnered almost 150,000 players who have at least one room reward. We assume
Sorry! Sliders
will make its debut sometime in June or July. Once it is released we can get a look at
Family Game Night
in its complete form, allowing us to see how many players bought more than one Hasbro title.
Weekly Deals And The Same Old Same Old
Thanks to the poor performance of new titles, old titles jumped around quite a lot in May.
Banjo Tooie
and
The Dishwasher: Dead Samurai
made a surprise return into the Top 10 on the third week of May, while
Uno, Peggle, Castle Crashers, Worms
and
TMNT 1989
have all continued to be in the Top 10, leaving only 5 places to shuffle around each week. Microsoft had two different titles be a part of their "Deal Of The Week" –
Brain Challenge
and
Bionic Commando: Rearmed
. We can see that
Brain Challenge
did very well for its week, reaching the top of the chart and dropping back in place right after. Due to the missing week, we are unable to see how well
Bionic Commando Rearmed
did, but if previous deals are anything to go by, we might have seen it in the countdown somewhere. Unlike previous months, the only 400MSP titles reappearing were TMNT 1989, Worms, UNO and the Deals Of The Week – everything else was either 800MSP or 1200MSP. With all of the
recent fuss
about the iTunes App store popular lists catering to the cheapest games, it's good to see that even "expensive" games on Xbox Live Arcade continue to do well. (The Xbox 360's Top 10 charts are ranked by number of sales, not revenue, similarly to the App Store Charts.) June is going to be a very strange month, with at least 13 titles making their way online, including 6 cheap Sega classics all out in the same week. Larry Hryb has unfortunately not been available to post later Top 10 lists, but we will do as much as possible to bring you all the necessary data.
[We would like to thank Larry Hryb at Majornelson.com and the Xbox Live team for releasing the Top 10 lists of each week through the web, and well as Twitter helpers Grecco, Retroremakes and James O'Connor for their help with leaderboard data.]