[
As part of his end of year in-depth NPD analysis, Gamasutra analyst Matt Matthews examines how a revamped Xbox 360 and the launch of the Kinect led to an almost "flawless" 2010 U.S. retail performance by Microsoft, as it chased market leader Nintendo
.] The biggest video game hardware story of the year in the U.S. is clearly Microsoft's execution of its two-stage relaunch of the Xbox 360 platform. In June 2010, the platform saw a tremendous gain of momentum with the launch of the Xbox 360 S Model. More than just a hardware revision, the restyled console saw its sales jump 63 percent in the June-October period compared to the same period in 2009. Amidst the resurgence in hardware sales, Microsoft also launched
Halo: Reach
, the latest entry in its flagship shooter series. Hardware surged to over 480,000 units for the month while 3.3 million copies of Reach were sold to consumers. Then Kinect – a camera and software combination that permits users to control software with body motions – launched in November 2010 and hardware sales accelerated further. While December sales were up a less spectacular 42 percent, Larry "Major Nelson" Hryb of Microsoft claimed that the company had
run out of consoles
by the end of the month, suggesting that supply was at least somewhat constrained. Absent those shortages, we would have called Microsoft's 2010 performance flawless. As it stands, they still pushed their console to a very strong finish, with annual hardware sales of 6.8 million systems, up 42 percent from 2009. (We will discuss software sales in more detail later, but for the moment let us note that Xbox 360 software was up 17 percent in units and 14 percent in dollars over its 2009 levels.) Microsoft's Xbox 360 nearly outsold the Wii in 2010, falling short by only 305,000 units. That the two consoles ended the year so close has as much to do with the 2.5 million system (or 26 percent) decline in Wii sales as it has to do with the 2.0 million increase in Xbox 360 sales.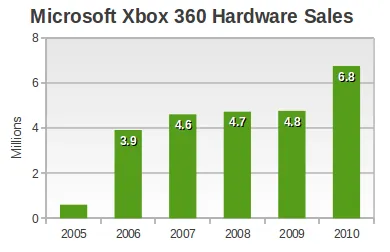 All signs point to continued momentum for Microsoft's console business in 2011, which suggests that it will increase its hardware sales in 2011. This is particularly likely if it finally gives its consoles a proper price cut, something that hasn't happened since September 2008. Should the entry-level Xbox 360 have an MSRP of $150 before Christmas, we would expect it to see hardware sales levels similar to 2010. To put the Xbox 360 sales into context, let us consider the following figure which shows annual hardware sales from 2009 (i.e. not the year that just completed).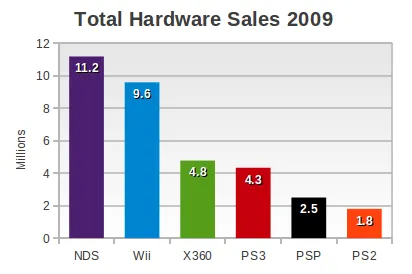 Now we present the same figure, but for 2010.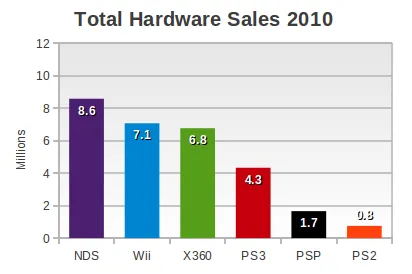 In subsequent analyses, we will consider how the Nintendo Wii and PlayStation 3 each fit into the hardware picture from 2010, and where they might be headed in 2011.
For the rest of Matthews' monthly NPD analysis, read the full Gamasutra feature, available now.