Average game prices are steadily dropping over the course of the current generation, claims market research firm EEDAR. EEDAR analyst Jesse Divnich pins the trend on a number of factors, including decreasing development costs as studios become more familiar with existing hardware, as well as the increasingly competitive marketplace as a fixed amount of retail shelf space must be spread across an increasing number of titles. "We currently see greater than 500 retail game titles released a year on the 7th generation home systems, far more than the retail shelf space gained from the phasing out of the 6th generation game titles. This disparity increases the competitive landscape for 7th generation titles," writes Divnich. "Adding to this problem is the fact that every major AAA title released (i.e.
Halo 3, Call of Duty, Grand Theft Auto, Super Smash Bros
, etc.) forever maintains at least some amount of shelf-space throughout the platform generation's lifecycle, again reducing the amount of space available for newer titles." From 2007 to 2008, EEDAR claims, there was a 44 percent increase in the total number of Xbox 360 and PlayStation 3 games released -- but while the number of games priced at $59.99 or higher rose by only 38 percent, the number of games priced lower than that standard MSRP rose by 66 percent.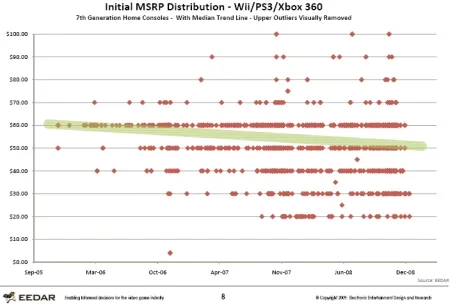 The above graph, showing a decreasing median MSRP trend for the current generation. That said, this seems to be mainly due to the Wii, whose median game price has dropped from $49.99 in 2007 to $39.99 in 2008. The median price for Xbox 360 and PlayStation 3 has remained at $59.99 -- but, as noted, the frequency of lower prices on those systems is increasing at a faster rate than that of higher prices, so EEDAR expects the median to drop eventually. "Pricing is beginning to come down," Divnich writes. "As the Xbox 360 and the PS3 hardware continue to decline in price, more non-traditional, casual, family, and price sensitive gamers (noting these demographics sometimes overlap) will likely adopt these systems, which will increase the demand for cheaper titles." The analyst goes on to point out that the median price for Xbox 360 games slated for released this February and March is actually $53, lending credence to the claims of a trend. "We recommend that publishers continue to experiment with game title pricing, as a clear lesson from the 7th generation of games has been that consumers are willing to pay just about any price for a game that can provide value equal or greater than its purchase cost," Divnich concludes, in a report available on the official EEDAR website. "Of course, the aggressive pricing of the 7th generation is a double-edged sword; if pricing begins to correlate more strongly with value, then publishers/developers need to be careful about the games they have in development."