At this year's MI6 game marketing conference in San Francisco, the MI6 organizers exclusively commissioned global consumer research and consultancy firm OTX to study the video game resale market in the United States. These details, provided by its creators alongside today's presentation, include the fact that 60% of gamers purchase both new and used titles, and that sellers (who make up a third of all gamers) tend to reinvest their money in the industry with new game purchases. Please click the thumbnails for larger, more detailed versions of the slides presented by Williams at MI6.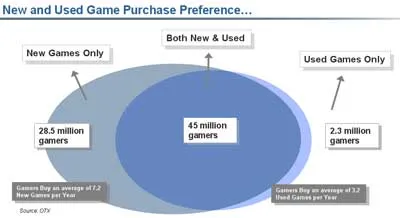 According to OTX's report, the used software market in the U.S. is projected to be $1.3 billion (not including systems or accessories). Market Size With a market of 75 million game purchasers in the United States, OTX has revealed that of these gamers, 49 million have purchased at least one used game, and 26 million have sold at least one game in the last year. They indicate that 60% of gamers buy both new and used games, with only 28% buying only new -- however, a mere 3% buy solely used titles.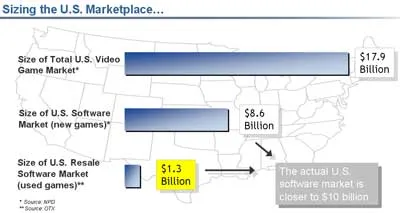 OTX states that as a result, on average, 52% of new games are purchased within their first month on the market, with 8% of new game purchases pre-ordered and 27% purchased within the first week--with owners of the current generation of consoles tending to have the smallest percentage of used games in their collections and also tending to pre-order the most.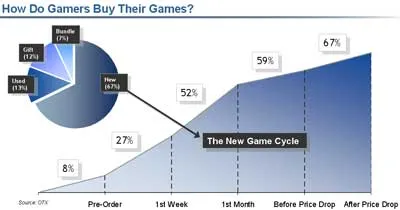 In detail, Wii gamers purchase only 8% of their games used, PS3 gamers buy 12% used, and Xbox 360 gamers buy 16% used.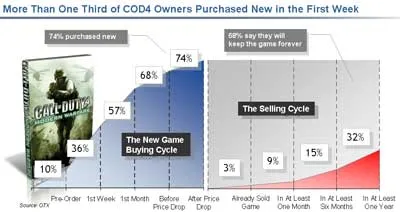 Interestingly, despite GameStop's recent filing which stated that sales of new games were outgrowing sales of used, the company still controls the used game market, with two in three gamers who bought used games in the past year purchasing them at GameStop. OTX further noted that that 81% of gamers who bought used games in the past year did so offline and in-person, compared to 35% in total that bought new or used games.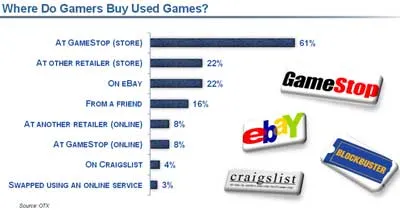 What Do They Do With the Money? Despite these worrying results, OTX's study noted there may be a positive effect of used game sales for game publishers. Of the 26 million sellers, OTX have found that there are 21 million "category re-investors" who sell their games to save towards any video game related products.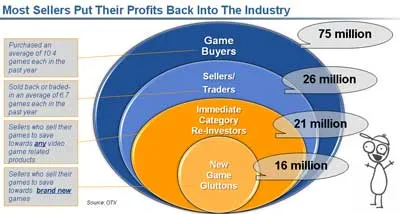 Among these, specifically 16 million are "New Game Gluttons" who use the used game market as a way to subsidize their new game purchases, by understanding that "the faster they play and finish a game, the higher its resale value will be."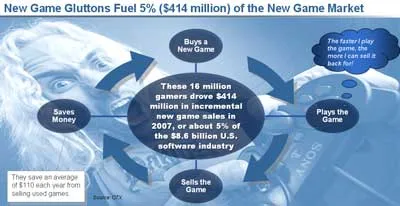 OTX projected that "Game Gluttons" drove $415 million dollars in new game revenue in 2007, equal to about 5% of the $8.6 billion U.S. software market. Who is Driving the Market? OTX's report details that used game sellers are predominantly male (61%), but used game buyers are split evenly between males (52%) and females (48%), with used game buyers tending to be slightly older than used game sellers (their median age 29, while the median age for sellers is 26). In line with the "Game Glutton" findings, game sellers pre-order new games significantly more often than the average gamer. Why Do Gamers Buy/Sell Used Games? OTX noted that three most important factors that compel gamers to keep a game are "replayability, lovable characters, and socially engaging gameplay" with, intriguingly, the three least important factors "critical acclaim, developer loyalty, and collector's editions."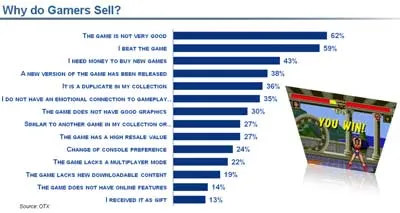 Gamers over the age of 35 tend to consider "add-ons" such as downloadable content and online features as less compelling reasons to hold on to games they would otherwise sell, with gamers under the age of 18 holding the need for money to buy new games as an especially important reason to sell games, though this ranked high on the list (4th) of reasons to sell games from all gamers in the study.
The three most important factors above the need for money to sell a game were "the game's quality, game length, and the need to get rid of duplicates in their collections." Which Titles are Driving the Used Market? OTX has found that new IPs feature prominently in used game purchases, including Carnival Games (Wii), Resistance: Fall of Man (PS3), Uncharted: Drake's Fortune (PS3), BioShock (X360), Saints Row (X360) and Crysis (PC), with many of the most popular (and sought-after) recent titles, such as Rock Band, Guitar Hero III, Super Mario Galaxy, Halo 3, and Call of Duty 4: Modern Warfare considered "keepers". Handheld "keepers" include New Super Mario Bros, Brain Age, Mario Kart DS, Syphon Filter: Logan's Shadow, and Grand Theft Auto: Vice City Stories, and PC "keepers" are Crysis, Elder Scrolls IV: Oblivion, and Half-Life 2: The Orange Box. 2008 Projections Projecting for 2008, OTX noted that its study reveals that the large majority (78%) of used game buyers say they will continue to buy used games in the next 12 months, but more importantly, one in four gamers who had not purchased a used game in the last year reported that they planned to buy a used game in the next 12 months.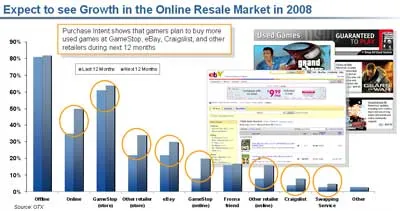 OTX has attributed this to the current economic downturn, and has also projected a marked increase in the online sales market, along with an upturn in used game purchases at GameStop. [Thanks to OTX's Nick Williams and the MI6 organizers for detailed notes and slides regarding this important presentation.]