Fire Emblem Heroes is continuing to lead Nintendo's suite of mobile games in terms of revenue, according to a report from the mobile intelligence firm Sensor Tower.
Data from Sensor Tower indicates that Fire Emblem Heroes has now surpassed $400 million in lifetime revenue generated. Since the game crossed the $300 million threshold roughly one year into its mobile lifespan, this means that Fire Emblem Heroes has generated $100 million in revenue since February 2018.
While Fire Emblem Heroes' status as Nintendo's top mobile earner is nothing new, the latest milestone shows that has brought in six times more revenue than runner-up Super Mario Run and nearly 10 times more than Animal Crossing: Pocket Camp.
Each of those three mobile games takes a different approach to monetization. Fire Emblem Heroes notably earns its money through free-to-play gatcha-style scheme, Super Mario Run offers early levels for free and sells full game access for $9.99, and Animal Crossing: Pocket Camp uses a free-to-play model where players can purchase tickets to speed up certain in-game activities.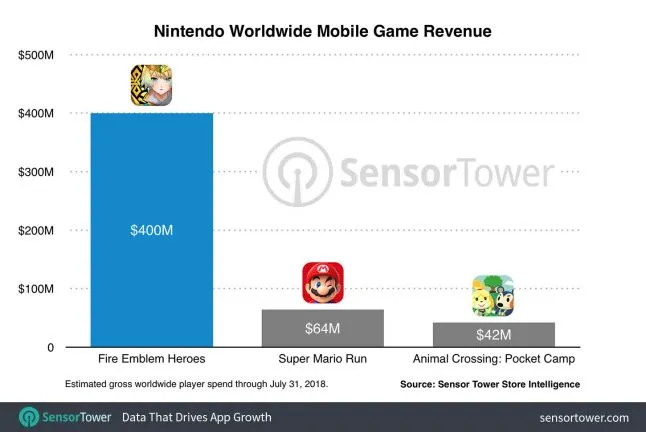 Despite Fire Emblem Heroes' mobile dominance, Nintendo has previously said that it doesn't necessarily plan to adopt gatcha monetization for new mobile games going forward. In an investor Q&A earlier this year, Nintendo's former president Tatsumi Kimishima explained that how it charges for different mobile games must be a good fit for both the Nintendo franchise featured in the game and the demographic it is targeting.
"We want to offer applications that meet consumer demands while pursuing payment methods which consumers find to be fair so this can grow to be a pillar of our business," explained Kimishima.