While there is a perception that PC MMOs need some drastic changes to remain viable, some developers are moving their expertise to smaller screens to try their luck.
The MMO genre as it exists in the mobile space is still in its infancy, and just as all mobile developers are still feeling their way around the market, there are developers taking the plunge into mobile MMOs and coming out successful, despite their key differences in approach.
A PC Developer's Hybridized Approach
Pocket Legends is where it things really started, according to Spacetime Studios CEO Gary Gattis. The team has a long history with MMOs, with key staff having filled prominent roles on games like Star Wars Galaxies at Sony Online Entertainment.
After starting the studio, Gattis and crew started working with NCSoft on a sci-fi MMO codenamed Black Star -- however the failure of Auto Assault and Tabula Rasa changed the publisher's priorities, and the title was cut from its roster. Following this, Spacetime worked with Disney on an educational MMO that had a similar fate.
The team quickly realized that, despite the setbacks, it had a solid technological bed to develop MMOs on. Noting an absence of MMOs on the iOS market, the team quickly got to work on Pocket Legends, which expanded to encompass Android and browser via the Chrome Web Store.
"We paid for our tech with soul crushing disappointment, but what came out of it was this tech that does not exist anywhere else in the mobile world," says Gattis. "There's no licensable 3D MMO technology that has the type of server capabilities that we have in the mobile world, so when we took our product from PC to mobile, it was like taking the engine out of a Ferrari, putting it into a go kart, and going to the races."
Spacetime Studios didn't immediately jump in with both feet, however, instead testing the market and technology to learn important lessons about developing on mobile.
"We sold maybe 100 copies cumulatively of these things. It wasn't a profit play for us -- it was very much a loss leader to determine if we could do it," said Gattis. "We were mitigating the risks of building an MMO and looking at all the necessary things which we needed to do to build an MMO. One had skeletal animation, one updated content on the fly, one had leaderboards, and after we had about six smaller games we realized, 'We can do this. Let's go for it.'"
The Legends series initially began with a form of the free-to-play model -- there was a paywall at level 13. After further consultation with investors and research into industry trends, Spacetime made a full transition to the free-to-play with microtransactions model.

Pocket Legends
While Gattis was hesitant to detail specific player numbers, he did note that at the time of the interview, last month the studio averaged between 1.4 and 1.5 million play sessions per week across its three MMO titles -- the fantasy-themed Pocket Legends, horror Dark Legends, and sci-fi Star Legends.
Now, after three years in the market, Spacetime is working on its fourth MMO. The studio has grown to what Gattis refers to as a "42 piece jazz fusion odyssey orchestra of experimentation". Gattis currently aims for a six-month gap between new releases of the Legends games, with Arcane Legends soon to ship on mobile and desktop, via the Chrome Web Store, both.
Spacetime was initially wary that launching another Legends game could cannibalize the Pocket Legends audience, but decided to take the risk anyway, believing a solid portfolio would win out in the end. This risk paid off when Spacetime found its games had "almost parallel growth... There are people who prefer each game, and I think that's a genre thing, but there's a significant portion who play all or both games, and it actually did turn out to be a nice synchronous loft by having all games available," says Gattis.
This genre-focused release model also allows Spacetime Studios to regularly iterate on its games. Its practice now involves iterating on gameplay systems for newer titles, then rolling those changes back into older games where appropriate. Dedicated teams are also kept on each title to make sure there is enough content and updates to keep players engaged.
Gattis cites a Nielsen study indicating that while Android users and iOS users spend 9.3 and 14.7 hours respectively playing games per month, the average Legends player spends about 25 hours per month in-game. "We built it for these quick play sessions, but people were playing the shit out of it," Gattis says. "Players would plug their phones into their computers to maintain a charge, and play for hours and hours on end."
"They log in about five times a day for about three hours, and give us about $115 a quarter -- these are guys who have stayed with us since the beginning, and they're not outliers, they're a significant portion of our player base."
Part of keeping these players engaged is done thanks to Spacetime's ability to push updates quickly and regularly, Gattis says. Possibly most important to the studio's strategy is that it also pushes updates simultaneously to users on iOS, Android and via Google Chrome, he claims.
Now, says Gattis, he's set his sights on improving the company's business model, by bringing in new staff from other social game companies like Zynga to help better understand the processes of monetization and player retention.
---
A Pure Mobile Take on the Genre
Grey Area Labs was formed in early 2009 with the purpose of developing Shadow Cities -- a location-based MMO that encourages real-world interaction by setting the game world in the real world.
"We thought there's probably no better or more exciting game board than the social structure of a city," says co-founder and CEO of Grey Area Labs, Ville Vesterinen. Grey Area started with three members, and has since grown to 17 on the back of Shadow Cities' success.
The game uses a map of the player's real-world location with a fantastical overlay that allows them to draw magical runes to combat enemies and interact with the world. The real-world game board of Shadow Cities has helped develop a particularly strong sense of community amongst players, Vesterinen says.
"As soon as we launched the game, players wanted to be able to connect in the real world also. It's something that goes with the location-based gameplay, because people saw others walking around them, playing," he said. "We've heard about things like 'mage lunch clubs' all over the place. People aren't only interacting in the game world, but also the real world."
Location-based gameplay isn't unique to Shadow Cities on the App Store, and Vesterinen believes there is much room for others to explore the concept.
"We believe it's a massive opportunity, but we're still in the education phase," he said. "We welcome everybody to this space, because if you look at the very casual game space, there are a ton of companies, and many of them are doing great. Most of the solutions we've seen [for location-based games] are rather simple so far, and are just developed on top of Google Maps. But others are getting there."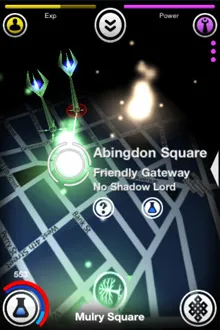 Unlike the Legends games mentioned above, or Gameloft's Order & Chaos Online -- which we'll discuss later -- Shadow Cities' gameplay is specifically tailored to mobile devices, to the extent that it would be very hard to replicate on any other system. Vesterinen believes that this, when coupled with the game's freemium model, explains the game's draw to such a large audience.
"From the get-go we believed in in-app purchases," says Vesterinen. This is essentially due to the fact that with paid games, developers must ensure they're consistently in the top of the charts to remain viable. Ultimately, for Grey Area Labs, the "pay once" model doesn't serve the type of development costs required to run an ongoing game service.
"With the freemium model, you don't need to have so many downloads, as long as you have a great game that has a loyal user base who really enjoys the game. We don't need 160 million daily average users. We want to do a deeper game, which by definition is going to be a bit more niche and directed to gamers, not every single person on the planet," he says.
Grey Area is even less forthcoming with its numbers than Spacetime. However, Vesterinen would share that the company's average daily revenue per user is approximately 20 Euro cents, with a conversion rate hovering just under 10 percent.
In keeping that rate up, he notes that there is an important balance to strike between what the vocal part of your community may be saying, and what the game's metrics are telling you.
"If you develop the game based on what the vocal minority say, you're probably doing a disservice to most of your user base. That's why you need to look at the numbers -- see what people are doing and live by the principle of not necessarily doing what they say, but improve based on how they behave."
---
A World of Warcraft-like Experience for Mobile
Gameloft is notorious for releasing iOS games that are eerily similar to games other publishers have released on PC or console. These games are successful, however, because those developers or publishers rarely provide mobile experiences. Order & Chaos Online -- Gameloft's take on the world's biggest subscription MMO, World of Warcraft -- is no different.
"MMOs are a major genre of gaming; having none on the App Store couldn't last. Our objective was to release the first real online open world game, and to become the reference for the genre on iOS," says company representative Bruno Ambregni.
Gameloft originally positioned Order & Chaos Online as a premium subscription game -- charging players an initial $6.99 with a monthly subscription of $0.99. Now, however, while the game still costs $6.99, the subscription has been scrapped in favor of in-app purchases. This tactic may be working, as the game is, as of October 10, the 114th top grossing iPhone app for games on the U.S. App Store, and number 79 for iPad despite being over a year old.
While Spacetime may have beaten Gameloft to the mobile MMO race, Order & Chaos Online has become one of the major touchstones for the MMO genre on mobile thanks to Gameloft's profile.
Since its initial release on iOS, Order & Chaos has found its way onto other platforms, including Android and OS X; however, unlike the Legends games, Gameloft doesn't allow players on different platforms to interact with one another, citing technical difficulties. Additionally, it claims that offering cross-platform play removes the flexibility required to quickly update the game when changes are needed.
The Update Grind
Live updates are a big part of the MMO genre, indeed, and also an integral part of mobile games. The companies all agreed that given the smaller scale and size of these MMOs, and the speed of development, updates and testing, once developers have their formula sorted, they are able to quickly implement changes -- though this approach is not without pitfalls.
While Spacetime has in-house QA, it largely leaves testing to the users -- with Gattis citing the advantage of quickly finding out what the player base thinks. "Because we're able to iterate so much on the fly, and we've got such a deep connection with our player base, we don't do a tremendous amount of testing," he says.
This approach doesn't always work. For example, on Mother's Day, Spacetime implemented an item which gave a 4.5 x bonus to combat -- with 50 percent of the proceeds went to breast cancer research. After it went live, players realized that the boost also applied to the game's PvP gameplay -- which threw off players' K/D ratios, and riled up the ire of the community. Spacetime was able to remove the item from sale, fix the issue, patch it, and release the item again quickly.
For Spacetime Studios -- other than the basic fact that, according to Gattis, "MMOs are really freakin' hard to do" -- he believes one of the big issues is that mobile developers don't have the capabilities of their PC counterparts.
"Blizzard has this all figured out, but the typical mobile developer doesn't have the breadth of knowledge, or size, or support structures that are required to support games like this," he says.
That said, he's still optimistic about the genre -- and his company's -- chances. "We're always looking to push further and further into this mobile multiplayer universe, because it's just going to be freaking huge," says Gattis. "This company has almost died twice in the past, but right now this is great, and we're having such a blast."