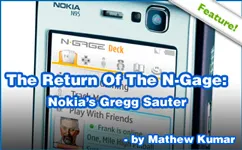 As part of the launch of Games On Deck we investigate what may be the biggest story in the mobile games industry this year: the return of the N-Gage platform. In the first of a series of interviews with Nokia executives (with two more to come later this month) we talked to Nokia's director of games publishing, Gregg Sauter.
GamesOnDeck: What does the new N-Gage platform mean for mobile gamers and the industry?

Gregg Sauter: The N-Gage platform will provide a premium gaming experience to consumers and will help this industry evolve and mature - which it needs to. So now you may be asking what "premium" means. The platform is established on the Nokia S60 platform and will therefore be available across a large proportion of Nokia S60 devices in the coming years starting mid 2007. These devices are essentially multimedia computers which means they combine a range of functions (e.g. games, music, photos, video email, Internet browsing) in a single connected device and are natively programmable. The games will be coded in C++, so these will be native games, providing the richest gaming experience possible on mobile handsets. This is a plus for consumers, publishers and operators because it finally brings the industry a broad platform for native, connected games. This will be a global platform with multiple digital distribution channels. The other benefit for publishers is that we expect this platform to solve many of the fragmentation issues (device & user experience) that we are all facing.

At the core of the N-Gage experience is an on-device application that delivers the most robust, easy to use and consistent user experience seen thus far in the industry. It allows the user to discover great games and connect with their friends in an easy, consistent, reliable way, regardless of where they live or what operator they use. This experience will increase the value that consumers put on mobile games and therefore increase purchases and industry revenue.

GOD: What lessons would you say Nokia has learned from the previous incarnation of the N-Gage for the new platform?
GS: The original N-Gage delivered some of the best mobile games to date and offered up the first global mobile games community and multiplayer offering. We had over 500,000 users on five continents. Despite this success, this industry needs big volumes to drive significant revenue and a phone with a form factor that is meant specifically for gaming has a harder time reaching big volumes. Therefore, it was a natural move for us to evolve and leverage all the good things from the original N-Gage and roll out a new platform across a large portfolio of devices and reach a global audience very quickly. The other thing we saw was the emerging opportunities in digital distribution, especially with mobile networks becoming faster, home broadband becoming very common, WiFi in devices etc.

GOD: Why have you decided to keep the N-Gage branding?
GS: We spent a lot of time looking at this issue and at the end of the day we let users decide. What they told us was this:

The N-Gage received some of the highest consumer satisfaction ratings we have seen with Nokia devices. Gamers that bought it loved it and the majority was comfortable with the concept of N-Gage evolving, in terms of user experience and overall offering. Those that did not buy it were for the most part neutral. We do a lot of consumer research here, including brand research - the Nokia brand is the # 6 brand in the world - and all of our research tells us that we would be much better off leveraging the positives of N-Gage instead of re-inventing a whole new brand.
---
GOD: What mobile games would Nokia like to see on the platform? Classic arcade games and casual games seem to be most popular in the market, but is Nokia more interested in deeper experiences?

GS:
The great thing about reaching a broad audience is that we can reach both the casual AND more serious game player. That said, I think even the casual arcade games will deliver a whole new level of mobile entertainment on this platform. The games will be richer and they will all have connected elements. You will see multiplatform games coming in the next year as well. Like N-Gage, there will be usability and quality standards so not every game will be approved for the platform.
The announced games seem to be using a traditional mobile phone screen size (longer than it is wide); is this expected to be usual? Are most N-Gage powered games going to be played on very traditional handsets, or will there be gamer orientated handsets?
Some of our devices will be better suited for gaming than others. What that means is that some devices will allow you to play in landscape mode and may have other features that deliver a better game play experience. Then it is up to the user to choose what type of handset fits their lifestyle.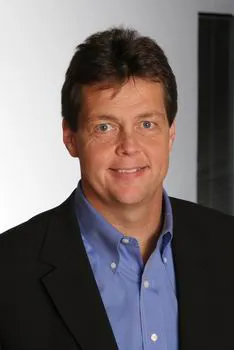 Gregg Sauter
GOD: Are the new devices expected to be hardware accelerated? Is that the future of the N-Gage?
GS:
There will be some hardware accelerated devices but this is not core to the platform. Yes, down the road you will continue to see more hardware accelerated devices come into the mix, however our new S60 device range offers a brilliant games experience with or without hardware acceleration.
GOD: As games are expected to be sold over the air or across the internet, is this going to limit their size, or will there still be lengthy games comparable to titles on dedicated consoles?
GS:
Games will generally be bigger than the largest Java games on the market and the multiple distribution channels provide publishers with a number of options to reach consumers. In addition to over the internet and over the air, we will also be embedding games in devices for purchase and publishers will find other ways to bundle N-Gage games for purchase with other content. For example, a publisher may want to deliver a very casual game over the air because it has broad appeal, therefore they may make it smaller, where as a more serious game franchise with a dedicated following may opt for a larger file size to be delivered over the internet OR they may wish to deliver the game in increments over the air OR a demo could be delivered over the air and the user will be directed to download over the internet - or a combination of these. The internet will certainly grow as a mobile distribution channel. All N-Gage devices will have USB cables and many will have WiFi. Consumers will gravitate to what's most comfortable for them in terms of accessing games so we are focusing on multiple options.
---
GOD: How expensive do you expect titles to be?
GS:
We expect N-Gage titles to be premium priced, so higher than your typical Java game but ultimately this will be up to the publisher/operator/retailer.
GOD: Do you see the new N-Gage platform becoming, or least becoming as close as possible to, the single platform for mobile gaming? If not, what do you see the new N-Gage's future being?

GS:
The great thing about the platform is that it has been built to evolve and adapt to the changing mobile landscape. This is an always connected platform so we can and will update it periodically just like you may update PC applications over the internet. For now we are focusing on delivering this platform for our S60 devices which make up around 50% of the worlds converged devices (smartphones), those devices that have multiple functions such as play/shoot video, play music, games, surf the web, access email, GPS etc. Nokia is already the world's largest manufacturer of converged devices, selling close to 40 million in 2006. The converged device market reached 90 million units in 2006 giving Nokia 45% market share. Also, the converged device market is growing and is expected to reach 250 million units in 2008. We know what the future holds from the hardware perspective so the goal is to deliver great gaming experiences on Nokia hardware. This is the focus for now but as I've said, the platform will evolve.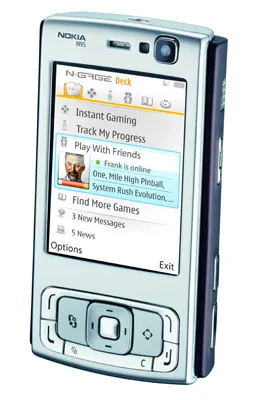 An N-Gage Platform Handset
GOD: do you consider the new N-Gage platform's competition to be?
GS: We do not currently see a competitive offering that provides the depth of user experience, the global community or flexibility in distribution channels. We are focused on evolving the mobile games experience and creating more value for this domain. There are some other offerings but in most cases they are very regional, or perhaps running on one or two operators.

GOD: Obviously I've asked a lot of questions about the new N-Gage platform, but how is Nokia is going to support gaming on future non-N-Gage handsets?

GS: We continue to support gaming across all Nokia handsets. Our Forum Nokia organization is one of the largest mobile support organizations in the world. The current Java ecosystem will not go away, there are large volumes out there and we will continue to support them.