When you think about free-to-play games in the year 2022, you're generally thinking about games on the iOS App Store and Google Play Store. It's a market of players who don't generally engage with the larger video game economy, but are also dedicated to simple, colorful games that help them pass the time.
Apple and Google's first-party stores are obviously titanic revenue drivers for the free-to-play business, but they're not the only stores. Samsung's Android devices can access the Samsung App Store, and Amazon has an app store that also is the primary service for its Android-adjacent Fire tablets.
Players in the free-to-play world are also still downloading games on the Windows Store on their laptops or PCs. At least, that's according Vladimir Romanov, head of App Store Optimization at mobile game publisher ZiMad. ZiMad publishes games like Magic Jigsaw Puzzles, Puzzle Villa, and Domino Online.
In a chat with Game Developer, Romanov was able to share why ZiMad puts in the effort to ship games on alternative game stores. He provided some useful data that might help you look at these stores in a different light—especially if your target audience is already shopping there.
Using your best-performing game to feel out new platforms
Obviously, any mobile game publisher trying out new stores is doing so because it's hoping there's profit to be had in the effort. It's not surprising that ZiMad targets alternative app stores because it wants to make its app portfolio as successful as possible.
But according to Romanov, the process isn't just as simple as adding a new store to the team's publishing lineup. The company's strategy when considering any new store is to first publish Magic Jigsaw Puzzles to assess performance and get quantitative metrics. "It's quite a mature application that has been installed over 110 million times since 2011, and its volume of installs and in-game purchases remain high to this day," Romanov explained. "Our goal is to scale our success and revenue by engaging additional audiences unavailable on [the] App Store or Google Play Store for various reasons."
Romanov shared some interesting statistics that guided ZiMad's strategy on the Amazon App Store. According to him, Amazon's Fire tablets take up 10 percent of the world market—anywhere from a million to 1.5 million of the devices are sold each month. Because Amazon doesn't let other stores operate on the platform (Tim Sweeney are you reading this?), ZiMad's games aren't cannibalizing its revenue efforts elsewhere.
Alternative app stores apparently bring in a "substantial" part of ZiMad's revenue. The Amazon AppStore contributes to 30 percent of Magic Jigsaw Puzzles' revenue, a value that Romanov says is "comparable" to the Google Play Store.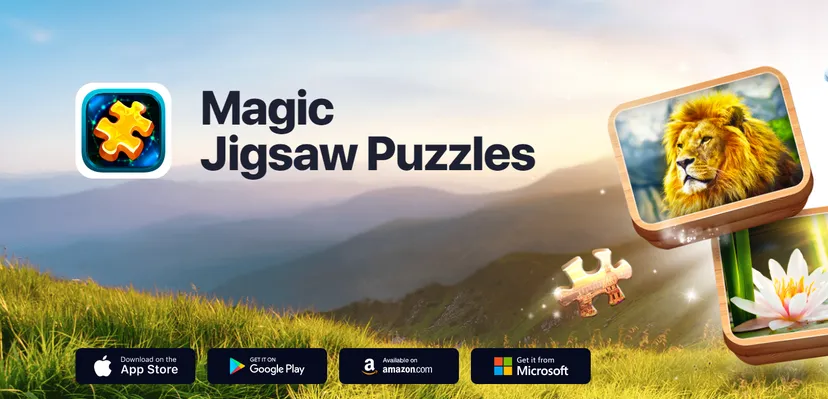 Interestingly, different monetization methods drive different revenue streams on the different alternative stores. The Amazon App Store version of Magic Jigsaw Puzzles primarily drives revenue through in-game advertisements. Romanov credited that performance to the fact that "80 percent of [Amazon App Store] users are from the US." Because players based in the United States are among the highest-paying audiences, that high concentration drives "substantial revenue and high purchase conversion."
On the Microsoft Store, there's more cash earned through in-game purchases. "The shopping metrics there are comparable to those on the [iOS] App Store," Romanov explained. That's apparently because Windows Store users have a higher ability and willingness to spend that money.
Romanov does caution that Magic Jigsaw Puzzles' ability to earn 30 percent in revenue from alternate stores is "more of an exception," that's driven by the game's existing popularity. Across ZiMad's entire portfolio, those metrics are "2-2.5 times" lower. He says that on other games, alternative app stores only bring in 10-15 percent of revenue from other projects.

"Our goal is to scale our success and revenue by engaging additional audiences unavailable on [the] App Store or Google Play Store for various reasons."
ZiMad's experience with alternate app stores has led the company to prioritize shipping new titles on the Amazon App Store over the Microsoft Store. Shipping any app on the Amazon App Store means just modifying the Android app being sold on the Google Play Store, but a Microsoft Store app has to be built from scratch.
Microsoft itself seems to be aware of the advantages here. Windows 11 includes a feature that lets users activate Android apps via the Amazon App Store. Amazon's interest in getting developers to publish on the platform means that it often lets developers offer "Amazon Coins" to players that can be used to acquire in-game currency. Romanov said that Amazon's strategy does "encourage players to make purchases," and that he's observed a "higher" in-app purchase conversion rate among players who use the Coin system.
Free-to-play developers still finding their sea legs in the mobile marketplace might want to learn from ZiMad's success. Romanov did advise any developers jumping onto the Amazon App Store to be prepared to do App Store Optimization analysis "manually."
"The store isn't supported by popular ASO services," he said. "The good news is that search results in the Amazon App Store are the same in the web version and on Amazon devices."
Translation: You won't need to use an Amazon device to perform ASO analysis. Navigating through your browser will suffice. Romanov also explained that while Amazon has a traditional store commission fee of 30 percent, that number drops to 20 percent if your total revenue is less than $1 million per year. Amazon apparently also offers discounts on development services if you're active on its App Store.
Romanov ultimately urged developers not to ignore alternative storefronts, saying that "high-quality products" are likely to be noticed by users active on alternative platforms. If larger developers aren't already active on those storefronts, they might be a chance for you to start connecting with a new audience.