Background
According to published research, revenues from virtual goods are growing as much as 40 percent per year and U.S. sales could reach $2.1 billion1 in 2011 and $2.4 billion2 during 2012, with an even stronger global market (over $7 billion3), due to strong growth in Asia. Thus, every virtual goods and services provider -- from games to smartphone apps, dating sites to social networks -- should be scrambling for new ways to increase conversion rates and average revenue per user.
In the online gaming market, 31 percent of the general gamer population is now using real world money to purchase virtual content, according to a study by research firm VGMarket Database published in August 2011.4 Of those gamers who use real money, 57 percent told VGMarket that they purchase virtual items using real-world money at least once a month, and 72 percent plan to spend more in the coming year.
The VG Market study is consistent with a recent report from market research firm Frank N. Magid Associates which shows that one-in-four U.S. consumers age 13-54 purchased digital goods in 2011, which represents a 100 percent increase over 20095.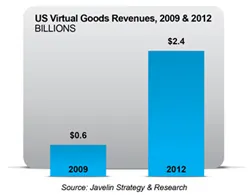 Previously, online purchases of digital goods by gamers in the U.S. were often paid for with credits earned from advertising offers, but now these enthusiastic consumers are migrating to real world payment for digital goods using debit, credit and prepaid cards. It's important to note that these fundamental conversion tactics apply to all types of digital content, not just to games.
So, how do developers increase conversions and average revenue per user? And how do they know how their numbers stack up against their competition?
There's also a fundamental question for every virtual goods business: What should I be doing proactively every day to increase my sales and conversions?
With your focus rightfully on your core business, there isn't time or manpower to address the complexities of monetization and payment on a global scale. Lack of dedicated resources shouldn't slow you down when there's a world of business to be won.
Just as critical, developing and deploying a secure, effective and efficient monetization and payment solution is a significant challenge that would take an overwhelming amount of in-house time and effort, well beyond the means of most content developers.
This article describes several best practices for increasing conversions, compiled from the real-world experiences of some of the world's leading purveyors of online virtual goods.
1. Make it Easy for Everyone, Everywhere
Online customers have come to know and trust their local payment methods, you should make it easy for them to pay, from anywhere in the world, with personalized, localized payment methods.5
Here's a critical point to consider as you expand your business into new countries and new markets: Pricing your products or services in dollars or another non-local currency and introducing new and unfamiliar payment options may slow customer acceptance of your offering. This means you should always make local currency an option.
Most payment and monetization solutions offer only a few payment options, limiting global reach and reducing conversion rates. Using settlement providers scattered around the world is inefficient at best, and creates its own logistical and cultural challenges.
An invaluable best practice is to align yourself with a global payments strategic partner to localize currencies and payment methods and thereby increase your conversions by ensuring that customers are buying in a familiar, trusted environment.
-----------------------------------------------------------------------------------------------------------------
1 Inside Virtual Goods Report, quoted in Venture Beat, September 28, 2010
2 Virtual Currency and Social Network Payments, Javelin Strategy & Research, June 2011
3 Virtual Goods in Social Networking and Online Gaming, In-Stat, November 2010
4 Games and Virtual Goods, Consumer Spending Report, VGMarket, August 2011
5 Virtual Goods and Currency, Emerging Consumer Trends, Frank N. Magid Associates March 2012
---
2. Convert Free Users into Paying Customers
You've built a sticky Application or site and implemented a successful marketing plan to attract a multitude of free users. Now, how do you convert those free users into paying customers?
One of the best options is to offer compelling payment models (subscriptions, pay-to-play, or a hybrid of the two) and accept payment in virtual currencies with a transparent, easy-to-use interface for virtual goods microtransactions.
By making access to premium content and bonus activities easy and available, you may lower the barrier to entry and transform free users into loyal, paying customers. You also create a stable recurring revenue stream as users continue to refill their digital wallets and become more engaged with your games or Applications.
Hybrid payment models typically give customers choices in terms of time versus money, so they can get in on a game with à la carte purchases, buy a subscription for unlimited access, or some combination of the two.
A hybrid payment model's most significant benefit is that the artificial revenue caps that come with subscriptions are removed and average revenue per user (ARPU) can increase, often significantly.
3. Deliver Frictionless, Trusted Payment Options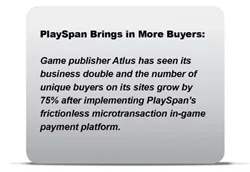 Every step they take and every click they have to make to complete the purchase process creates friction for your customers. More friction means fewer conversions and lower revenues.
Fees charged by payment gateways may also make microtransactions unprofitable.
PlaySpan pioneered the frictionless payment experience, keeping customers engaged in the game or app, rather than sending them off to another site from which they may never return. The result may be increased conversions and more revenue.
Jumping to another site for payment causes theuser to think twice before continuing. What just happened? Is this site trusted? How do I know it's not a fraudulent site?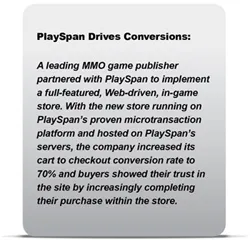 Just raising these questions creates an opportunity for the consumer to walk away from the purchase, possibly never returning to your site.
By offering customers a fast, safe, convenient and frictionless payment option requiring fewer clicks, you'll keep them on your site longer, with a greater likelihood of making more purchases.
4. Extend Your Brand into a Seamless Experience
You've spent countless hours of effort and funds building a solid brand, so why not extend your brand to build trust by offering a seamless user experience?
When it comes time to get paid, some online businesses execute third-party technology that forces the user off-site to a payment page that doesn't match their brand.
Your customers will be much more comfortable making an online payment if they know and trust the provider they are paying, rather than giving their credit card information to a new or unfamiliar source.
By creating a seamless, end-to-end brand experience for your customer, you can increase customer loyalty, conversion rates and average revenue per user.
PlaySpan's payments and digital goods monetization platform includes the UltimatePay Lightbox, an innovative, seamless user interface that delivers a frictionless in-application payment flow, and empowers you to dynamically present users with rich, multifaceted options that drive monetization.
The platform also provides customizable templates that ensure your customer experiences only your brand on your site. Advice from PlaySpan usability experts will guide you through the development of an optimized online customer experience, based on more than twelve years of PlaySpan's data-driven work in the field.
---
5. Simplify and Consolidate Global Reporting
You need detailed, accurate numbers on revenue, payment method, transactions, conversion rates, average spend per user, per transaction and other detailed financial and payment statistics so you can make the right decisions to improve your offerings and grow your business.
Using multiple payment processors around the world means you'll be looking at multiple reports that make it difficult, if not impossible, to compile valid, actionable data reports and develop more effective business strategies.
PlaySpan's statistical reports give you access to a single consolidated reporting portal with all of your global transactional data.
By tracking data in a meaningful way with minimal effort and reviewing clear and concise reports, it's much easier for you to understand what's happening in your business at all times, giving you deep, actionable insights into your customers and your business drivers.
6. Know Your Customers More Intimately
After you're armed with accurate reporting, you can dig deeper into customer behaviors by leveraging robust analytics to optimize their online experiences.
Developers of online games, applications, social networks and Web services that intimately understand their customers' preferences will do a better job of keeping those customers satisfied.
Your knowledge of your customer habits, interests and preferences will be deepened and amplified by PlaySpan's key performance indicator dashboard that tracks critical customer data including detailed revenue by application, country, payment method and product, along with users, transactions, conversions and settlements.
PlaySpan's customer support team, consisting of payment and monetization consultants, will work closely with you to help you understand the meaning behind the data, create a roadmap for optimizing your game or site, and implement the changes that drive increased conversions and average revenue per user.
Enhanced with the Industry leading optimized storefront and marketplace solutions, optimized user interfaces, micropayment wallet and subscription options, fraud prevention, risk management and the world's most flexible payment gateway, a newly retooled and optimized virtual goods payment system may pay big dividends.
By leveraging some or all of the proven methods presented here, developers can enhance their users' online payment experience, build trust, increase conversions and grow their revenues and profits. PlaySpan will be happy to discuss our monetization capabilities that match your business needs. Contact us today.
GDC 2012 Info
The Game Developers Conference is just around the corner and PlaySpan will be there in force this year. It's our one year anniversary since our acquisition by Visa and we decided to put together some informative sessions to provide you with insightful data on virtual goods and real world experiences from leading game developers.
PlaySpan are conducting two information packed sessions and we'd like to see you all there.
Wed Mar 7 @ 5:00 pm, Room 2011 West Hall - "Consumer Interests and Behaviors in the Virtual Goods Economy" presented by Magid Associates.
Gaming is expanding in all areas of a person's life. Increasingly, virtual currencies and microtransactions are used to drive game revenue and increase gamer enjoyment. Frank N. Magid Associates examines this next step in the evolution of gaming in great depth and will present their research findings in this session. The session is sponsored by PlaySpan, a Visa company. Sample of data to be presented:
Consumer spending on virtual games across mobile, social, and online platforms
Planned spend for 2012 and if virtual goods/currencies continue to grow
An in-depth look into virtual currencies/microtransactions player profiles
Thu Mar 8 @ 5:30 pm Room 2020 West Hall - "Hear Leading Game Developers Share Their Monetization Lessons Learned"
As any engineer or producer will agree, data is a crucial element factored into game design. Data gathered from real world experience has special value and provides esteemed insights into things that worked and those that didn't. Attendees of this session will learn from different PlaySpan customers who will share from their experience helpful insights into their approach to monetization. The session is sponsored by PlaySpan. Game developers that will be presenting at this session include: Wargaming.net, Nexon, 7G Entertainment and Paragon Studios.
And also don't forget to stop by and see our new booth, North Hall Booth #932.