Creating a compelling user experience starts with the technology. Nokia Research Center's ambition is to research and solve complex scientific problems to strengthen Nokia's competitiveness in the converging worlds of internet and mobility. It drives breakthroughs that reach far into the future, enabling new business opportunities for Nokia.
Nokia Research Center works closely with all Nokia business units and at GDC this year, NRC brings an exciting line-up of demos that could potentially open doors for mobile gaming and blur the lines between reality and virtual reality. These four demos from Nokia Research Center may help to inspire your creativity:
Nokia Image Space
Nokia Image Space, developed by NRC, is a prototype of a new online community tool that creates an exciting image based mirror world by combing a wide range of digital media in a highly personalized and entertaining way.
This new online service brings user generated photos, videos and sounds together with location and movement information. Nokia Image Space allows users to share content from their real world experiences with friends in a social networking environment. The service uses digital maps, location-based content and MapTP technology from NAVTEQ.
For example, you may want to share a pleasant experience at a local park with friends. Using Nokia Image Space they'd be able to see a satellite image of the park, then follow in your footsteps as they virtually wander through it enjoying the different sights and sounds you experienced via pieces of multimedia.
These could include links to the history of statues in the park, video footage taken during your walk, and relevant sounds, such a music concert recently performed in the park. Content from other users can be added to help enrich your own information and fill any possible gaps.
Nokia Image Space uses a device's ability to sense its surroundings to gather relevant information automatically. Sensors in the mobile devices gather spatial and temporal data, all the time. This is combined with user generated multimedia information to create a compelling online environment.
This project is part of a series of NRC studies focused on enhancing interaction between users and the different media and information in the world around them. It is built on more than a decade of academic research into mixed or augmented reality. It was also listed as one of the 10 top technologies by the MIT Technology Review.
---
Gaze Tracker
Gaze Tracker is a wearable near-to-eye display with integrated eye gaze tracker for mobile hands-free experience with full interaction capabilities. Besides conventional pointing, tracking the user gaze point on a virtual image or even in the real world enables disruptive and intuitive applications possible with no other input device. Watch the Gaze Tracker video.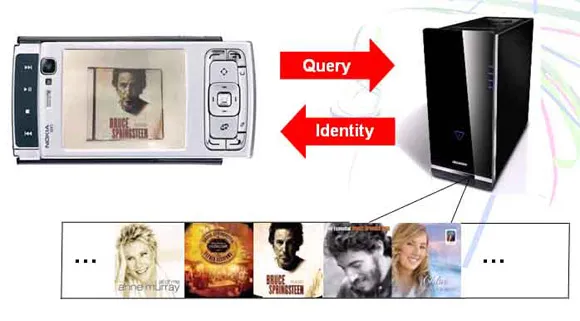 CD Cover Recognition
Take a photo of your favourite music album cover and gather detailed information on the artist and songs. A prototype has been created which sends a query using the photo to a product database in order to identify who the artist is and what the song titles are.
Landmark-Based Navigation
Landmark-Based Navigation allows for automatic 3D modeling of urban scenes from unstructured photo collections, such as popular photo sharing sites. Using GPS information from the photos, the reconstructed 3D model is automatically registered to a map and used in a number of location-based services.
For example, a user can take a photo and match it against a database of photos. The system can then show where a user is located, embed easy-to-follow navigation directions into the reconstructed scene, and otherwise annotate the scene with detailed information on the landmark and its surroundings.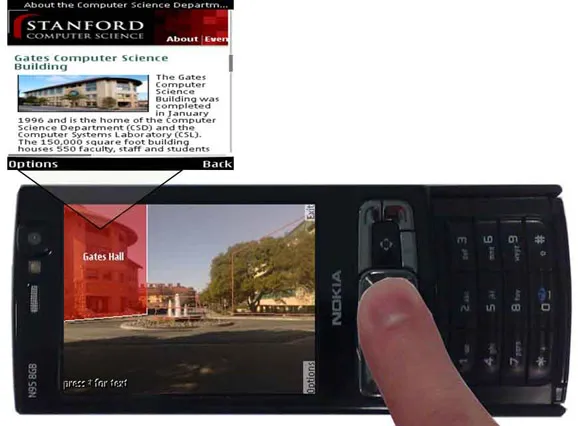 Imagine what mobile gaming could be with the application of these device technologies. Music and maps could become a pivotal part of the mobile gaming experience. To some extent, we have already seen this with the integration of users' personal music tracks into the N-Gage game, Dance Fabulous.
Users may one day be able to interact with the space around them as part of a game. Future mobile games could use elements of a virtual scavenger hunt where objects and places become part of the game play.
Virtual communities and the trend towards social networking could become that much more powerful with the use of Image Space. Bringing new user generated content into a virtual community could make the mobile gaming experience different each time you play. And with the technology of Gaze Tracker, mobile gaming could even become completely hands free!
Come see and interact with these device technologies at GDC 2009, Nokia Booth 5605 in the North Hall. For more information on these demos and what else is happening at GDC visit our events page.