---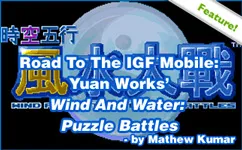 As part of Games On Deck's "Road to the IGF Mobile" feature, we talk to Yuan-Hsi, designer of Yuan Works' IGF Mobile 2008 Audio Achievement finalist
Wind and Water: Puzzle Battles
, a GP2X arcade-action puzzle battle game featuring three skill levels, a Story Mode, a studio-recorded soundtrack, minigames, and hundreds of extras.
Games On Deck: What kind of background do you have in the game industry or in making games?
Yuan-Hsi: We (Yuan-Hsi and Yuan-Hao Chiang) have learned and honed several skills necessary to make video games for the best part of a decade. Since there is no academia for most of our areas of expertise, we are mostly self-taught when it comes to games. I, Yuan-Hsi, am a game designer, artist and animator of many mediums (including pixel art) as well as a musician (including chiptune and limited sound formats), while Yuan-Hao specializes in programming, planning, and game flow, but he is a game designer and artist as well. We have worked on many independent projects as well as contract work for other companies on almost all areas of gaming.
GOD: What motivated you to make your game?
YH: We both grew up in the video game era and making games has always been our dream. There is almost no game development industry in Latin America, so we had to work a little extra hard to be at a competitive level. We made our own little company because sometimes working at a bigger one deprives you of an artistic freedom you keep being independent. Of course, we will continue our contract work, but if possible, we would like to work on as many independent projects with our distinct Yuan Works touch as we can.
GOD: Where did you draw inspiration from in its design and implementation?
YH: Well, Wind and Water: Puzzle Battles is a puzzle game, so all great games in this genre throughout video game history have served as inspiration one way or another. However, the engine and modes are very original, and we don't think they have been brought to this extent in a puzzle game ever before. We longed for a traditional game with the arcade quality and refinement of the late 90s, but instead of waiting for it, we decided to give it a shot ourselves! We simply make games we would like to play. If other people like them as well, even better!
GOD: What sort of development tools have you been using in the production of your game?
YH: We have worked mostly with proprietary tools developed by Yuan-Hao. The introduction, animations, cutscenes, and many other graphic implementations were done with our "SceneAnime" program. It was the same with the sound effects. One exception this time was the music: since we had a chance to use streamed audio, I (Yuan-Hsi) worked at a professional recording studio to offer the highest quality for the soundtrack.
GOD: What do you think the most interesting element of the game is?
YH: Well, in my opinion the strongest aspect of our game, which distinguishes it a lot from any other one, is the (much autobiographical) Story Mode where you learn little by little not only how to play this game, but how it was created, what our aims and obstacles were, how fulfilling it was to finish it, and how it became a dream come true. I would dare to say that it makes our game stand out even more than the complex gameplay itself, because it provides a seldom seen window to the souls of those who create games in a traditional way, in this case our own selves.
---
GOD: How long have you been developing your game, and what has the process been like?
YH: It took 13 months to make this game possible. At first, we were participating in a Korean software contest, and since the deadline was only three months away, we decided our "Puzzle Elemental" project was the most viable to develop in such a short time. After getting the third price in said competition, we kept developing the project until we had the possibility of releasing it as a simple casual game... Instead, we opted to include a set of features to make it an immersive, full-fledged game. The final product has studio-recorded music, anime cutscenes, an extensive Story Mode, hundreds of extras and secrets... The last weeks before the release we both used to work over 16 hours a day, seven days a week. But the reward of having so many people appreciate our work, and even be a finalist in the first ever IGF Mobile, really made working so hard worth it.
GOD: If you had to rewind to the start of the project, is there anything that you'd do differently?
YH: To be frank, not really. Of course there were certain ideas that we wanted to include but couldn't, however this was eclipsed by the number of features that turned out better that we expected. There were many hardships, yes, but fortunately we were able to overcome them all. Many companies, independent or not, start game projects but never have a chance to finish them. We're very glad everything went so well.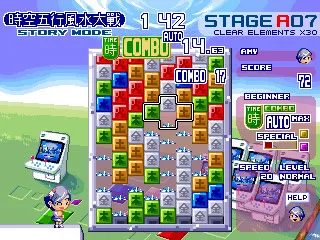 Wind And Water: Puzzle Battles
GOD: What are your thoughts on the state of independent game development in the mobile industry, and are any other independent mobile games out now that you admire?
YH: In the case of mobile gaming, the independent branch is a little different from its "mainstream" counterpart. For one, smaller teams have better chances of releasing a competitive product, and it is easier to find publishers or even self publish games. Another advantage is that many game crafting techniques that have been perfected in the past find a new home on mobile and handheld devices. We think all entries in the IGF are worthy of admiration. We can't wait to play many of those games in the GDC!
GOD: You have 30 seconds left to live and you must tell the mobile game business something very important. What is it?
YH: Whether independent or not, remember that video games are not just a way to earn money; they are a form of art. Several representation skills are unique to games and suit the "limitations" of mobile consoles perfectly, such as pixel art and chiptune music. Do not underestimate the expressive power of them. Combined with solid gameplay and other elements, they can create an endearing experience that transcends time, regardless of the hardware. Mobile doesn't mean lesser at all. Be ambitious with your games and let them shine! (If you take a really deep breath, you can say this in 30 seconds.)