---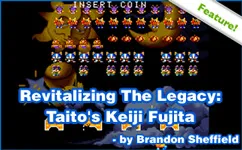 Recently, Gamasutra had a chance to speak to Keiji Fujita, Taito's senior producer for mobile products in the U.S., and in this extract Brandon Sheffield discusses the Japanese company'a success with its evergreen franchises -- such as
Bust-a-Move
,
Bubble Bobble
and
Space Invaders
-- on mobile platforms.
Can you tell me your personal background and how long you've been with Taito?
Keiji Fujita: Sure. Actually, I joined Taito in September 2004. I spent three years over there, then I was transferred from Taito to Square Enix here in Los Angeles to be a staff member for all aspects of the mobile gaming business, especially for Taito's content. So it's been about one year since I came to the U.S. I originally belonged to Taito Corporation [before the merger] so I'm taking care of all the Taito game titles for the U.S. market.

What are Taito's operations like in the U.S.?
KF: Taito used to have an office in the United States more than 15 years ago, I believe. Then they closed down the running of the company, actually. The company was called Taito Corporation of America, and I think they were more for the arcade machines, to sell and distribute them in the U.S. Then they closed down, and since then, Taito has sublicensed our games for consoles to other local game publishers here. Even now, we are still working with Majesco, Codemasters, and Natsume.
Since then, Taito became one of the Square Enix group in 2005. So now we are a subsidiary of Square Enix. That's how I was requested by my big boss to transfer to Square Enix U.S.A. to be in charge of our titles, because I was doing exactly the same business when I was in Japan.
But I realized and believe that it is much better to be stationed here and to be in contact with the mobile game production, because it is very difficult to develop the games for the U.S. market in Japan. We are completely unable, because we can't conduct proper QA, network-to-network programs aren't there. Time difference is a problem, actually. It is good to localize the production from Japan to the U.S., and that's how I decided to come here. Of course, I also take responsibility for the sales and marketing of the Taito game titles, so all of the U.S. mobile carriers are in the States, so it's good for me to meet up with them to discuss our roadmap and business strategies.

So how many people are there working on Taito?
KF: In Square Enix, actually I'm the only person taking care of the Taito mobile games.

So you're the Taito person?

KF: Yeah. The other Japanese guy came from Japan, and he's from Square Enix. He's now responsible for the Square Enix game titles. I think everybody knows Square Enix doesn't launch many games in the U.S. market, for mobile, so they're pretty quiet.
Is it actually going to be Taito's brand on the mobile games when they come out?

KF: Mm-hmm.
Interesting.

KF: Actually, most of Taito's arcade classics are already live on most of the major mobile carriers here, but I'm still trying to add new content. Especially in 2008, it's the 30th anniversary of Space Invaders, so I'm planning a new version of Space Invaders for the mobile phone. And I hope you know about Cooking Mama. We've made the second version of the DS title, and we're trying to launch the mobile version of Cooking Mama in the first quarter of 2008.
We are going to launch the multiplayer version of Bust-A-Move. It's also known as Puzzle Bobble. So you can play with your friends on the mobile phone, and we actually provide a lobby, so you can find your friends or whoever, as a player, message to him or her, and fight against each other. You can also register your friends, so you can see whether your friend is online or not.

Interesting. So it is Taito self-publishing these games?
KF: Yes. It's self-published. Basically, the publisher is always Taito Corporation. We don't leave the name Square Enix for Taito game titles.
---
I was wondering if Square Enix would ever bring back the old Taito brand... in the U.S. it was called Lufia, but I forget what it was called in Japan.
KF: It's Estpolis.

Yeah, Estpolis.
KF: Actually, I'm trying to launch the game for the mobile phone, but due to the technical specification and limitations of U.S. mobile phones, I'm still waiting for the right time to launch this game. I know that Lufia is pretty popular in the U.S. market.
Was it released in Japan already?

KF: On mobile?
Yeah.
KF: It is, yeah, for the [carrier] SoftBank mobile.
Does Taito's U.S. operation have any plans to expand? I know right now they're doing Live Arcade in Japan, but it seems like they would eventually want to do stuff like that here.

KF: The console games will be published by Square Enix in the future, for the U.S. market. There's no point for us to work with other local game publishers, since Square Enix locally has an office here, right? Square Enix doesn't have much [in the way of] game titles to release, so I think it's kind of a mutual benefit between Taito and Square Enix. Taito doesn't have a distribution channel in the United States, and Square Enix doesn't have many products to sell.
Yeah. They're constantly doing Final Fantasy everything.
KF: Yeah. Exactly.

Will your office expand when that happens?
KF: Yeah, actually I'm trying to expand. I'm kind of starting [this] business from scratch.

Yeah, you're not in an easy position. You have a lot of bosses, and they're all over there.

KF: Exactly. Mobile gaming is very competitive. But there's a lot of things good for us. Carrier tech always shows game titles and game descriptions, and even screenshots sometimes. So if there's a brand new game which is a very good game, but people cannot recognize it by looking at the game title only. But Taito's games were previously developed as arcade machines, so people recognize the name of the game. This is a strong point for Taito, actually. That's how we've survived in the market.
Speaking of that, what are the most challenging differences between the Japanese mobile gaming market and the U.S. mobile gaming market?
KF: I would say the game availability for the phones. Japanese phones are very standardized, meaning that if you build an application, it will support most of the handsets in Japan. However, the U.S. phone is very different from the Japanese phone, and I must admit that there are still a lot of low-end devices, while high-end devices also exist. If you want to target the entire U.S. market, you have to support all of the five major U.S. carriers.
In that case, I have to develop a game for more than 200 phones. It is very challenging, and even in the game's specification, we have to consider the low-end devices as well. Mobile carriers are always a hassle to launch the games, so once they authorize approval to launch the game, we have to deliver all the applications within three months' time. So we have to find a very good third-party developer which can provide low cost, fast delivery, and better quality.
---
So the U.S. Taito mobile titles are developed third-party by U.S. companies?
KF: Yes, exactly. But I rely on porting -- the conversion to many mobile phones, and I rely on them for porting only. Basically what I do is I ask Taito's in-house programmer or in-house developer or a third-party in Japan to develop a master application. I always ask them to make three kinds of applications. It's actually the screen size [that's the problem]. So I make small-sized, medium-sized, and large-sized screen applications. After that, I ask the porting house in the U.S. to start porting games to the more than 200 phones. I think this is the best way to maintain the game quality and the fast delivery.

Are you trying to bring a porting house inside? I know when Konami built up their mobile division in the U.S., they actually bought my friend's company Blue Label, which was a porting house, and then brought it internal.

KF: So far, we don't have such plans. We have to do exactly the same things in the future. Before that, I have to maximize the revenue first. At the moment, I rely on third-party developers to take care of the games.
But making a master application in Japan is pretty good, because nowadays, most carriers want to see the working application on the phone to evaluate it. Previously, we gave them one piece of paper about the content, a game plan. It used to work, but it's no longer viable. Now they want to see what a game looks like and how it is. So it's safer to ask to make a master application first, then show them and get approval, then start porting, so we can minimize our risk in this case.
How many people are working at Taito now? The whole company, if you know?
KF: One-thousand, as official employees. And we have temp staff, that's another thousand.

And all the permanent employees are in that same building? The one building?
KF: Yes. We have two offices, actually. The headquarters is in Tokyo, and we have an R&D center outside Tokyo. It's in Kanagawa prefecture. Actually, I used to be at the R&D center. Of course, Taito's got their own branches nationwide, so there must be [many more] employees there in charge of things, like the shop manager, and plenty of temps work there.
This is the multiplayer version of Bust-A-Move. You can play alone, but in that case, you have to play against the computer. [A game demo is shown.] We may develop Bust-A-Move as a standalone game for iPhone.
Actually Cooking Mama for iPhone would be very natural, because you have touch.
KF: Yeah, exactly. At the moment, due to technical problems, I don't think we can develop Cooking Mama for iPhone. Maybe we have to wait for Apple to allow us to develop native applications for iPhones. At the moment, they don't allow us to develop any native applications, so we have to develop the games working on the web browser. There's a lot of technical limitations.