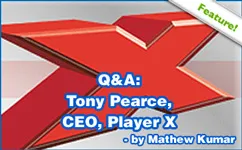 Player X are a "mobile media company", and have recently concentrated on expanding their business in the form of video on demand with mobile channels like geekTV and Zapper TV. Games On Deck talks to CEO Tony Pearce about how the company's strategy includes mobile games, their recent expansion and the future.
Games On Deck: Can you tell us about Player X's history?
Tony Pearce: I set up Player X with co-founder Ari Honka in early 2004. We both previously worked at Digital Bridges (now I-Play) and realized there was an opportunity to set up a company and get direct deals with operators before the door was closed on such direct deals. We traveled the world for at least a year and got these deals before gaining the biggest mobile sports rights in the world by signing up the FA Premier League on mobile video. At the same time we raised $7 million in first-round funding before following that up with another $10 million funding in early 2007.
GOD: Player X are a "mobile media company." What importance do games have to your strategy?
TP: Games are key to our growth. Although we have pioneered several innovations in video-on-demand and our geekTV and Zapper TV channels, games are the proven revenue generators and they will always be the core of our company, be that publishing or aggregation.
GOD: How have you found that your games, mobile TV and video perform in comparison to each other?
TP: Games are a much more established market and the US/European/Asian tipping points of mobile games have all been passed. Mobile TV and video are much smaller, and nascent, markets, but they are catching up fast. Fortunately, there isn't so much fragmentation in those areas, but it will be some time before they take over from games, if they ever do.
GOD: Do you develop titles in-house, or with external developers?
TP: We have a roster of excellent external developers that we use on a work-for-hire basis depending on the specs of each project. We prefer to concentrate on what we're good at (publishing/aggregation/distribution) and let the developer experts do their magic
GOD: What are the biggest challenges that you face in publishing mobile titles?
TP: There is the age-old problem of porting, certification and deployment. Licensors also need a reality check when asking for minimum guarantees of revenues or license costs.
GOD: How do you make sure you reach as many consumers as possible?
TP: We have an in-house team that works on deployment in the UK as well as our new facility in India. We also have Account Directors in Madrid, Lyon, Hamburg Shanghai, Orlando, Sydney, and the best sales team in the whole industry.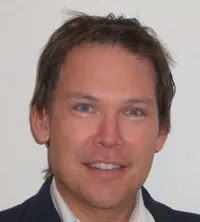 Tony Pearce
GOD: Why did you choose to expand into India?
TP: India is one of the powerhouses of the planet and its workforce is highly educated, highly motivated and very mobile-savvy. Due to the time difference, by opening up in Pune we are able to work around-the-clock and it also gives us access to the important Indian market. We are working with all the major operators in the Indian Market and we will be extending our business with all of them moving forward.
GOD: You now offer Prizeplay enabled versions of your game show titles. Why did you decide to do this?
TP: We realized that for some gamers there need to be some inducements to keep the game interesting. The beauty of game show titles is that they are evergreen titles by definition, but evergreens need to be watered and offering a Prizeplay element keeps them fresh and, dare I say it, exciting
GOD: How does the system work?
TP: In much the same way as a normal games show title. The difference is a number of general knowledge questions interjected between the games show questions. Depending on their success, players can then decide to cash out for money or take 'Bling', the currency we use in the PrizePlay titles
GOD: Do you plan on rolling out the system internationally?
TP: The PrizePlay titles are currently live on two UK operators and we are presently in development for taking some titles to the US and other selected territories.
GOD: There are a lot of differing opinions on how to distribute and sell mobile phone titles in the industry today; what is your take on ad-supported titles or other revenue streams?
TP: Ad-supported titles are another channel we have to be interested in and support completely. Off-portal is also interesting as is D2C, but we believe embedded content on handsets could be the most interesting of them all
GOD: What does the future hold for Player X?
TP: We're in it for the long-term and will continue to grow organically by hiring the right people in the right places as the right time and keeping our eyes open for every possible opportunity to grow our business.