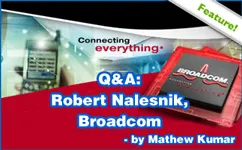 Mobile games are becoming more important in all aspects of the mobile industry, with semiconductor companies, such as Broadcom, expressing their importance to their markey strategy. Games On Deck talked to Robert Nalesnik, Senior Director, Mobile Multimedia at Broadcom about their new hardware and their recent deal with Electronic Arts.
Games On Deck: How important is the mobile gaming market to Broadcom as a semiconductor manufacturer?
Robert Nalesnik: Mobile gaming is increasingly important to Broadcom as mobile phones are able to support more visually exciting games. Today, only fairly simple games are available on a phone, and they are quite limited due to display size, handset processing power, battery life, and content availability. We expect a quantum leap forward in mobile gaming in the near future, with cell phones that support gaming performance equivalent to the most popular handheld game platforms. In addition, these phones will also include high definition (HD) camcorder and movie playback features, as well as advanced digital camera functionality, providing a much richer consumer multimedia experience. We expect HD cell phones with these advanced features to ship in the market in 2009, with expanding volumes in 2010 and beyond.
Just as camera phones now ship more units than standalone digital cameras, HD cell phones will surpass handheld game devices and standalone video camcorders within the next several years, making mobile gaming a very important market for Broadcom.

GOD: How does Broadcom work with game developers?
RN: Broadcom partners with mobile game developers to enable popular games to work on our mobile hardware via Broadcom multimedia chips. We work together with mobile content companies to demonstrate and integrate next generation gaming capabilities into top-tier handset and media players, with partners including names such as Electronic Arts. As the market explodes it's critical that the industry follows standards for mobile gaming. We're leading the way by demonstrating high performance and low power in emerging mobile graphics standards, including OpenGL ES 1.1/2.0 and Open VG. These mobile standards will play a critical role in enabling game developers to create fun, exciting, high performance games available across diverse mobile platforms.
GOD: Can you talk about your agreement with EA?
RN: EA Games is a gaming leader with some of the most popular titles for game consoles and handheld units, and we're happy to be working with them to bring this to mobile phones. Broadcom will work with EA to enable and optimize a selection of EA Mobile titles onto our recently launched VideoCore III HD multimedia architecture.
GOD: Tell us about your new hardware technology, such as the Broadcom BCM2727 VideoCore III mobile multimedia processor.
RN: We're really excited about this product because it brings together a number of interesting features all in one chip. The VideoCore III processor is the industry's first low power multimedia processor that enables an HD video camcorder and playback in cell phones and portable media players. The multimedia processor also supports an up to 12 megapixel digital camera and delivers high performance yet ultra-low power 3D graphics for a world-class gaming experience. It also features on-chip advanced 2D and 3D graphics accelerators and efficient audio technology that provides a powerful platform for mobile gaming applications. The graphics pipeline is optimized for efficient Open VG 1.0 and Open GL ES 1.1/2.0 operation and is capable of 32 million triangles per second peak performance, equivalent to today's popular handheld gaming consoles.
The cool part is that these capabilities aren't limited to viewing on mobile phones; the HD video, 3D games and 12 megapixel pictures can be displayed at top quality on full-sized HD televisions and monitors using an on-chip industry standard HDMI interface. Next generation mobile devices based on VideoCore III technology will offer a quantum improvement in mobile audio, video, imaging, navigation and gaming experiences - all with similar battery life and size of today's compact multimedia handsets.

GOD: Which handsets are your processors utilized in?
RN: Broadcom is currently engaged with several handset and personal media player vendors to integrate the BCM2727 into mobile products. We expect the first products to be available to consumers in 2009.

GOD: What do you think about the N-Gage Platform?
RN: Nokia is a forward-looking company with a good vision of where mobile technology is headed. As with many visionary products, associated technologies sometimes need time to catch up to the vision. Mobile gaming on cell phones is still in the early stages of development. N-Gage represents an early entrant to an exciting and rapidly growing market.

GOD: What does Broadcom see as the future of mobile gaming?
RN: Mobile games on cell phones and personal media players will greatly expand the overall mobile gaming market. Look at the numbers - by 2012 there will be 1.5 billion cell phones shipping each year. That is 50 times greater than the expected number of handheld game devices projected to be sold, so there is a huge opportunity to expand the mobile gaming market. Multimedia phones are about to take a big leap forward, with mobile games representing an important application that will take advantage of technology advances. Increased graphics processing, larger and crisper displays, mobile graphics standards, lower power silicon technologies and higher speed local and cellular networks will provide emerging HD handsets with a dramatically improved mobile gaming experience. This in turn will drive increased investment in mobile game content. We believe that mobile gaming is just emerging, with the future looking bright and enabling a user experience that will be very different than what many people expect.

GOD: What part does Broadcom expect to play in that future?
RN: Broadcom's goal is to lead the transition to connected mobile HD by providing low-power chips and software that enable high performance multi-hour gaming and HD viewing times on cell phones and portable media players. Broadcom supplies all the key mobile communications technologies that power current and future converged consumer devices. These technologies and products include mobile multimedia processors, 2G and 3G cellular processors, Bluetooth, Wi-Fi, GPS, cellular radios, power management units, reference designs, and enabling software.
Mobile gaming is moving from dedicated devices to applications integrated into a number of converged consumer mobile devices. Broadcom intends to provide leadership silicon integration, performance and low power to improve the consumer's mobile multimedia experience.