---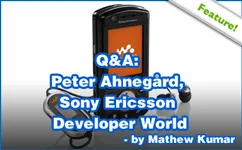 Nokia aren't the only handset manufacturer with a commitment to gaming - Sony Ericsson also consider games to play a crucial role as part of their handset strategy. Games On Deck talked to Peter Ahnegård, Partner Manager of Games & Graphics at Sony Ericsson Developer World about the hardware and software technology for gaming in their latest handsets.
Games On Deck: How important is the mobile gaming market to Sony Ericsson as a handset manufacturer?
Peter Ahnegård: Games are an important cornerstone in Sony Ericsson's mobile entertainment strategy and help operators increase ARPU [Average Revenue Per Unit] through games downloads. For Sony Ericsson, a mobile phone is much more than a simple calling device - it's a modern-day lifestyle gadget and social networking tool that allows users to interact, connect, and have fun by using a wide variety of features like ringtones, music applications and games, which can be downloaded directly to the device. As pioneers in Java-based 3D game development already in 2004 - we currently have close to 60 phones that support 3D gaming - we have been able to provide customers with some of the most sophisticated games that are available on the market today.
GOD: How does Sony Ericsson work with game developers?
PA: Game developers play a crucial role for us, as we strive to continuously enhance the mobile gaming experience. Sony Ericsson has in the past 3.5 years paved the way for development companies like Digital Chocolate, Gameloft, Glu, Fishlabs and I-play to leverage mobile 3D development to their competitive advantage. Today the majority of our main partners are releasing and planning 3D titles in their portfolio. Major players from the console industry have entered the market to extend their brands into the mobile space and Sony Ericsson is working with them. Examples are Electronic Arts, THQ and Sony.
Sony Ericsson Developer World, a global support program for wireless developers, provides dedicated documentation, tools, training, technical and go-to-market assistance for 3D game development (www.SonyEricsson.com/developer/java3d). A Virtual Developer Lab service, powered by Mobile Complete, was also recently launched. Through this online service, Community members get early access to pre-commercial, Java ME based Sony Ericsson phones for real-time testing of applications and games.
GOD: Tell us about the hardware technology you put in the Sony Ericsson phone for gaming.
PA: The W900 Walkman phone launched in December 2005 was the first phone to support hardware accelerated 3D gaming, using an Nvidia hardware acceleration chip for Mobile 3D Graphics (JSR-184).
Sony Ericsson's five Symbian OS UIQ 3 based phones - the P990, M600, W950, P1 and W960 - support hardware accelerated 3D graphics both natively (C++ with OpenGL ES) and in JSR-184. Using the PowerVR MBX core from Imagination Technologies, OpenGL ES based gaming delivers the performance needed to port console class games onto these phones, delivering massive triangle and fill rates along with full 3D features exceeding the OpenGL ES 1.x standard. The game-playing quality perceived by the user will be noticeable. OpenGL ES talks directly with the GPU, freeing up CPU capacity for other calculations, which gives better performance.
Today, there is more memory available on the phones. With Java Platform 7 introduced in 2007 and so far supported on 18 Sony Ericsson phones, more than 5MB heap is possible, allowing more graphics heavy and higher quality games to be developed.
Sony Ericsson will in the last quarter of this year start shipping the first phones with 3-dimensional accelerometer hardware accessible for third party applications. The new Mobile Sensor API (JSR-256) supported in Sony Ericsson's new Java Platform 8 can be used to detect the way the phone is held in a game or web browser in order to automatically switch between portrait and landscape mode, or for game interaction. The embedded 3D game on the K850 and W910 using this feature is Marble Madness from THQ Wireless.
GOD: Tell us about the software technology you put in the Sony Ericsson phone for gaming.
PA: For all its mass-market phones, Sony Ericsson has licensed a 3D engine from HI Corporation, referred to as Mascot Capsule Engine Micro3D Edition ("Mascot Capsule"). These phones in the portfolio (close to 60 phones to date) are all Java-enabled, supporting two 3D application programming interfaces (API's) for software acceleration: 1) Mobile 3D Graphics (M3G) for the Java ME Platform (JSR-184) and 2) the Mascot Capsule Engine version 3 API.
With the introduction of Java Platform 7 (JP-7) last year, Sony Ericsson incorporated a completely compile-based Java technology, allowing Java code to execute at the speed of native code, increasing gaming performance by up to 5 times. There is also support for a new, optional control in the JSR-135 Mobile Media API. With TempoControl you can control the tempo and rate of a MIDI file, typically used as in-game music and sound effects. With this fine grained control you can make a richer experience for the user, e.g. increase tempo when danger approaches in a level or similar.
Sony Ericsson phones also support manipulation of the camera from a Java application. A couple of simple examples that we have seen using the camera functionality for games are puzzle and dart games where the consumer can use a photo taken with the cameraphone. On JP-7 phones, there are new and increased opportunities for multimedia oriented games thanks to the enhanced camera and video recording capability supported by the Advanced Multimedia Supplements API (JSR 234).
The new Z750, K850 and W910 (based on the new Java Platform 8) are the first phones to also support the Java Binding for OpenGL ES API (JSR-239).
---
GOD: What else does Sony Ericsson do for mobile gaming?

PA: Overall, Sony Ericsson has made significant efforts to create an easy communication style to ensure that consumers get fast and easy access to various games, and that mobile phones support applications, content access and are optimized for this type of content.
The latter has been achieved via larger screens, supporting many colors (65k-262k colors), polyphonic sound, multiple simultaneous keypress support, better graphics capabilities, advanced game engines, optimized Java performance, and hardware accelerated 3D gaming. Two of our new phones based on Java Platform 8 (supporting Mobile Services Architecture, the new umbrella standard for Java) are preloaded with THQ's Marble Madness. This game takes advantage of the phones accelerometer which can detect the tilt of the phone in each direction; when you tilt the phone the device registers your movement and the marble goes in the direction that you want it to go, creating a user experience similar to that of actually shaking a marble maze.
GOD: Will Sony Ericsson ever produce a phone especially for mobile gaming?
PA: While mobile gaming continues to be one of our key focus areas, we want to offer users a personalized phone experience that incorporates more than just gaming, but includes perks such as music download, camera capabilities and personalized downloads such as wallpaper animations and ringtones. Consumer research so far shows that the majority of consumers don't buy a mobile phone primarily for its gaming features, but rather for its stylish design, high-quality integrated camera and music capabilities. Right now Sony Ericsson is focusing on making the most of its Walkman and Cyber-shot portfolio. Games are however important to the phones' overall mobile entertainment value and help operators increase ARPU through games downloads. We are continually evaluating new consumer propositions and would never rule anything out of the portfolio, however at this time we cannot comment on the possibility of a more gaming-centric phone proposition.
GOD: What do you think about the N-Gage Platform?
PA: The mobile phone industry is a competitive field, and whilst the acquisition of UIQ Technology and following investments have increased the possibilities for Sony Ericsson to compete directly with S60 on Symbian OS, Nokia is by no means our only targeted competitor. The expanded line-up of UIQ 3 phones and appeal to broader end-user audiences will help drive the use of UIQ into more mainstream and higher-volume segments which will also be positive for the native gaming offering on those phones.
On mass-market phones, Sony Ericsson has been extremely competitive with its Java Platform strategy and has for the past year and a half been recognized by the industry and global Java developer community for having the market-leading gaming performance and an outstanding platform consistency.
I believe Sony Ericsson is very competitive when it comes to providing end-users with an attractive gaming experience on its phones. Since the introduction of 3D technology on our phones in 2004, Sony Ericsson has released close to 60 different models supporting 3D gaming. According to industry reports and some of the major publishers and operator customers, Sony Ericsson phones currently generate the most game downloads on a number of portals.
Developer feedback claims that Sony Ericsson mass-market phones currently have the best gaming performance on the market, achieved by various optimization steps and performance improvements introduced with our Java Platform 7 last year. Sony Ericsson phone holders already have the ability to download hundreds of games via Sony Ericsson's mobile content download service PlayNow as well as from operators and independent sources. We will continue to work with the industry's best game developers and publishers and are confident that we will be able to offer mainstream users a very attractive gaming experience also in the future.
GOD: What does Sony Ericsson see as the future of mobile gaming?

PA: Hardware-wise the memory capacity and processing power will be increasing dramatically allowing even more advanced gaming. 3D graphics will continue to play and important role for the mobile gaming experience. A number of challenges that the mobile gaming industry is facing today will likely be solved, including lack of standards, bandwidth or a phone flat rate. We see a strong interest in more interactive features like peer-to-peer networking, for example by allowing users to play against one another on their phones. HSDPA will hopefully help connected games take off. It is only a matter of time before GPS is considered a standard feature on mobile phones, which could make location-based games a hit. Cross-platform gaming between mobile, console and PC could also become big.
GOD: What part does Sony Ericsson expect to play in that future?
PA: Sony Ericsson is an experienced, trusted and committed gaming partner with strong technical support and gaming know-how. Sony Ericsson Developer World is today recognized as the leading technical resource for 3D game development. I am confident that we will continue to be a thought leader and innovator in the mobile gaming industry as we develop new and exciting phone offerings to engage consumers around the globe.