---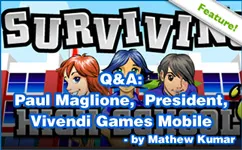 In this latest interview on GamesOnDeck, we talk to Paul Maglione, President of Vivendi Games Mobile, about the company's history, the challenges of translating mobile games development, and the future of the company and the industry.

Games On Deck: Why did Vivendi Games decide get into the mobile space?

Paul Maglione: Vivendi, as a corporation, is perhaps unique among entertainment companies in having a strong telecommunications arm represented by leading mobile network companies SFR in France and Maroc Telecom in Morocco. It is thus well positioned to bring mobile entertainment into the core of its forward strategy; something that Universal Music started some time ago - it is now the leading mobile entertainment company in the music space - and which Vivendi Games set in motion in 2005, with the decision to set up a powerful mobile games publishing unit with a mandate to become one of the industry leaders in a relatively short timeframe.

GOD: Can you explain Vivendi Games Mobile's history?

PM: In-house development of mobile games started in 2004 from our Paris studio, with the games reaching carriers via external distribution partners. We developed about nine games which were sold in this way before announcing the creation of a formal publishing unit in March 2006 and the shift to direct distribution of titles from Vivendi Games Mobile to carriers. Today we have extensive direct distribution with all major carriers in North America and Europe, and are ramping up direct distribution in other parts of the world, both via carriers and specialised mobile entertainment portals.
GOD: Do you develop titles in house, or with external developers?

PM: We develop about half of our titles in-house, and the other half with a small number of trusted external developers with whom we have a long history of partnership. This helps us keep our quality levels high, as recognised by the ratings and awards our titles receive. It also makes for a stable and familiar development environment which helps make porting easier and more predictable and allows us to support more handsets (about 800 at present).

Surviving High School '07
GOD: The Vivendi Games Mobile catalogue features a lot of licensed titles and ports, but also a number of original IP. What do you see as the future of mobile games?

PM: Clearly mobile gaming has not had its "platform-specific breakout hit" yet, so by definition that will have to come from original IP and the publisher which nails that will win big. We thus have a respectable number of original IP titles in our 2007 roadmap, one of which - Surviving High School 2007 - is a very innovative title featuring fresh story lines uploaded over-the-air into the game every couple of weeks and which is already in the top sellers list on Verizon Wireless.
GOD: What are the advantages and disadvantages of translating console and PC titles to mobile phones?

PM: The advantages are undoubtedly brand awareness - something we enjoy with our Crash Bandicoot, Spyro the Dragon or Leisure Suit Larry mobile game titles - and the synergistic marketing effects of cross-promotion between the console or PC title and the mobile game. The disadvantages, for highly realistic console/PC action titles in any case, is a certain expectation level by the consumer as to the title's graphics and sound, which obviously can't be fully delivered on a much smaller device. The key is to identify and focus on the gameplay consistent with that console/PC franchise which best suits the mobile phone, and to make that mobile friendly gameplay as compelling and as fun as it can be.
---
GOD: What are the biggest challenges that Vivendi Games Mobile face in developing mobile titles?

PM: Basically, those that are common to all mobile game publishers: the ever-expanding number of handsets to support; the ever-widening scope of development - everything from a Java game on a Nokia series 40 to QVGA-screen symbian development on a smartphone; and the never-ending battle for optimum deck placement to maximise downloads in a very constrained merchandising environment.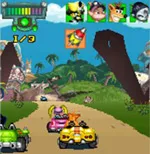 Crash Racing
GOD: Is it a struggle to get a title like Crash Racing to be satisfying on mobile, considering the unsuitable input that most mobile phones have?

PM: The more casual and intuitive the gameplay on the original format, the easier it is to
bring a familiar experience to mobile despite the limitations of the handset. This actually translates well when creating a game like Crash Bandicoot for mobile and we've seen it in the game's performance - it's been one of our top sellers for several years now.

Caesar
GOD: On the other hand, Caesar for mobile phones has won awards; what do you put the success of that title down to?

PM: The trick here was to come up with a very clever set of controls that effectively make the mobile version of Caesar a "one-thumb game" despite the richness of the strategy gameplay. As long as people can advance in the game easily and intuitively, they don't mind games that are rather involving, as the "save game" function allows them to be played in short bursts.
GOD: How does your original IP, for example Surviving High School, make use of the mobile phone platform?

PM: Surviving High School's unique feature, apart from its originality, is the episodic nature of the game, with new story lines delivered over-the-air into the phone every couple of weeks. So for those having downloaded the game, it's like getting a game expansion pack twice a month, which keeps the game fresh and provides great value. It's what mobile gaming should be all about: innovation, originality, re-playability, connectivity, and value.
GOD: There are a lot of differing opinions on how to distribute and sell mobile phone titles in the industry today; what is the Vivendi Games Mobile take on ad-supported titles or other revenue streams?

PM: This is already one of the hot topics of 2007. I would urge caution on the subject of ad-supported games, for while this may be a way to drive generic casual games into the hands of more people, there is also risk of upsetting the delicate value equation which is just starting to gain traction with fans of mobile games, i.e. strong brands and enjoyable games for a modest price, without further commercial intrusions or players in the value chain. In this area, we risk trying to run before we have fully learned to walk when it comes to both consumer penetration and sustainable business models. We're certainly not against ad-supported games; we just feel it's very early to be projecting this out as a separate and workable distribution channel.
---
GOD: With the vast number of carriers and handsets, how does Vivendi Games Mobile work to reach as many consumers as possible?

PM: We're constantly striving for best-in-class handset support. This is possible via our proprietary development middleware framework which gives us very wide, global distribution, reaching more than one billion mobile phone users. We also look to extensive and innovative marketing campaigns which maximise visibility of the games on the carrier deck and generally among the target audience when the games are launched. The most recent example is a campaign in support of Surviving High School 2007. We've partnered with Motorola and launched an interactive MySpace page targeting both tweens and teens. Motorola is giving away free handsets and we're giving users the opportunity to win a spot as a character in the actual game. Our marketing teams in Europe and North America are always thinking out of the box and coming up with marketing programs that will truly engage consumers.
GOD: What kind of impact do you expect the iPhone to have upon the mobile games industry?

PM: If their merchandising strategy is similar to that used for iTunes, it can only help the industry by providing a great example to carriers and other handset manufacturers of how navigation on the phone can be made easier and more intuitive, and how mobile entertainment should be merchandised on the deck.
GOD: And in turn, what kind of impact do you expect the new N-Gage to have?

PM: The way it's looking, the new N-Gage will bridge the gap which remains today between mobile gaming on high-end phones and mobile gaming on dedicated portable gaming devices, specifically the PSP. But beyond the presentational aspects, it appears the N-Gage is attempting to address a lot of the barriers to entry that have limited the consumer penetration of mobile gaming to date. I think the key technology players in the industry - Microsoft with its "Live Anywhere" proposition, Qualcomm with the advanced features of BREW and certainly Nokia with a new iteration of N-Gage - understand the importance of identifying things that work well for games in general and applying those principles to mobile in order to create a greater connection, a greater synergy between mobile gaming and the mass market consumer. Some of these key principles include giving users the chance to try before they buy, cross platform capabilities, ability to take advantage of community and presence, and the implementation of a familiar or intuitive user interface. Of course increased consumer uptake isn't only dependent on the underlying technology or device, but on publishers incorporating more of these elements into the games themselves and carriers continuing to evolve their marketing and deck strategy ins support of the overall gaming offering.
GOD: What does the future hold for Vivendi Games Mobile?

PM: It's still early for us with just a year gone by since Vivendi Games announced the creation of this division, but we're getting great ratings and recognition for our games - including the Spike TV mobile game of the year award for SWAT Force. We have attracted one of the most experienced and talented teams in the business across the various functions of the company, with great backgrounds in both the carrier business, marketing and in mobile game publishing. We are aiming high; we're getting stronger every day; and so we see the future as one full of excitement, promise, and truly enjoyable games with mass market appeal from Vivendi Games Mobile.