---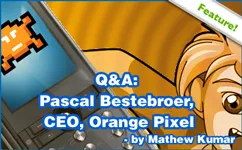 Orange Pixel are a developer and distributor of mobile games that runs a mobile gaming community, Rumble-X, works with small independent developers such as Plastic Cow Games (Arcade Pool) and Smallfry (Brik-Link) and offers its games in ad-supported versions on Gamejump.com. Games On Deck talked to CEO Pascal Bestebroer about the company and these choices.
Games On Deck: Tell us about Orange Pixel.

Pascal Bestebroer: I founded OrangePixel in 2004, and I have since been trying to keep the focus on original and fun game concepts for every type of player. Be it casual, hardcore, male, female, old, young: games just have to be fun. OrangePixel has been trying to stay away from the Tetris and Space Invaders clones, and we have been releasing a wide variation of games including our various attempts at designing good playable one thumb games. In short, OrangePixel is an indie developer with the balls to be creative and do our own thing.

GOD: Tell us about recent Orange Pixel titles that you consider particular successes.

PB: I'm pretty fond of our Rocket Boy trilogy of games. Each game shows an evolution of the one thumb game concept. The games are literally easy to pickup and go, since you only use one button and the game mechanics are simple. However we managed to create three distinctly different games (game play and challenge wise) with an increasing difficulty level. Also a game like Mechanics, although it did not receive the attention it deserved, is a very unique game concept that really works on a mobile phone.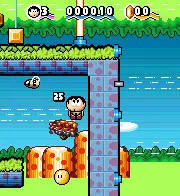 Rocket Boy 3 (left) Mechanics (right)
GOD: What challenges does Orange Pixel face as a small developer in the mobile industry?

PB: Well the biggest challenge is of course making money. In this business most of the income is generated on the operator decks, and as everybody knows a small developer has a hard time getting the content on there. We luckily have some good deals with some operators as they have opened their eyes and noticed some of the quality in our titles. The second biggest problem is of course the many terrible distributors who in most cases still like to take your content for a ride and not pay you for it. So I guess the challenge is really finding the right people to work with.

GOD: Tell us about Rumble-X.

PB: Rumble-X is a little pet project that was started when we wanted to get online high scores in our games. I noticed many developers had some form of high scores in their games, but if you go and check the scores on the developers website it was usually containing 3 - 10 scores on a empty page. So for our high scores we had to do it a little bit better, and we came up with Rumble-X, where every developer can link their own games into a gaming community. It started with a few of our own games and it has been growing ever since. We now have daily, weekly, monthly and all-time high scores, game achievements, day leaders, awards, forums, and thousands of players competing in various games. With the development prices ranging from free to a one time fee of 50 euro per game, it's very accessible for every type of developer. And, of course, for players the services is 100% free to use.
---
GOD: You also offer your titles in ad-supported versions. How has that worked out for you?
PB: The ad wrapped versions of our games have been doing great and I'm pretty pleased with how it has worked out so far. Looking at how players have picked up our games and continue playing them is a pretty pleasing feeling. Most of our premium games have reached the Gamejump.com top ten at one time or another, and we even managed to secure 5 titles in the top 10 at once. Still, it is early days for advertised gaming, and I am a bit worried at recent small changes that have been made to the ad wrapped system concerning coverage, game distribution, etc. Also the fact that as soon as the "big" names come in, the smaller developers get snowed under, is something that I'm not happy with but for now I'm still positive about the whole ad wrapped concept.

GOD: Do your titles do better for you in the ad-supported versions?

PB: I don't think it's a question of doing better in ad-supported versions. I do think our games have gotten a much better exposure to the audience, being one of the first publishers to jump on-board with Greystripe. Having our games in the Gamejump catalog that early meant a lot of people tried out multiple OrangePixel games while hunting the collection of free games. So yes the games did very good in ad-supported versions, but it's probably more due to the lack of exposure that our games normally get. This of course would make you wonder how good the games from the bigger publishers really are... Are those games selling because they are really good, or is it simply the exposure they get from being on the first page of the operator-decks?

GOD: You also work with a lot of small, independent developers. Why did you decide to take that on?

PB: The simple reason why we started to publish some games from small indie developers is the simple fact that we saw some good game concepts, we knew the guys who made those games and we simply offered them our large distribution network to get their games out there. The big problem with it is the handset support, many of the developers out there can come up with great games but they only play on specific handsets. This is the reason we are keeping the publishing of 3rd party titles to a minimum since we don't have the resources or the desire to become a publisher and all the headaches that come with it.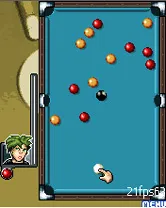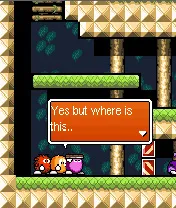 Arcade Pool (left) TriBalls (right)
GOD What games do you currently have in development?

PB: We have various "ideas" in the development process, but seeing as we can be pretty flexible with what we do it's hard to say if those games will also get released. We've just released Arcade Pool and a puzzle-platform game entitled TriBalls that gets a lot of its inspiration from the classic Lost Vikings games. Other then that we are developing a hard-core vertical shooter and a unique one thumb collect-and-avoid game.
GOD: What does the future hold for Orange Pixel?

PB: We will continue to create games that are fun to play, and we will not shy away from trying new game concepts now and then. Our strength is being independent, and the plan is to fully use this strength in our games, to ensure that people will know that OrangePixel creates fun games specifically designed for mobile phones and playable by anyone. Next to that we continue working on solid partnerships with operators and publishers, and we keep supporting ad-sponsored gaming to make sure everyone can enjoy our games.