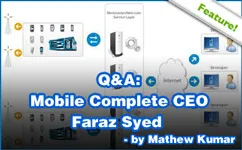 Mobile Complete are a company best known for their DeviceAnywhere service, which allows developers and commercial users real-time interaction with real devices connected to live networks across the world, and were recently awarded Mobile Monday's Global Peer Award for "Community Favorite" at the 3GSM World Congress in Barcelona. In this Q&A, Games On Deck talks to Faraz Syed, Mobile Complete's CEO about the company's history, technologies, and the future.
Syed founded Mobile Complete in April 2003, and the company is listed as one of the fastest growing mobile start-ups in Silicon Valley, providing service to many of the largest internet and mobile companies in the world, with more than 650 clients using their services.
Prior to launching Mobile Complete, Syed was the Director of Solutions at Brience, a mobile WAP applications company, and a Technical Architect at KPMG Consulting. Syed has also held technical positions at Oracle, KLA Tencor, and AMD.
Games On Deck: Can you explain Mobile Complete's history?
Faraz Syed: We started Mobile Complete in 2003 after years of developing and deploying mobile applications on global networks. We realized that the diversity of handsets, operating systems, and networks had made developing and delivering mobile products unwieldy, expensive, and yet unreliable. All of us were (and continue to be) strong believers in mobility, but were disappointed by our experiences.
Armed with valuable insights from our past lives (both as developers and as consumers), we set out to change the rules of the game. Since our inception, we have created technology that has streamlined the development and delivery of mobile handsets, applications, services, and content. Our customers - which include the world's foremost mobile operators, handset manufacturers, content/application/service providers and Fortune 500 organizations - quickly realized the value of our solutions, and are continuing to leverage our technology to drive their mobile products to the next level.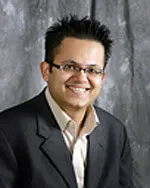 Faraz Syed
GOD: How exactly does Mobile Complete's remote testing service work?
FS: Direct-To-Device enables full over-the-Internet interaction with actual physical handsets connected to live networks, from any location in real-time. It utilizes an electrical integration approach in which electrical connections are made to various input/output interfaces of live handsets. These electrical connections are then stimulated via software that is controllable over the Internet. This provides the ability to remotely access and operate the handsets, press keys, tap touch-screens, view the LCD, listen to ringers and speakers and manipulate other inputs and outputs such as LEDs, vibrators, battery controls, power charger controls, flip/slide controls, etc.

In essence, Direct-To-Device allows users to operate remote handsets as if these handsets were in the users' hands. Therefore, users can remotely utilize real handsets for all their testing, monitoring, and sales/support needs without ever needing actual physical phones in their hands.
---
GOD: How truly comparable is your remote testing service to really having all of the handsets available for testing?
FS: From a performance perspective Direct-To-Device is no different than having a mobile phone in your hand. The difference is more accurate development lifecycles, shorter and cheaper release cycles, higher quality products, and ultimately increased revenue streams all resulting from the convenience and cost advantages of a web enabled system. Also, you can access a device from any location and before they are generally available - so in essence - for organizations seeking to work with devices based in Europe or Asia, they minimize the turnaround time to access that device. In addition through the new Consumer Experience Management Suite, we also offer integrated tools that seamlessly integrate into customer support and training tools to allow better service.
GOD: Are there any benefits that you could say make it better than having the handsets?
FS: Time to market when it comes to new products is a huge advantage and this is especially true when developers can access handsets before they are generally available. Also accessing handsets that are either hard to find or located in different geographies.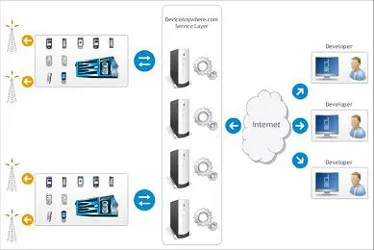 Device Anywhere's Architecture
GOD: Can you talk about Project Mobile Experience?
FS: This is our Consumer Experience Management Suite dubbed "CEMS" and it is built directly off of our Direct to Device technology. That is what differentiates it from alternative simulation based solutions. It is literally a blueprint of the phone and we define it as an extendible Web-based platform designed to improve the mobile consumer lifecycle from start to finish - this being from the pre-purchase stage all the way through the post-purchase stage.
With CEMS, customer care representatives and sales representatives can go online and "test drive" handsets, mobile applications, and mobile services for an interactive try-before-you-buy experience before a purchase, or for self-service education, training and support after a purchase.
GOD: What does the future hold for Mobile Complete?
FS: More innovation when it comes to our products, and as a business, we plan to eventually expand both in the US and Europe.