---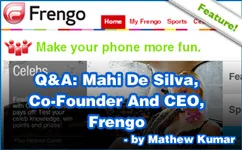 While the mobile games industry is traditionally thought of as consisting specifically of a rich-content downloadable market, there are many companies trying to make their own niche in the mobile games industry with "low-tech" solutions such as SMS and MMS games.
The recently launched
Frengo
is one of these companies, describing itself as a "social play network," offering members SMS/MMS games and messaging services. Games On Deck talks to Mahi de Silva, co-founder and CEO, and Dan Mosher, Senior VP of operations and business development, about the company.
Games On Deck: Describe Frengo.
Mahi de Silva: Basically, we're building a set of services that are focused at two important categories: one, building very lightweight, mobile play experiences, that are either entertaining or informative to our core demographic, 16 to 28 year olds. Secondly, it's a set of social messaging tools that help you stay connected with your friends, whether it's your inner circle of friends, or your friends online from other social networks.
We started the company in May of last year, and put out our beta in November, to market and test our ideas, and just a few weeks ago launched our 1.0 version.
GOD: What spurred the creation of the company?
MS: Well, the four of us (Mahi de Silva, Co-founder and CEO, Dan Mosher, Senior VP of operations & business development, Steve Manning, Co-founder and chief product officer and Sameer Merchant, Co-founder and CTO) that founded the company, we've all got long experience in the mobile industry, at least 5 years each. I ran the mobile business for Verisign, for example. One of the findings, or rather one of the things that I learned from that was that graphics and ringtones downloads are massively successful, but that they don't have any meaningful lifespan. So one of the things that we wanted to concentrate was on really offering things that were of long-term value to the consumer. Whether that's by informing them or entertaining them, or by keeping them connected to their friends.
GOD: What's the exact market for this service, then?
MS: Well, as I previously said, 16 to 28 year olds. That demographic is very familiar with SMS messaging, and most will have a camera phone and have used it for photo messaging to their friends or to use it to upload to the web. They really use the device as a multimedia and social tool. So that's our core demographic.
We are an off deck provider, in that we've made deals with carriers in the US and are live on their networks, but they don't promote our service and we're not beholden to them either.
GOD: Is this a service that's really aimed at non-gamers?
MS: Well, we hope that our proposition is of interest to a broad cross section of the market. But you know, the thing about downloadable mobile games is that there is a wide variety of phones and networks that change what you get, and traditionally, it really focused towards a male market place.
There's the big players, Glu and EA that are trying to expand their casual games catalogue, appeal to women, but we've taken even a broader approach. In the US there are at least 230 million cellphones, well we'd like to reach every one of them and address their needs.
But if you're Glu, for example, and you create a title, what handsets can it work on? What carriers will hold it? It really starts to restrict the availability of the title to all consumers. So we've tried to take broader approach and address as much of the available marketplace as possible.
---
GOD: Do you think you would branch into downloadable games, or are you going to restrict yourself to messaging games?
MS: Well, we look at SMS and MMS as our primary communication channel with the consumer, and over time we're going to start to offer far richer content, such as downloadable content, but we want to make sure we get the very casual gamer market and then really build upon that.
We've really taken a hybrid approach, however. We don't just offer games. One of our social networking tools is "Post to MySpace", for example, which allows you to post blog entries or photos to your MySpace from your phone. That's an example of a 'widget' that we offer that allows you to do something over and above what you can normally do with your phone.
GOD: Is your main selling point the community aspect, then?
MS: We think the community aspect is important, but we didn't want to get into the situation where you need the community to be attractive to consumers, and then how to build the community? So we've started with these SMS and MMS casual games which are topical quiz contests about sports and celebrities, and that's something that can be played regularly and online, so it's easy to share the experience with your friends, and you can also play games which are played specifically between friends, with their own leaderboards and so on.
As well as this players can build their own experiences, using our tools such as "Plan Your Night Out" in which we control all of the messaging but you can build your own entertainment and get your friends involved.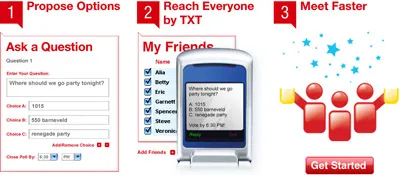 Plan Your Night Out
GOD: Do you see other mobile gaming communities as competition?
MS: I think that if you look at multiplayer games communities, they are very successful for gamers who want to have that rich play experience, but we don't think that we're really complementary, or competitive in that space.
But we do think that our "low-tech" angle could actually be helpful to these companies. There's a market that they're not reaching and we think that if they look at us, or get involved in our platform, they might find a way to reach players interested in very casual, SMS and MMS based games.
GOD: Who would you consider your competition?
Dan Mosher: Well, we looked at a lot of other companies that are focused on SMS and MMS based games, though many of them aren't exactly in the same sphere. You've got people like Limbo, for example, who do auctions via MMS, and they generate a lot of traffic that way.
GOD: What is the plan for Frengo?
MS: Well, the outlook for the company is really focused on building the experience and putting in into the marketplace and getting the word out, and we're really focused on our consumers, and want to be close to them and we're doing our best to find out what they want and need and go from there. But we'd like to be able to get people interested in, and offer them, deeper, more premium experiences.

We're also looking at working with companies to offer content, which ultimately would mean ad-driven content, but we'd want to be sure that it worked as part of the community which we're trying to build.