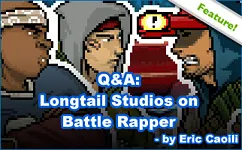 In this latest Q&A, Games On Deck talks to Longtail Studios producer Luca Fusi and marketing manager Jeffrey Peters about the company's newest release, Battle Rapper, discussing the challenges of developing a story-centric rhythm game and designing a music-heavy title that can be played while muted.
Published by Advanced Mobile Applications and released with a "Guitar Hero for hip hop" bent, Battle Rapper challenges users to follow on-screen cues and complete verses with timed multiple-choice lyrics. In addition to delivering their own solo raps, players will also have to work cooperatively and battle with other rappers in rhyming contests.
Games On Deck: Interestingly, Battle Rapper's control scheme's tetradirectional taps and holds remind us more of DanceDanceRevolution than Guitar Hero. Could you describe the control scheme and how Longtail arrived at this setup?

Jeffrey Peters: We spent a lot of time formulating what we felt were the optimal gameplay actions. Battle Rapper is about more than just the tap and hold gameplay, we wanted the player to be able to take in the lyrics, which are related to the scenes and overall story of the game. We believe that the tap and hold actions allow the game to flow naturally and don't feel forced.

Luca Fusi: There's a lot going on in Battle Rapper, and we didn't want the player to have to worry about moving their hands around to find the right controls. We centered the gameplay around the d-pad and then worked to find the control scheme that best supported the story. Eventually, we settled on taps to get across the rhythm aspect of the game, and the longer holds to represent the rhyme.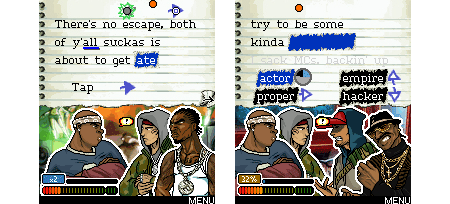 GOD: Unlike most other rhythm games, Battle Rapper's focus is its story, addressing issues common to the subculture and industry -- the constant need to defend your street credibility, southern rap's domination of the airwaves, etc. What made Longtail Studios decide to put its emphasis more on the game's story, as opposed to other rhythm games which play up mechanics and the music?
JP: Focusing on the story and characters is what Longtail Studios does. If you look at some of our previous games such as
Matchmaker: Love U
and upcoming games like
TNA Wrestling
, you'll see that while the games are very different, there is a strong focus on the story and that the players have a great deal of impact on the outcome of the game. It's really a testament to our writing team that they create such engaging content.
LF: We knew we had a great story to tell, and we knew that we could successfully combine it with the rhythm gameplay. As you said, we haven't seen a rhythm game that focuses on the story like
Battle Rapper
. It's more than just a rhythm game, it's a game that connects you to the characters and pulls you in.
GOD: The game is peppered with colloquialisms and ideas which might seem foreign to most audiences who haven't been steeped in the subculture. Was Longtail worried about alienating gamers who aren't as familiar with hip hop as hardcore fans?
LF: Not really, we knew that if we were going to connect with our core audience, we had to keep the game as true to reality as we could. If we had played it down the middle, we'd have lost our audience on both sides. We weren't interested in making a watered down game. The core focus of the game is hip hop culture. I don't think there's anything that would stop just about anyone from enjoying the game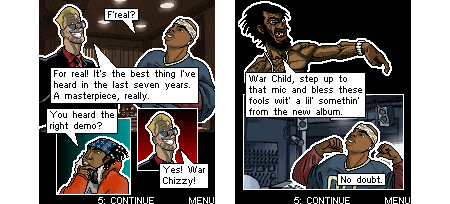 GOD: Is anything being done to market or advertise the game to hip hop fans?
JP: There are a few things that we are working on. Unfortunately we cannot say anymore at this time. I can tell you, though, that we have received an exceptional response from music, lifestyle and hip hop media.
GOD: Aside from saving on budget costs, why else did Longtail opt to use original music, lyrics, and characters over recognizable hip hop figures and beats?
LF: This again comes down to the story. We were committed to creating an original game including story, music and lyrics from top to bottom. We did work with an underground NYC rapper, Bekay, to write the lyrics solely for this game around specific criteria.
GOD: What was Longtail's biggest platform limitation while trying to develop a rhythm game for handsets?
JP. Our biggest concern was creating a mobile rhythm game that would be fun and engaging when played with or without the music.
LF. We knew that with
Battle Rapper
being a mobile game, the option of playing with the sound on simply wasn't there for some people, so we had to develop a game that maintained the music and rhythm aspects even when you played without sound. I think the gameplay we used works very well, especially for the mobile space, and stays true to what we aim for as a developer. When you combine that with the overall story throughout, I think
Battle Rapper
comes out being an exciting new type of game.