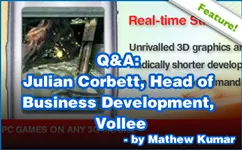 Vollee recently announced Vollee 1.0, a new service intended to offer consumers high-end games streamed over 3G networks.
With publishers such as Activision, Codemasters and Encore Software supporting the service, Games On Deck Talks to Julian Corbett, Vollee's Head of Business Development about the service's differences from traditional distribution on 3G handsets.
Games On Deck: Introduce us to Vollee 1.0.
Julian Corbett: Our new service, which we announced at CTIA, is our ability to stream PC games in a cost-effective, scalable and adapted way to any 3G handsets. Since all rendering is done on our servers the phone itself does not require any 3D capabilities to get this superior gaming experience.
GOD: Can you explain exactly how it works to provide console quality games on mobile phones?
JC: It's pretty simple, we use our patented technology and 3G networks to push the mobile games experience. Our VolleeX engine enables high-end games to work on mobile phones, taking into account screen size and key layout, so all the fun of the original game still translates to the mobile game experience. This adaptation process takes only a few weeks as we have full control - please note without any access to source code! - of all the elements in a game. Simply by selecting the object on the screen of the original game we can move it around, change the size, colors, textures, thus creating a visual interface that is adapted for the mobile platform... and voila - we stream that to the phones.
GOD: What are the technical requirements required for phones in order to use the service? Do they need 3D hardware?
JC: A single over the air software download to a 3G handset of a few hundred k provides access to the Vollee service. As I mentioned no additional hardware or 3D chipset is needed as all of the rendering takes place on our side
GOD: How does 3G facilitate the service?
JC: We use always-connected 3G networks for mobile games, much in the same way broadband allows for an online experience with PC games. Our interactive video streaming platform optimizes compression to minimize bandwidth requirements and leverages the 3G mobile networks in such a way that gamers can play fast paced, high quality video games.
GOD: How is this service different from other games offerings for 3G handsets?
JC: Vollee offers the only streaming games service and is the only one to deliver full PC/console experience on mobile. Other games do not really utilize the fact that they are connected on a high-speed network. They are still stand-alone, non connected experiences. Some games might also be slightly bigger than the traditional 200k downloads but they remain a very watered down version of what a full PC game is.
GOD: Where did the concept come from?
JC: The concept came from a realization that the current value chain is broken. Games on mobile are an average to poor experience for players. Parallel to this experience is the cost of making them is spiraling due to an ever increasing fragmentation in the market place, requiring up to 1M dollars to make and distribute a 3D mobile game across all the handsets. Finally the promise of mobile as a connected and always-on device is not being addressed creatively. Vollee is a solution to all those issues.
GOD: We noticed the recent release said "VolleeX enables moving, re-sizing or replacing any object within the original video game without access to source code, ensuring that the game play is maximized for mobile." How does this work and what use is it to developers and publishers?
JC: Yes - at the end of the day people do not care how a game is produced, it needs to be a fun experience on mobile, for mobile. This is what we achieve in a few weeks through our patented solution. By having the ability to manipulate these elements, we can easily bring just about any game to market. Because we manage to do this without access to the source code it is fast and easy for the publishers of the original PC title to bring their IP over to mobile. For instance they can do simultaneous launches of titles without affecting their internal bandwidth.
GOD: Can you discuss the support from Activision or Codemasters in any great detail - for example what games they will be releasing for the service?
JC: At this point we are only discussing the publisher partnerships. We'll be announcing titles as they become available in the coming months
GOD: When do you think the service is going to roll out in its final form?
JC: The Vollee service is currently in tests with major carriers in North America and will be publicly be available first half of next year.
GOD: Have you faced any challenges during development of the service?
JC: I am not going to lie to you: this is really really hard. The concept sounds simple enough but there are a lot of moving parts and to ensure a great user experience it is very challenging. We are fortunate to have some incredible talent within Vollee that is working magic on a daily basis and some of the tools we have developed are quite simply awesome. But we have been hard at work in stealth mode for a couple of years now to bring this ground-breaking solution to fruition.
GOD: What does the future hold for Vollee?
JC: 3G and now the even faster HSDPA platforms are rolling out much more rapidly than any previous generation of mobile platform. You have 1 billion new phones being sold every year. The reason mobile gaming as to-date underperformed analyst expectations s because the user experience has simply not been there. We are taking a radically different approach and one that holds much promise for publishers, carriers and players around the world.