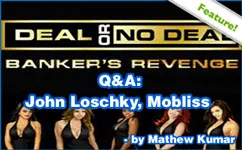 Deal or No Deal, based on the NBC Game show and developed by Mobliss has been downloaded over one million times since launch, and Games On Deck talks to John Loschky, Director of Program Management at Mobliss about the company, it history, and the success of Deal or No Deal.
Games On Deck: Tell us about Mobliss.

John Loschky: Mobliss was founded in 1999, and has been involved in the development of mobile entertainment since. Today our focus is on mobile gaming and video.
GOD: You're owned by Index, a Japanese wireless content provider. What effect does that have on Mobliss?
JL: Mobliss manages our own direction in the US market. That said, Index does expose Mobliss to many international opportunities and connections.

GOD: Is there any interaction between companies within the Index group? I've notice that they also own other, game companies such as Atlus.
JL: To a certain degree yes. We are continuously evaluating opportunities between Index owned entities.
GOD: It's been a while since it was released, but how on earth did Brady Bunch Kung-Fu come about?

JL: It was a standard licensing arrangement.
GOD: I notice that since then, you've moved away from that kind of license and towards game show licenses mainly. Why the change?
JL: Actually, there has been no conscious to focus on game shows. Our two largest partners (Fremantle Media and Endemol) just happen to have very popular licenses in this particular space.
GOD: Deal or No Deal has been a major success for your company. What do you put that down to?
JL: The game show continues to be very popular and attracts a good degree of buzz. To a large extent, the simplicity of the game makes it attractive to a larger user base. One that includes the larger casual gaming demographic.
GOD: How are you attempting to follow up on the success of Deal or No Deal? What titles are to come in future?
JL: We just launched a follow up title to Deal or No Deal called Bankers' Revenge. To date this has been doing extremely well.


Banker's Revenge
GOD: Do you have any interest in developing original content for mobile?
JL: If we feel original IP can be successful then yes, we would consider. Right now, our opinion is that very little interest exists in original IP across the industry.
GOD: What does the future hold for Mobliss?
JL: We are currently developing a title for Burger King that will be promoted and sold via 9,000+ restaurants nationawide in Spring, 2008. The game will include a collection of over a dozen mini-games that feature the King himself.