---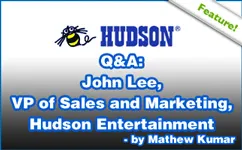 Hudson Entertainment, the North American publishing arm for Hudson Soft, have recently experienced a resurgence into the public eye, with a successful strategy of downloadable content for Wii and Xbox 360 supporting a full slate of mobile releases. Games On Deck talks to Hudson's Vice President of Sales and Marketing, John Lee about the company's decision to concentrate on mobile.
Games On Deck: How are things going at Hudson currently?
John Lee: Things are going great! We're now expanding our lineup to cover mobile games, mobile music, console games and downloadable games. 2007 should be a banner year for us. It's even more impressive when you think that a few years ago, everyone in the industry was wondering where Hudson went.
GOD: You're obviously making in-roads back into console development, with Bomberman Live, for example, but is mobile still the core market for Hudson right now?
JL: Mobile will always be one of our core businesses. Hudson made a decision many years ago to invest in the mobile business, and will continue to do so. In Japan, we are the second largest content provider for mobile. Our goal for the US side is to become a well-respected player in this field as well.
GOD: Why did Hudson decide to invest so heavily in the mobile market in the US, particularly considering it's illustrious history as a console developer?
JL: Hudson has a history of thinking beyond core gaming. It has a very large R&D group that is constantly evaluating new opportunities. As you may know, Hudson created some great hardware technology before in the PC Engine/TurboGrafx system. It also created handheld electronic toys like the Teku Teku Angel device. Mobile was viewed as a great opportunity for growth, so we made the commitment to tap that market. In fact, Hudson was one of the first companies ever to showcase mobile games at the Tokyo Game Conference. People thought we were crazy, but the investment has paid off. Console development is what we are known for to the core gaming audience, but as you can see, we are known for many other things as well.

Chew Man Fu
GOD: You've been releasing games on Virtual Console and mobile, such as Chew Man Fu. Are you using the VC almost as a "marketing tool" for the mobile side?
JL: We never invest in a platform just for marketing purposes. It has to be a good financial decision first and foremost. But having platforms, such as the VC, does help us determine if there are untapped brands from yesteryear that would be worthwhile to bring back.
GOD: Are other recently released titles such as Air Zonk going to make the transition to mobile?
JL: Fans will see some other classic games come back on mobile, reaching a new generation of gamers. However, we have also determined that we didn't just want to sit back and launch classic games. It is important to constantly innovate and create new IP's that fit the gaming device. That is why, in the future, you'll see us launch a mix of classic games like Lode Runner Deluxe and new games like Gravity Blast, a game that really plays well on mobile.
---
GOD: An issue that remains in the games industry is that many handsets are still very unsuitable for playing games on, and the "one button press at a time" issue. Do you see that changing?
JL: There will always be ongoing issues when you use a device that is purchased primarily because it is a phone. But I think one of the biggest misconceptions is that this device is "unsuitable" for gaming. It's great for gaming, but a certain type of gaming. If you try and shoehorn complex console games onto a phone it will never feel as good as the original. We're being smarter about selecting games we know will still play well on a cellphone.
GOD: There's a huge list of amazing games in the Hudson back-catalogue, but you've developed a surprising number of original IP for mobile. Why bother?
JL: Because coming up with new ideas is the lifeblood of any gaming company. Period. You can't just rehash old games and never create new ones. It's important to have a good product mix, and that includes classic games, new IP's, and licensed games. That is our strategy going forward with mobile.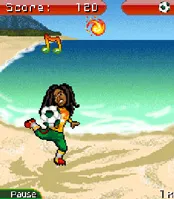 Bob Marley Burnin'
GOD: How did a title like Bob Marley Burnin' come to be developed by Hudson?
JL: This was through a brainstorming session we had, mixing our gaming group with our music group. Bob Marley is the #1 selling reggae artist of all time, with 17 million albums sold. He's an icon. And today, with so many of his fans in college age range, we felt that one way to reach this fanbase was through a medium that every college student loves: gaming. That's how the idea got off the ground.
GOD: It's similarly strange to see Hudson diversifying into hip hop ringtones. How does this form part of Hudson's overall strategy?
JL: Quite simply, we saw a business opportunity in the US and we went after it! It helps that in Japan we have a massive mobile music business, so we knew that this was something that we could pull off in the US as well. When we got into this business 3-4 years ago, we were a virtual unknown in the hip hop space. Today, we are the largest provider of indie hip hop music in mobile, and we're even expanding beyond that.
GOD: What does the future hold for Hudson?
JL: We're looking at new ways of distributing content. We are a content company above all. We make great content, and the platforms we launch it on will ultimately change over the years. So with mobile becoming a respected industry, and digital downloads becoming more popular, you'll see Hudson reach a new generation of gamers through new mediums. This goes beyond games as well. Music is something that we are dedicated to expanding.