---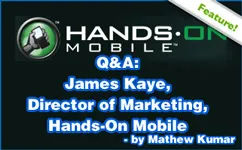 In this Q&A with Games On Deck, Hands-On Mobile's Director of Marketing for Europe, S.E. Asia & Latin America, James Kaye discusses Hands-On Mobile's history, the re-branding of the Hands-On Mobile Runtime Environment, Heroes Lore's success in Korea and the upcoming Guitar Hero mobile games.
Games On Deck: Tell us about Hands-On Mobile - the company, its history.
James Kaye: Hands-On Mobile used to be Mforma until we changed our name in April 2006. We are a leading global publisher of mobile entertainment products. Established in 2001, with operations on four continents, Hands-On Mobile develops and distributes mobile content to more than 200 of the world's leading operators in 60 countries. Hands-On Mobile provides operators and their customers with a wide range of entertainment brands. Our diverse catalogue includes games, applications and personalization suites from top brands such as Activision, Billboard, CBS, LEGO, NBA, Marvel, NBC Universal, Paramount Pictures, and World Poker Tour. Hands-On Mobile is a U.S. corporation with headquarters in San Francisco and offices in San Diego, California; London and Manchester, England; Krakow, Poland; Sao Paulo, Brazil; Shanghai and Beijing, China; and Seoul, Korea.
GOD: Do you develop titles in house, or with external developers?
JK: We develop most of our titles in house although we do also undertake third party publishing with some key developer partners - hence why we are holding our first ever developer event in November of this year.
GOD: Can you describe your studios?
JK: Most development is undertaken out of two studios, one in Bollington, UK (near Manchester) and the other in Seoul, South Korea. This incorporates not just development but also QA and porting, basically all production and post-production.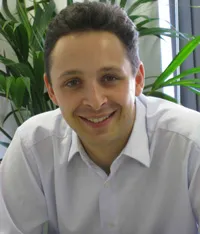 James Kaye
GOD: Tell us about HOMBRE, the Hands-On Mobile Runtime Environment.
JK: HOMBRE is now called 'Mobilize it!' and brings mobile development to the mass market by enabling rapid development and publishing of rich mobile applications that work across carriers and mass market handsets. 'Mobilize it!' is in effect a very advanced browser that really beings the phone to life. Cameras, stereo music players, big colour screens, feature-crammed phones are all great, but without services that deliver what you want - like video sharing, real-time streaming content, cool feature-filled widgets, and of course really fast access - your phone is asleep. 'Mobilize It!' means people don't have to go out and buy a new phone or even switch providers; 'Mobilize It!' wakes up the phone you already have in your hand. 'Mobilize It!' enabled applications create a consumer experience with all the benefits of a real-time connected environment without buying a new phone or changing carriers.
GOD: How has the response been so far?
JK: Extremely positive. The really rich experience that 'Mobilize It!' gives the customer just takes your phone to another level.
GOD: What has been developed with it so far?
JK: There are some apps in development that we will reveal soon.
GOD: You're clearly a very global company. What difference do you note between the different markets you work in?
JK: It is really to do with local tastes or that some places may be much more into major brands than others. It may be that culturally things do and don't work - so for example you will find that a game based on very local licenses does well - such as the Lucky Luke game in France where he is a massive character - that would never have worked in the UK. Likewise, poker is massive in the US and now most of the European countries are waking up to it which is making people a lot more receptive to World Poker Tour.
---
GOD: You've had a lot of success in Korea with the Heroes Lore titles. Can you tell us about them?
JK: Heroes Lore has been incredibly successful in Korea. The latest installment, Heroes Lore Zero, sold 200,000 copies in the first week alone and crashed the servers of one of the operators.
GOD: What other titles are popular in Korea?
JK: They like a whole mix of games so it is hard to specify - role playing games are very popular in general.
GOD: Do you consider the market more advanced than the market here?
JK: In many ways yes as they are into connected gaming a lot more. Connectivity is absolutely key to Heroes Lore.


Heroes Lore
GOD: Licenses seem to lead the market here, and Hands-On's portfolio seems to reflect that. What's your take?

JK: Operators do like licenses so we have brands to help launch titles, although we do have our own IP that has performed very well such as Sudoku Garden, which we have just made a sequel for.
GOD: Your poker titles have obviously been very popular here. Why do you consider that poker titles are such a hit on mobile?
JK: Poker is very mass market now - it's the new rock and roll with just about everyone playing it or watching it! Also, Poker games fall into the whole casual/card game genre that people tend to favour. They also offer great value for money as they are endlessly replayable (as opposed to a level-based game that you complete) and they favour small snack-sized gaming sessions as you can quickly play a hand to fill time or several hands depending.
GOD: You've picked up the Guitar Hero franchise - where are you going to take that on mobile?
JK: We have a couple of products in the pipeline. One product we have already shown at CTIA last week is the version that closely matches the console experience as you would expect whereas the other product (that I cannot really discuss) goes in another direction whilst staying true to the brand. In the US, the first game will also have downloadable song packs which will be interesting and is something we are exploring for Europe.
GOD: What does the future hold for Hands-On?
JK: Very much focused on community, connectivity and convergence. We strongly support subscription-based multiplayer and community-based mobile games as well as the ability to play between web and wireless which is a first for WPT2 - anyone can register and play for free at www.worldpokertour.net against other people on their PC or on mobiles, wherever they are in the world.