---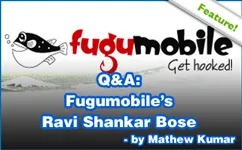 Based in China and India, Fugumobile is a developer and distributor of mobile games and applications that also works a as a "full service mobile marketing agency." Games On Deck talks to Fugumobile' VP of International Business, Ravi Shankar Bose, about the company's game development and Enrapture Ad platform.
Games On Deck: Tell us about Fugumobile.

Ravi Shankar Bose:
Fugumobile is headquartered in Shanghai, China. It also has a development center in India. The core business focus is on mobile games and mobile marketing. It has been founded by Ravi Shankar Bose and Ranjit Singh, both wireless industry veterans and based in China for the last 7 years. They were with Mobile2win China previously, which was acquired by Disney in 2007.
GOD: Tell us about the Enrapture Ad platform.

RSB: The Enrapture Ad platform brings the online advertising model to the mobile platform. Banner ads are shown in the games while the user is playing the game. When the user exits the game, user can also click on a banner to go to the advertisers WAP site. With Enrapture we like to focus more on what the brands and consumers understand rather the technology behind the platform. In-game advertising is a convoluted term today with neither the brands nor the consumer understanding it well. That is why Enrapture focuses completely on tried and tested business models like CPM, CPC and CPA, which the adversities understand. We also try and make the platform as unobtrusive as possible so there are no clickable banners while user is playing the game. The clickable banners only appear when the user exits the game. Also very unique to this platform is that the ads are shown not only during the splash screens but are part of the game and work like product placement. This delivers better brand recall and interactivity with the consumers.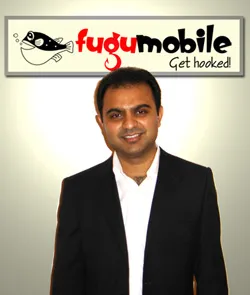 Ravi Shankar Bose
GOD: How do you target advertising to consumers?
RSB: It's really a question of which brands are we working on and what is their target consumers. Right from the solution and the product that we develop, it is tuned towards the brand's target consumers and that it communicates the brand's marketing message effectively to their consumers.
On the implementation side, we work with the brand's media team and the agency to work out a solution to target their consumer and advise them on how to interconnect their traditional media advertising with mobile advertising. We also advise them on the technical aspects and the best practices of the mobile medium.
GOD: So are your titles offered to consumers for free as advertising supported content or are they advertising driven?
RSB: On our mobile marketing side, we work on two models:
1. Customized rich media products for brands: These are products that are developed entirely with a specific brand in mind and the whole product revolves around the brand elements. These are mainly entertainment products like games built to deliver the brand message to the consumers. These games are delivered free of cost to the consumers. As with any other form of advertising, be it TV, print or online, consumers do not pay when they watch the ads, it is the same with mobile.

2. Enrapture Platform (In-game advertising): As mentioned above, this model works like a online model where banner ads from various brands are shown in the game and are rotated dynamically. These are our regular games on which banner ads are shown.
Ad-funded model is probably the wrong term to call this model. If that was the case, we would be calling the newspapers ad-funded news and the TV ad-funded TV. The focus here are the:
Brands: their advertising should be effective through this media.
Consumers: they should have good quality games.
Ad-funded model focuses too much on the free element of the solution whereas to be a really successful model, the focus should be on brands and consumers.

Our other business stream of direct to consumer mobile gaming, the titles are delivered to the consumers under standard pricing relevant to the country and the telecom operator they are downloaded from.
---
GOD: You're based mainly in India and Shanghai. Why these markets?
RSB: For us it is very important to tap into the Chinese and the Indian market. China is the largest mobile market in the world and India is the fastest growing mobile market in the world. So the market opportunity is probably larger than anywhere else in the world.

We have already spent seven years in China, looking into the telecom sector. So we knew the market and were comfortable working in these two countries.
The second reason is the access to vast number of highly skilled development professionals in these two countries. Besides setting up operations and development costs are much more economical here.
GOD: How have you found developing and distributing games in these countries to be?
RSB: We have found the Chinese developers to be extremely fast and efficient in development and the Indian developers to be very good in R&D projects. So we use a strategy where most of our games are developed out of China and when it comes to new technologies and innovative solutions, they come out of our R&D center in India.

On distribution, Indian operators are probably faster in deploying games than the Chinese operators. However a new platform is now being implemented by China Mobile, which will change things in the very near future. Overall our experience in distributing games has been good with the telecom operators in these two countries and the operators are willing to be flexible in implementing new models which will be beneficial to both consumers and game providers.
GOD: What difference do you note between the different markets you work in? For example, between carriers?
RSB: We have found the carriers in Asia to be more flexible and a willingness to try new innovative things than the European and the US carriers. We have had the experience of trying out things like tournaments, flexible pricing policies like Buy 1 get 1 free, session based payments, mini-game packages etc.

On the consumer side, the preferences for the different countries are different. European consumers prefer action and adventure oriented games, Americans prefer puzzle based games and Asian consumers prefer RPG related games. We try and cater to all these consumers with our games.
GOD: Tell us about recent Fugumobile titles that you consider particular successes.
RSB: With the Olympics coming up in a year, we are powering up our portfolio with sports games. We already released Superstar Diving (China being a strong contender for the diving medals, it was logical for us to come out with a diving title first up), Ironmax Triathlon, Knockout Boxing, Soccer Challenge and Hoopstar Basketball. Besides another title called Rugby Nation is sure to be hit with the upcoming Rugby World Cup in France.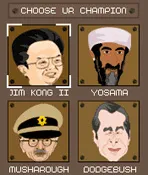 Terrorlympics 2
GOD: You have some pretty crazy titles under the "fun" category on your website. What's the deal with titles like Terrorlympics 2 and Marijuana Bush?

RSB: That's exactly the reason why we do these titles. Whoever sees these titles, they always react - calling them the craziest and wackiest titles they have ever seen. We are committed to bring in an offbeat alternate genre of games for the MTV generation of youth. These are going to be very high on humor and on topical themes. For example, apart from the Marijuana Bush, Terrorlympics titles, we have titles like Chicken Lethal (based on bird flu outbreak) and Delivery Doc (based on celebrities like Tom Cruise and Katie Holmes, Brad Pitt and Angelina Jolie, and Britney Spears having babies).
GOD: What does the future hold for Fugumobile?

RSB: In the next 2 years, we want to establish ourselves as a leading mobile gaming and mobile marketing company in Asia. We are also actively looking at tapping into the European and the American market with our mobile marketing solution. We have already done some work in Europe with brands which have been fairly successful and we see a good opportunity for the market there. The next logical steps would be to set up base in these markets and offer our solution there.