---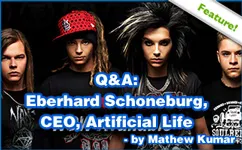 In this latest Q&A, Games On Deck talks to Artificial Life CEO Eberhard Schoneburg about the Hong Kong-based company, its mobile suite, and the company's decision to concentrate on developing content with brands such as
America's Next Top Model
and the German pop group
Tokio Hotel
.
Games On Deck: Introduce us to Artificial Life, the company.
Eberhard Schoneburg: Artificial Life is a pioneer in broadband mobile technology. We are the world's first full service broadband mobile content and technology provider.
The company is a public US corporation with global headquarters in Hong Kong, European headquarters in Berlin, and a sales office in Tokyo. I founded the company in 1993.
GOD: Can you describe your ALife mobile suite?
ES: Our services and products include: mobile games and entertainment, mobile TV, mobile technology (3G, 3.5G/HSDPA, 4G), mobile business applications, mobile aggregation & distribution, mobile advertisement and product placements.
GOD: You've been providing 3G content for a long time. Why did you decide to make 3G titles the core of your output?
ES: Because the future for mobile is clearly broadband: 3G, 3.5G and the coming 4G. Simply put, such high-bandwidth infrastructure makes better games possible. For example, on our America's Next Top Model 9 game, the graphics are really sharp, doing full justice to the models, it has multiple levels, and players can be very collaborative among friends.
GOD: You also work extensively with reality TV brands. Why did you choose that genre?
ES: You are right; foremost among our reality television tie-in games are America's Next Top Model 9 and Bad Girls Club. Reality TV properties are ideal for our games because it's a dynamic medium, evolving throughout the season, and that enables our games to in turn be ever-evolving, dynamic and changing nearly in real-time, just as events on the television series evolve. The same would be true for narrative television, too, of course, and we hope to work with some of those properties, as well.
The television networks, for their part, are quite keen to penetrate the new mobile medium in a creative way; we enable them to do that.
GOD: How did you attract the brands?
ES: We have found that the people behind big television properties recognize us as the global market leader in transforming movie and TV into interactive mobile titles. We have a demonstrated record of success, so the brands come to us. They find us; we really do not do much work to actively attract them.
GOD: Can you describe exactly how your reality TV games work?

ES: As an example, in the America's Next Top Model 9 game, the player can interact with and manage his/her favorite contestants and make her into his/her very own top model. The player acts as her mentor to help her to prepare for the high-stress and high-stakes world of modeling. The eliminations and mini-game modeling challenges inside the America's Next Top Model mobile game are coordinated with the America's Next Top Model Cycle 9 TV show. In this game, a player can even send his/her model avatar on vacation to a friend's phone! Also if the player decides to opt in, he/she will receive text message alerts and voice calls about the America's Next Top Model TV show and mobile game.
---
GOD: How have you found the response to them? Are they purchased more by female gamers?
ES: The response has been very positive; America's Next Top Model and Bad Girls Club has mostly younger female players, but Big Brother has a more mature male audience.
GOD: You've also chosen to work with some unusual brands, such as the band Tokio Hotel. Why?
ES: Tokio Hotel, a German pop music group, isn't really unusual; it's one of the most well-known European bands! They are not as well known in America at the moment, but as is often the case, we think awareness of them will start to build on your side of the pond in the near future.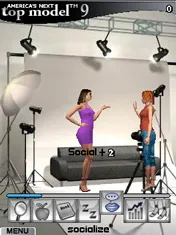 America's Next Top Model 9
GOD: What kind of products are you producing for them?
ES: In the official Tokio Hotel mobile game, players act as band crew members to escort Bill, Tom, Georg and Gustav on their Tokio Hotel European concert tour. Players must drive the band in a convertible to their concert in London. Stage-Diving and fainting fans await players during the concert performance in Paris. Players have to play the drums in Moscow and for the show in Berlin, they have to manage the press! The goal is to prove the player's Tokio Hotel knowledge of security checkpoints. If a player does well, he/she will become the most important crew member.
GOD: Where do you see the mobile games industry going in the future?
ES: We will see way more sophisticated and better quality games with more broadband bandwidth available around the globe. The numbers of players will increase because of this and therefore, the price of games will continue to go down, making them available to a wider and wider global audience.

GOD: What does the future hold for Artificial Life?

ES: Lots of good news, I hope! We are expanding strongly in several business areas and regions. Feel free to keep an eye on us by visiting http://www.botme.com/and http://www.artificial-life.com/.