---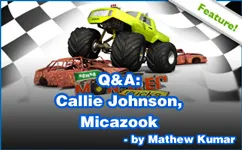 3D games are one of the growing trends in mobile gaming, and UK-headquartered developer and publisher Micazook is a company that made a commitment to develop 3D games from their entrance into the industry. Micazook are now taking the leap into multiplayer, and Games on Deck talks to Callie Johnson, Micazook's marketing manager.
Games On Deck: Tell us about Micazook.
Callie Johnson: Micazook is a privately held company with over 80 employees and its headquarters situated in the UK. Micazook also has development houses in Poland and Ukraine at the moment, with plans to expand to the USA. The company is part of a group of companies with activities spanning from game development and publishing to software consultancy services within the media, financial and corporate sectors.
We took a keen interest in the mobile gaming sector in 2004 and began to develop a presence in this market initially as a publisher and have since expanded our development teams rapidly. Since 2004 we have built up a strong and extensive publishing presence with relationships with carriers such as Vodafone, Orange, and T-mobile.
Micazook's Publishing reach extends from Europe, Asia and we are extending our commitment to the USA at the moment too.
One of main commitments from the beginning was to develop 3D games. Now I know that sounds crazy and was until very recently, but the shift toward more powerful handsets are making 3D gaming a reality in today's market place. We now see more and more publishers releasing 3D games than ever before which I think is a positive move forward. During the past 3 years we have worked very hard in developing some of the fastest and most advanced 3D engines on the market place in J2me, Symbian and Brew. Our Blade 3D and Neutron 3D engines are our flagship engines designed for indoor and outdoor scenes and we released, amongst others, Covert Ops, 4x4 Monster Trucks and 4x4 Ultimate Power using them.
GOD: Why concentrate on 3D?
CJ: We produce 3D games because this is our strategy. We are a 3D games publishing house and we will continue to publish 3D games as long as the public continues to buy them. I think just like the early PC market the mobile CPUs are becoming more and more powerful and we see a synergy between the late 1980 games industry and today's mobile games industry. The shit from 2D to 3D is getting stronger and although 2D will play a part in the future of mobile gaming, I think 3D will eventually be the stronger force.

4x4 Monster Trucks
GOD: Tell us about recent Micazook titles that you consider particular successes.
CJ: 4x4 Monster Trucks has certainly out performed our expectations on the Vodafone live decks where it was released in July 2007 and we continue to see a strong demand for the game from the public and other carriers.
One of biggest success stories has to be TMNT Power of 4, which topped several chart positions in Asia, USA and Europe and our cooperation with Mocondi and Uclick in the USA to collectively publish the title was very successful. We have just released the next TMNT title TMNT Fast Forward together with Mocondi and it already has hit the number one spot on Vodafone Greece this month.
---
GOD: What challenges does Micazook face as a small developer in the mobile industry?

CJ: I guess compared to Gameloft or EA we are still very small, but I think you could say that we are catching up quite fast.
Challenges are there for all developers and publishers in this market. From a development perspective developing games across a wide range of handsets and focusing on development of quality 3D games at the same time does have its head aches.
From a publishing point of view and I think I speak for most publishers here getting the games on to the carriers decks is a challenge that we all face and most of all I think it is a challenge to make good games that the public like to play and buy.
GOD: How does a developer such as Micazook get access to licenses such as TMNT?
CJ: As a publishing house we have an extensive reach to the carriers and where we don't directly deal with them we have a great partner that does. Also I think having very advanced technologies always is a plus. For example we had 2 months to develop TMNT Power of 4 and port the game for USA and EMEA in 5 languages. If you ask most sane people in this industry they will inform you that this is an impossible task. Well, we managed to do exactly that. We managed to develop and deliver the product in time for the release of the movie. I must say it wasn't easy but it gives you an insight into why partners choose us.
GOD: You've also created a lot of original content. Is that not a much harder sell in the mobile world?
CJ: Well, making original IP is a more challenging way to sell games, there is no doubt about it. However no company can just rely on licenses and to be honest there just aren't enough licenses to go around for everyone. Our strategy is to produce great 3D games and if there is a good license available to fit a particular game then so be it, otherwise first and foremost the game is what counts. I think there is somewhat of a perception in this market that as long as you have a brand you'll be okay.
Our experience has been totally the opposite and I think the public are certainly not stupid. For example as I mentioned we recently released 4x4 Monster Trucks and it charted straight away. It did exceptionally well on Vodafone Greece, so much so that on occasions it was beating the top 10 positions of titles such as Harry Potter and other heavily publicized brands. This just proves one thing that a brand on its own isn't enough and you must have a good game.
I have a lot of respect for companies such as Gameloft and Vivendi. Their success is mostly due to the fact that they care about their customers and produce good titles be it a licensed one or an original IP.
GOD: What multiplayer aspects do you put into your games?
CJ: Multiplayer this is a subject very close to our hearts, and I think Micazook has perhaps re-invented the word Multiplayer on mobile devices with iCitizen. I believe we have developed the biggest most ambitious project on mobile devices to date. iCitizen isn't a game, it's a 3D multiplayer community. To show what it is you'd need to mix something like Skype and Second Life with eBay, add a fully functional carrier deck for asset provision and searching facilities and you'd get iCitizen Community. The application will allow consumers to chat, SMS, use VOIP, buy products, play games, meet new people upload videos they shoot and much more.
We always wanted to re invent the rules and I think we have managed to realise this in several levels and multiplayer functionality is certainly one of them. We are about to release a beta version of the product to the public and we have very high hopes for it. In July this year a test version was available on our site for a few days and the public simply went crazy about it. People all over the world logged on and starting chatting on their mobiles hundreds of them within a day or so. For example we had Russians talking to Americans, Australians talking to South African it was truly the most exciting time we have ever experienced.
Because iCitizen doesn't reply on conventional peer-to-peer chatting mechanisms that clients such as Skype or MSN use, it makes it very portable and it works across all mobile devices not just a selected few. We will also offer incoming and outgoing calls into iCitizen in the first quarter of 2008 for people who like to chat and roam at the same time at local rate charges. iCitizen will also be available as a standalone PC client in 2008 also.
GOD: What else does the future hold for Micazook?
CJ: Currently we have 7 in-house titles that we are planning for release in Q4 2007 with approximately 10 more titles from third party developers by the end of the year. The in-house projects include iCitizen, Crank, 4x4 Ultimate Power, Make Me a Star, Cindy Island, Sheepish and Battlefield 1943.
The future is very bright. Our immediate focus is on releasing the iCitizen beta across the globe in Q4 2007. We will begin testing the product with the public and also in conjunction with Play, Poland's newest 3G Carrier. Gold release of the product is planned in December 2007.
Our plans in 2008 will include the release of further 20 new 3D titles and to push the envelop on quality of our games and also to establish iCitizen as a truly global brand. We have focused our efforts to make iCitizen as a secondary storefront for publishers and content providers to sell and promote their products on a global scale and for consumers to have a global place to meet, chat and have fun on there mobile handsets.