---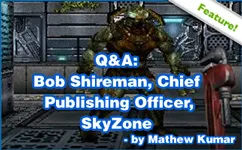 Mobile content provider SkyZone Entertainment and developer MachineWorks Northwest
recently announced
that SkyZone is to publish an original game based on the console and PC title
Prey
. In this Q&A, Skyzone's Chief Publishing Officer Bob Shireman discusses Skyzone's choice to take FPS titles mobile.
Games On Deck: Tell us about SkyZone.

Bob Shireman:
SkyZone was spun out of SK USA's Media & Entertainment Division as an independent company in 2003. Our relationship with the SK Group - the leader in wireless, Internet, and digital media services of South Korea - gave us a strong foundation to bring expertise in the form of content and technology to the US and Latin American markets. Korea is a few years ahead of the US in terms of making high end content successfully available and it was, and is, the mission of SkyZone to leverage that heritage in the US, Latin American, and European markets.
GOD: You've recently announced plans to bring Prey to mobile. Why have you decided to focus on offering such "high end" entertainment in the mobile space?
BS: We aren't necessarily "focusing" on high end entertainment. Prey for mobile is another value driver for our portfolio of products that does a few things for SkyZone. Firstly, it shows we are serious about marquee content acquisition. Secondly, it rounds out our offering. Mobile gaming is more than just casual gaming and Prey gives us a product to showcase that. Thirdly, it allows us to forge partnerships with technology and hardware providers to continue to push the envelope of mobility and mobile technology offerings.

Prey on mobile
GOD: Aren't you worried about limiting your audience, either through requiring high quality handsets to play the games or through offering games casual gamers aren't interested in?

BS: Absolutely not. I look at Prey for mobile as the exact opposite of limiting our audience. To me, we are extending the reach of SkyZone to an audience that may not be as mature as the casual game audience and it's going to take great product to acquire and retain that segment.
I believe in the pervasiveness of the cell phone as a mobile computing platform. Given that, and being true to our pedigree, we have to offer a full complement of titles that pushes boundaries and leverages technology across the spectrum of mobile applications from multiplayer casual to Action to MMO tie ins.

GOD: What challenges are faced in putting FPS titles on mobile? How do you ensure they play well and are faithful to the experience?
BS: I can't say bringing a FPS to mobile is a cakewalk. There are a variety of issues that have to be addressed beyond the obvious file size issues and interface limitations. Prey is a complicated PC game and staying true to that product while acknowledging the limitations was quite a challenge. Ensuring playability is first and foremost our goal and once we make a game that is fun, then we focus on bringing the key elements from the PC and console title to mobile. With Prey for mobile, the Deathwalk sequence is intact but changed slightly to fit the form factor.
---
GOD: What do you think the drive towards 3D content means for the mobile games industry? Is the hardware keeping up?
BS: It means mobile platforms are finally getting their due. And frankly, it's about time. You very seldom hear, "It was a great title on the Xbox, PlayStation, PC but the mobile version sucked" when reading about 3D titles nowadays. Of course it's a different experience. Of course it isn't as aurally or visually rich. Consumers get it. Given that, they still want it to be fun, engaging, and re-playable.
Regarding the manufacturers, the chipset guys are absolutely keeping up. Are the device manufacturers going to keep pace? I think the jury's still out, but I'm cautiously optimistic. I'm optimistic because I want my users to enjoy SkyZone content unencumbered by constraints of an outmoded device but cautious because I understand the mindsets and politics at play with the device manufacturers.

GOD: Tell us about working with MachineWorks Northwest.
BS: Machineworks Northwest is a fantastic partner for SkyZone. Our relationship with them goes back to around the inception of the company and we consider them one of the best partners we could possibly work with on 3D content. They have an expertise and passion for their product that borders on pathological. We also find that their Ripp 3D engine provides an amazing level of texture detail and robustness in a fairly compact form.
GOD: We noticed you also offer Ragnarok Online for Mobile. Can you tell us a little about the title?
BS: Ragnarok: Mobile Mage was built in cooperation with Gravity Online as our entry into the Mobile MMO arena. The support that Gravity Online provided from an integration and marketing standpoint was superb and has helped to make the title the moderate success it is. As a stand alone title, it's tangential to the actual Ragnarok MMORPG. What the game does is provide a diversion for those MMO players who aren't connected all within the confines of a world and factions they know and understand. Both XP and currency that can be uploaded to the online game along with items that can only be acquired by playing the mobile version are your reward.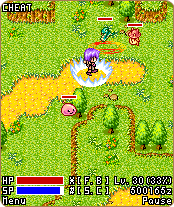 Ragnarok: Mobile Mage
GOD: How has the response been to it in America, and other places more attached to World of Warcraft than Ragnarok?
BS: We consider the game to be a success. It's given Ragnarok users a competitive edge for when they can't be chained in front of a PC, and it's brought mobile users to the Ragnarok brand. We enjoyed wide carrier adoption and acceptance, and an off-deck Java version is also available on our portal.

GOD: What challenges are faced in translating an MMORPG to mobile?
BS: Where shall I begin? Everything that makes World of Warcraft an unmitigated success is virtually impossible to capture today on a mobile device. How can I, as a developer and publisher, handle the complex issues of class balance, interface, community, faction balance, story line, instances, PvP issues, and all the myriad technical issues, yet still develop on time and keep my title priced competitively?
I am firmly convinced that mobile MMO's will merely be extensions of the Online world. A mobile MMO should absolutely be centric to the world the user is familiar with, but they should exist on the fringe of that world. Even at that level, there is still a healthy amount of technical integration that has to be done on the back end to keep the game balanced and secure.

GOD: What are SkyZone's plans for the future?
BS: We are going to continue to do what we are best at: leverage our reach and expertise in Asia and bring the best of that content and technology to the US in a localized fashion. We are going to continue to explore mobile to PC and mobile to "other device" multiplayer content. IMS (IP Multimedia Subsystem) is very interesting to me as an enabling technology for community gaming, but the implementation of that remains to be seen.