---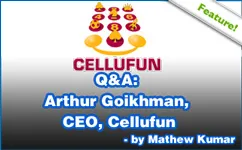 Ad-supported Mobile gaming portal Cellufun is best known for its
MobilePet
series, including
MobilePet myPhone
. However the company recently released
Space Wars
, a massively multiplayer mobile game (MMMG) for up to 120 other players. Games On Deck talked to CEO Arthur Goikhman about the company and its latest titles.
Games On Deck: Let's begin with a little bit about you. Did you start the company?
Arthur Goikhman: Cellufun was started in January of 2005 by three founders: myself, Steve Dacek, who is our COO/CTO, and Cary Torkelson, our VP of Research. The three of us have worked together in a variety of endeavors for well over a decade.
GOD: Why Cellufun, why now?
AG: Billions of people are walking around with a connected game console in their pocket. Yet, at the time we were starting Cellufun, Tetris was taking over - from Snake, no less - as the most compelling game offering for the phone. Something had to be done about that. Today, Cellufun is the largest mobile entertainment community, built mainly on the understanding of three important factors:
1. When you roll out a mobile game, it has to work on today's phones, not on a phone announced for two years out.
2. A game has to first be fun; you can extend that by downloading additional features and providing multiplayer support. But, the game has to play well with spotty, or no, connectivity.
3. The cell phone is a global phenomenon, so you have to address a global market.
GOD: What inspires and motivates you?
AG: Few things are as rewarding as seeing literally hundreds of thousands of people, from all corners of the world, play our games every day. But I also haven't given up on being able to sponsor an X-Prize at some point! I love the process of invention, of figuring out how to make the world better through the use of technology.
GOD: Tell us about Space Wars.
AG: For all of us at Cellufun, Space Wars was about recapturing the sense of fun we had when text-based MMGs ruled college campuses. This is before, I'm sure, many of your readers were born. The cell phone is such a perfect channel for a game like this; we simply had to do it. The key elements were that users should be able to play at any time, be able to play on even the most basic handsets and, of course, have it be available free of charge.
So, with Space Wars we created something that falls into a new category of massively multiplayer mobile game (MMMG), which means that a lot of people can play the game at the same time. In the case of Space Wars, users can compete in real time against up to 120 other players via the mobile Internet.
The game is set in a virtual galaxy, and the goal is to dominate the universe by building up fleets, forging alliances using "subspace" chat, dispatching spy probes and developing new technologies that will help you win the game.
One of the most inventive features of Space Wars is the ability to "play" the game when not playing the game. This means that users can schedule activities to happen during non-game play; for instance, when they are sleeping, working, or doing other activities. The game also takes into account social aspects and what it considers great rules of the universe, such as keeping your population happy via religion in order to avoid revolt.

Additionally, Space Wars allows users to calculate when their fleets will reach specific destinations, which may take minutes or hours depending on the distance. This way, the game avoids time zone issues by allowing players worldwide to engage in the same game play throughout the day, with no real disadvantage.
---
GOD: Why do you feel that the mobile platform represents a good fit for this game?
AG: The game capitalizes on the strengths and limitations of the platform. Small screen, low res - these were standard computer limitations when games like Space Wars originally ruled college campuses; only then it was played on a mainframe the size of your kitchen. These games necessarily gave way as technology improved and ambitious titles like World of Warcraft moved in.
We took the best of those ideas, introduced modern aspects - a battle session in Space Wars can include a real-time, arcade-style spaceship versus spaceship battle - and adapted it to the phone by making it highly interruptible.
Typically, you use the phone to look at a message, perhaps reply, and then you put the phone back in your pocket. Similarly, in Space Wars, though you are playing against more than 100 people in real time, a typical play session is just a few minutes assessing the state of your empire, choosing a tactic, perhaps launching a fleet, and then you put it back in your pocket.
GOD: How does Space Wars take advantage of the mobile format?
AG: It can be played in short sessions yet can span weeks. It condenses information through a highly intuitive, access key-driven reporting system - remember, you are managing an empire with multiple solar systems on a device as small as the Nokia Series 40. One obvious example is notification - getting a text message when a fleet is about to arrive at your solar system. This feature is waiting for an advertising partner to be launched.

Space Wars
GOD: How big was the team working on Space Wars?
AG: Believe it or not, it was two people; Dan Martinelli, who both designed and implemented much of the front end, and Mike Neyrus, our DBA, who did the backend.
GOD: How was the beta test?
AG: It exceeded every expectation, with 1,500 people signing up to participate over the first few days and a million pageviews generated throughout the test. A good percentage of the over 1,500 participants scheduled their daily activities around the game. And users took advantage of the feature that allows them to play while they were offline by setting their alarm clocks for the middle of the night to initiate key engagements.
GOD: What would you say your most popular titles have been, and why?
AG: Some of the most popular titles have come from the MobilePet series, but we actually do not see a very wide disparity in popularity of games. With hundreds of thousands of people coming every day, we take more of a portal view - there's something there for a variety of tastes. All the games tend to be pretty addictive. A while back, we issued a tongue-in-cheek "30 Million Chickens Saved" press release, about our Why Chicken Why game. Since its release a few weeks ago, Video Poker players have played an average of 500 hands a week. But without question, the most popular games now are the games that drive community, games like MobilePet myPhone and Space Wars.
---
GOD: What other titles do you have in the pipeline?
AG: We are continuing to upgrade our portal, launching avatars and trophies this week, expanding contests and launching tournaments shortly. We will be adding WAP games on an ongoing basis, certainly more than a title a month.
For the downloadable pipeline, besides completing the casino series, we have racing, bowling and several arcade titles slated for release before the end of the year. And then we have the big launch, tentatively slated for CTIA at this point. I can't really talk about it, other than to say that while we are typically not "hit-game" focused, we certainly expect this game to be a major hit, rivaling anything on the mobile market today.
GOD: How do you manage to provide titles to consumers for free?
AG: We have a unique set of proprietary technologies that allows us to produce titles covering the entire handset spectrum at a fraction of the cost of traditional publishers. We make the games free via in-game advertising support; however, we guard the game play experience very carefully: The ads are not obtrusive, so they don't inhibit game play or enjoyment.
GOD: Can you describe your technology?
AG: Cellufun developed two proprietary technologies to enhance connected game play on a variety of wireless networks. Smooth Move is a self-adjusting, proprietary algorithm that assures players of real-time, arcade-style multiplayer mobile games. This means that a faster network does not provide an unfair advantage, and the action is literally smooth - an enemy spaceship does not suddenly appear next to me because I'm on a 1X, rather than an EVDO, network.
QuickPlay is something that is implemented into all of our server AIs, and it allows for a minimal set of interactions over a WAP network. A simple example may be a WAP chess game - if there is only one valid move to make, there is no need to present controls for all pieces. This speeds up the game and improves the interface on the very limited screen real estate present on most phones.
GOD: What does the future hold for Cellufun?
AG: With 500,000 registered users, Cellufun is already the leading mobile entertainment community. We will keep growing our portal aggressively, and our pipeline is designed to maintain and, in fact, accelerate this growth. We will continue to launch games at least monthly for the foreseeable future and, of course, scale the company to maintain that pace.
Nearly the entire population of the planet is walking around with a game console in their pocket. We are all being conditioned to glance at that cell phone whenever we have a spare minute. Cellufun's goal is to be a top destination for everyone who uses the phone for entertainment.
GOD: What does the future hold for the mobile games industry?
AG: Consolidation, certainly. The current PSMS model does not work very well for smaller publishers and, arguably, doesn't work all that well for larger publishers either. So clearly, ad-sponsored games will continue to gain ground, and the mix will continue to shift towards casual.
Longer term, there will be games that take full advantage of device capabilities - GPS and camera being the two obvious examples. For the higher end market, the analogy I like to use is the fighter plane and the aircraft carrier, no pun intended. I'd like to see a version of a game like The Battle For Orion's Belt, where I engage another space fighter on my phone but the fleet admiral is running the entire battle on a game console or a PC. Multiplayer games will certainly spread to mobile, using well-crafted mobile interfaces to make sure that you never have to be fully away from the game. Cellufun is certainly planning such titles.