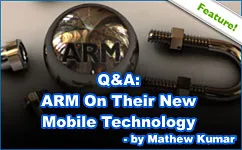 Mobile games are becoming more important in all aspects of the mobile industry, and Games On Deck talked to Gareth Vaughn, graphics product manager and Justin Radeka, technology evangelist, Media Processing Division, at ARM about their new hardware and their continuing support of the mobile games industry.
Games On Deck: How important is the mobile gaming market to ARM as a technology manufacturer?

ARM: The gaming market has always been a key target for ARM processor designs, from the BBC Model B micro-computer in 1982, all the way up to newer handheld consoles, such as the Sony PSP, which relies on ARM technology.

ARM was a first mover in the creation of a market for licensable GPU IP in mobile and has the most widely deployed 3D software engine in the world (ARM® Mali-JSR-184), as well as graphics hardware delivered to SoC vendors in a range of target market segments, including gaming.

Gaming is a great input to our technology roadmap as it continues to be the most demanding application for ARM platforms. Many phone manufacturers are waking up to the importance of graphics hardware acceleration, driven by the increasing resolution of screens.
GOD: How does ARM work with mobile game developers?

ARM: ARM's advanced processor architecture, graphics processing units (GPUs), development tools and Partner ecosystem enable application developers to create cutting-edge games for devices pre-silicon.

ARM works closely with its ecosystem partners to define and develop the key product features which enable their applications. This is as part of the wider ARM graphics ecosystem, which enables collaboration among market leaders to link the ARM platform with a community of complementary solutions to shape the future of the graphics industry. ARM contributes its expertise as a processor, GPU, software and tools vendor to enable application developers to create competitive, leading-edge games for models ahead of first silicon. This mutually beneficial cooperation provides game developers, publishers and tools vendors with the differentiation necessary to lead in this competitive market.

GOD: What do your recent agreements mean for mobile game developers?

ARM: The recent Mali hardware and JSR agreements enable game developers to create rich content for end devices. As an expert in and provider of both hardware and software IP, as well as the CPU and tools, ARM is unique in providing the Mali graphics stack, a complete and fully integrated set of hardware and software IP that supports all of the relevant graphics standards.

We are also working with game developers to bridge the understanding between hardware and software development in the rapidly evolving world of mobile phones and other emerging portable devices, enabling them to optimize their programs for the ARM platform.
We will be making a further announcement to extend our commitment in working with game developers at GDC in February.

GOD: Tell us about your new hardware technology, such as the Mali graphics portfolio.
ARM: The ARM Mali55 GPU is optimized for pixel rendering with software geometry
Processing and supports OpenGL ES 1.1 and OpenVG1.0. This GPU is ultra small and makes for a cost effective implementation suitable for lower end games.

High geometry and pixel processing coupled with full OpenGL ES 2.0 and OpenVG1.1 support make the ARM Mali200 GPU ideally suited to console quality gaming on a range of devices.
These hardware products are complemented by a suite of Mali graphics middleware and tools.

GOD: Which handsets are your processors utilized in?

ARM: Our CPUs are at the heart of every handset in the US. We have over 90% market share worldwide.

We have had a strong adoption of our graphics technology as our recent announcement "Licensing Momentum Establishes ARM Graphics Technology In The Mainstream" shows, enabling our Partners to bring the Mali graphics processor to end devices.

GOD: How does this technology aid mobile game developers?

ARM: ARM provides a complete stack of graphics hardware and software, as outlined above, as well as tools such as the Mali Software Development Kit (SDK). The Mali SDK forms part of this integrated suite of market leading standards-compliant hardware, software and tools within the ARM graphics ecosystem designed to help developers bring high quality games to market first, running on the maximum number of handsets.

GOD: What do you think about the N-Gage Platform?

ARM: We await it with anticipation. It will be interesting to see whether Nokia can change the business model for mobile gaming and re-establish the link between games and the phone manufacturer, which would lead to more investment in the gaming abilities of handsets.

GOD: What does ARM see as the future of mobile gaming?

ARM: The future isn't necessarily to have a standalone game, it is the ability to use the platform and all of its features, for example location based gaming, texting, instant messaging, cameras and so on. This is what creates a unique gaming experience for the consumer.

GOD: What part does ARM expect to play in that future?

ARM: The underlying technology is based on ARM products. ARM has worked with its OEM and silicon Partners for many years, and also engages with the content community, to bring their needs into the ARM product roadmap, impacting on the features of future devices.
ARM is also a key player in defining industry standards as is a member of standards bodies such as Khronos and the Java Community Process.

We will be launching new products this year to take the abilities of the end devices another significant step forward.