---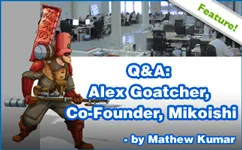 Game developer Mikoishi have developed mobile titles such as
Phoenix Wright
and
Star Wars Battlefront Mobile
, but have recently begun to concentrate on original IP and new platforms such as Nintendo DS and PC. Games On Deck talks to Mikoishi co-founder and chief creative officer Alex Goatcher about the new strategy.
Games On Deck: What does Mikoishi mean?
Alex Goatcher: The name Mikoishi comes from Japanese mythology. A maiden was released from the fast running river by God and she was so impressed that she devoted her life to a shrine and changed herself to a beautiful stone in the river.

GOD: Tell us about the company.
AG: Mikoishi was founded in 2001 with a vision to produce mass-market entertainment content with an initial focus on the mobile devices. Our first products made heavy use of mobile operators' location positioning technologies. We developed a location based mass-multiplayer shooter called Gunslingers and a location based social networking service called Pebblesoup. In the early days we had a broad view on mass-market entertainment and developed online mobile karaoke products, interactive comic books for mobile and social networking services.
Although now we focus on games, the experience served as a foundation for the games we build today, predominately online and persistent much of our learning from our social networking days is now core to our games - Our founding vision that mass-market entertainment will be a social experience is still very relevant, irrespective of the platform on which we design a product.

GOD: Tell us about the "Theatre" technology.
AG: Theatre is Mikoishi's development technology and operating platform for interactive entertainment products. It's been used extensively to power online multiplayer games for mobile phones and networks and is currently being used to support 2 PC MMOG products and a Nintendo DS title. Conceptually the platform is made up of 4 components
1) Theatre CentreStage - Online gaming middleware and SDK.
2) Theatre Arcade - Reusable Network services to support online games.
4) Theatre BoxOffice - Everything you need to monetise your product.
5) Theatre ControlRoom - Real-time analytics, reporting and content management tools.
GOD: How is it important to your mobile development?
AG: To push the envelope on mobile, due to device constraints, much of the heavy lifting needs to be delegated to servers. Theatre is especially suited for this, allowing developers to free up much needed client resources and offload assets and computational overhead to the network. For example binary assets can even be stored on the servers as well as save-game images, player profiles and lobby logic etc. In addition Theatre's deployment and operating capabilities enable us to manage the diversity in the mobile channels. We can deploy a single instance of a game in 40 countries, in 5 languages across 80% of devices and still handle the commercial diversity in all the channels.
GOD: Tell us about recent Mikoishi titles that you consider particular successes.
AG: Phoenix Wright was certainly successfully from a usage perspective. We got great feedback from Phoenix Wright fans who were happy that we had stayed true to the original game.
It was a full port of the first 4 turnabouts, word for word and scene for scene from the original Nintendo DS version. The 5th turnabout was designed specifically for the Nintendo DS and made much use of the touch screen for forensic investigation. The mobile version does not include turnabout 5.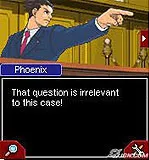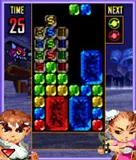 Phoenix Wright, Super Puzzle Fighter II
GOD: What about Super Puzzle Fighter II - what was like to create a networked mobile title for Capcom? Did that use your "Theatre" tech?
AG: Yes, everything we develop uses Theatre technology. We had a lot of fun creating the mobile version of SPFII and many of the developers are diehard SPFII fans. Actually we now have an old coin-op SPFII machine in our rec room.
GOD: What was it like to work with Capcom?
AG: It's always exciting working with a major publisher. We worked extensively with the LA office, they handled all of the Japanese approvals.
---
GOD: How does a small developer like Mikoishi attract companies like Capcom and brands like Star Wars?
AG: We have always specialized in online games for small devices, and were able to demonstrate not only a proven development capability but a proven deployment capability. There are no other companies who have developed and deployed as many online mobile titles as Mikoishi has.
GOD: What challenges does Mikoishi face as a small developer in the mobile industry?
AG: I think the challenges we face are the same as anyone else in the mobile industry. We have an ecosystem that requires a level of support, symbiosis and standardization between hardware manufactures software and retail channels. The mobile world has very little of this.
GOD: Tell us about the games Mikoishi has in development right now for the mobile platform.
AG: SteamIron: The Fallen is the first installment in Mikoishi's SteamIron franchise. SteamIron is an epic cross-platform sci-fi fantasy that plays out over multiple installments on both handheld and PC platforms.The story begins on 3G mobile with SteamIron: The Fallen with future installments planned for mobile, Nintendo DS culminating in a PC MMOG scheduled for release in 2009. Cross-platform gameplay and community features are planned and will be announced in 2008.
SteamIron: The Fallen features include:
* Real time, competitive multiplayer RTS for the mobile form factor
* Online Ladder system
* Innovative adaptations of core RTS mechanics to mobile platform
* Two unique factions each providing a different gaming experience
* Multiple unit types per faction, requiring "research" to unlock
* Command up to 15 units at any one time
* Two different resources to manage, Iron and Steam
* Rich selection of maps at launch, able to refresh content with new maps continually after launch
* Live spectator support for televised tournaments
SteamIron is an epic re-imagining of a classic space opera set in a science fiction universe. The story stems from an alternate history, projected far into future where the electronic revolution as we know it never occurred.
Although the universe is recognizably futuristic, everything is grounded in the mechanical world. From inter-stellar space ships to advance communications all technologies are decidedly retro in their derivations.
The story starts on this alternate Earth under the iron vice of the Ternion Empire that covers all known lands. The empire is a conference of the offices of the Emperor, his elusive elite guard (the Modan) and the misguided religious organization of the Pax Imperium.
The story revolves around the political struggle within the Ternion as each of its factions fight for power and control.
GOD: Your recent tiles seem to be original IP. Why the change?
AG: Well, we have a great creative team, and we really believe we can develop great IP. It's the most satisfying creatively and provides the best opportunity for value creation to shareholders.
GOD: Isn't it hard for a mobile developer to sell original IP?
AG: Of course, products based on well established IP are looked at more favorably by publishers and operators. However, we are able to bring innovative entertainment formats and residual revenue models to our partners. Operators are actively seeking entertainment content that can generate network usage and annuity billing models.

GOD: How does Mikoishi ensure distribution for its titles?
AG: For mobile and PC, we have a very clear regional focus, North Asia. In our opinion the real-growth opportunity in Asia is online PC and Mobile. Over the last 2 years we have been developing partnerships in Korea, Japan, China, and Taiwan. We are also targeting US and Europe as other key markets for international distribution. Overall, having a clear route to market and partner is prerequisite before we start investing significantly into any given project.
GOD: You've made the leap into developing titles for PC online and Nintendo DS. Is that a natural step for a mobile developer?
AG: I'm not sure if it's a natural step for mobile developers. For us it was natural as we have always focused on online experiences. Many of our developers came from console and MMOG projects so it was only natural we move up the food chain.
GOD: Is mobile still your core?
AG: Mobile is still an important platform for us. We believe North Asia, Korea and Japan will remain a big focus for us, we will continue to monitor China and western 3G take up. Actually even with our online PC games, we will be developing mobile companion products, for example applications that allow clan members to communicate and organize activities more effectively or enable players to buy and trade items.
GOD: What does the future hold for Mikoishi?
AG: It's going to be an exciting 24 months. We have our first DS title hitting the shelves, SteamIron, a ground breaking RTS for mobile launches in Korea towards the end of the year, and Blunt Force Trauma our first online PC title. With each title, we hope we can continue to deliver high quality products and great online gaming experiences across all devices.