Motorola has unveiled a plethora of new additions to its Moto Mod family at Mobile World Congress (MWC), 2017. Motorola's Moto Mods are one of the Moto Z's best attributes. The company has also announced that Moto Mods will not only work with the current Moto Z smartphone family but also for upcoming devices. At the event, the company shows a sneak peak of few new devices like Alexa Mod, Gamepad Mod, and Wireless charging Mod. Additionally, Motorola has also revealed their new Moto G5 and G5 Plus.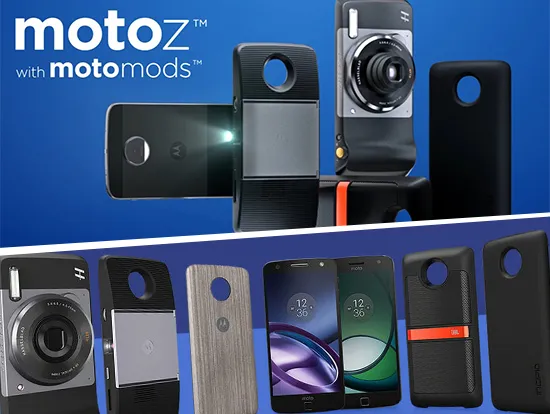 Talking at a press conference at MWC, Motorola's Vice-President and Global Product Lead, Dan Dery, said, "Later this year will see deep integration of Alexa on Motorola smartphones with Alexa wake-up words. There won't be any keys to press, no screen to unlock — you will simply talk to Alexa when the device is around."
Moto Gamepad
The gamepad Moto Mod may be the most interesting of all the ones that were revealed. Motorola said that it will snap onto the back of its Moto Z phones and will include features found in portable consoles. The image of the gamepad that was displayed during the press event showed it will have console-like buttons, triggers, and a D-pad. It will have its own speakers and will offer some extra battery life, too. The gamepad Moto Mod is due to be released this summer, but pricing has yet to be revealed. This Mod extends beyond both the top and bottom of the device to introduce a button layout.
Alexa Mod
Alexa, the voice service that powers devices like the Amazon Echo has been recently expanding into the smartphone market. First, Huawei announced that Mate 9 devices with a voice assistant powered by Alexa which was sold within United States. And now, Motorola has announced an Alexa Mod for the Moto Z. The upcoming Moto Mod with Amazon Alexa support will allow Moto Z phones to access the voice command-based AI assistant to handle tasks like controlling smart home devices, requesting a ride with voice support and much more. Alexa is Amazon's voice control system that responds to certain voice commands. Playing music, turning the lights on, and controlling your smart home lights/thermostat are some of the more common commands that Alexa is capable of. Pricing and a specific release date for this Moto Mod were not announced. Motorola added that it plans to fully integrate Alexa inside its smartphones later this year, with no need for a Moto Mod accessory, but no other details were provided. This news comes just a few hours after Google announced that Google Assistant is coming to most Android devices sometime this week.
Charging Mods
Motorola has announced a Wireless Charging Mod, a Fast Charging Mod (that uses Motorola's proprietary Turbo Power, not Qualcomm's Quick Charge), and a charging mod that charges other Moto Mods. Another new Mod is called the Moto Power Pack, which is yet-another-battery module. It's priced at $49 and it's expected to be available in March. The Moto Power Pack should add about 50 percent more battery life to a Moto Z phone.
Motorola has also teased three more interesting Moto Mod prototypes: i) a portable printer Mod that allow users to attach phones to print a document while on the go, ii) robot-building Mod which looks like it works with LEGO Mindstorm and iii) multi-SIM card holder so users can swap between up to 4 SIM cards at any time.
What do you think about Motorola's this new announcement? Feel free to share your views.
Follow us for more updates https://www.juegostudio.com