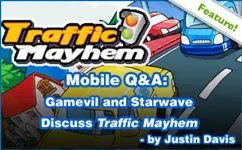 As part of GamesOnDeck's regular Mobile Q&A column, we spoke with Gamevil USA president Kyu C. Lee and Starwave vice president Stan Liu about the company's partnership, which allows Starwave to publish the Gamevil developed title Traffic Mayhem in North America, as well as the importance of new IP and the future of the mobile games industry.
GamesOnDeck: Can you tell me about how the Traffic Mayhem partnership between Gamevil and Starwave came about? Is there a specific reason this title is being published in North America by Starwave?
Kyu Lee: Stan requested to meet with our company during E3 2005. We showed him a catalogue of our games, and he showed interest in this game.There were two factors in why he picked the game - that it was original and casual.
Stan Liu: It's interesting because as I remember it, Kyu and his team wanted to show me several other titles and I kept going back to this traffic game, saying "tell me more about this title!" It just really jumped out at me right from the beginning - the fun, original subject-matter, graphics and mechanics were such a perfect fit for the mobile platform. Kyu seemed pretty surprised because he didn't think it was right (in its original form) for North America but we addressed that issue through a few graphic and control tweaks to tailor it for the domestic audience. When we showed the title to the carriers, they loved it and felt it was refreshing and addictive.

GOD: Traffic Mayhem is obviously a new IP. Although the game is reviewing positively, what kind of a marketing push is feasible to give to a mobile game that lacks name recognition? Does it make sense to do any outreach or marketing beyond PR?
KL: New IPs are tough when you are competing with established brands. The title name and descriptions are very important for markets like the US. The lack of user based mobile gaming communities in the US has made it more difficult for word-of-mouth to spread for original IPs. In Korea, we've been doing online and offline promotions, TV-commercials, etc... to get the name out in the market and we'll have a better idea on what kind of method works in the US by doing more trials on promotions. Personally, I haven't really seen effective small budget marketing here yet, but we'll figure out new ways that can work in the future.

SL: I think we have to remember that today's mobile gamer is already savvier than just a couple of years ago so the power of a quality product shouldn't be overlooked either - as evidenced by Skipping Stone, another non-branded, yet successful title. In terms of traditional marketing, we are always experimenting to see what is most effective in this space - from demos to ad-buys. Additionally, with Starwave's branded titles, we work with our licensors on cross-promotional efforts and timing. I don't think anyone has found the "silver bullet" just yet - but as an industry we are testing out various avenues during these early stages
GOD: What does Gamevil USA's formation mean for future partnerships like this Traffic Mayhem publishing agreement? Is it unlikely that we'll see any Gamevil-developed titles published by others in the Americas?
KL: Since we have now established our presence here in the US, we will be reducing the amount of partnerships with publishers here. But, we will still be continuing to work with major publishers for other territories that we don't have direct presence.
---
GOD: Although there are exceptions, Starwave's mobile catalogue is mostly made up of licensed titles, while Gamevil's is predominately original IP. There's quite a difference, in fact. Can you address the strengths/weaknesses inherent to either type of mobile game catalogue?
KL: There are lots of strengths and business opportunities by owning your own IP, but facing the competition against the established brands is definitely the weakness. We need new types of games for new platforms such as mobile, and strongly think there is plenty of room for original IP.
SL: The goal of Starwave is to reach key mobile audiences beyond those traditionally associated with the Disney brand - a lot of this is achieved through the licensing of established third-party brands, however as I alluded to in my earlier response, we have a strong belief in quality products. A strong made for mobile title can also be very effective.

Traffic Mayhem
GOD: More specifically, is there any specific reason that Gamevil hasn't traditionally had more interest in licenses, and Starwave has been actively seeking them out since it formation?
KL: We started as a developer, still are a developer, and want to be a developer in the future too. We believe that original IP is a core asset that a gaming company should have to maintain the creative culture within. There was a phase in Korea where the mobile gaming market was all about brands, but that moved away fast once they ran out of good enough brands and the user communities built up.
SL: As a U.S. publisher, Starwave strives to cater to this particular market - and generally, brands still prevail here in terms of end-consumer purchase decisions. Having said that, I think that over time we have seen some recognition of strong non-branded games and we are planning our specific product mix in accordance with these evolving market preferences.
GOD: Mobile Gaming seems to be having a bit of an identity crisis. On the one hand significant overtures are being made (in the form of banner and print ads) to hardcore console/handheld gamers. On the other hand, others insist the growth will come from the same demographic that drives casual PC gaming - primarily middle-aged women. First off, do you agree/disagree that there is message confusion? Is this a problem?
KL: There are games for the GBA, games for the DS, games for the PC and games for the PS2. The best games for each platform are not the same. Mobile gaming is a platform of its own, and we need these games that fit exactly only for the mobile platform to make an identity. A couple of years ago, our industry did have confusion by bringing in the big brands that don't fit for this platform, eventually causing disappointment to the end users. I think this has improved dramatically these days. The games that publishers are publishing these days really seem to understand the end user and the mobile platform way more than before. This platform definitely will have more general audience similar to PC since everybody has it, but this doesn't sound like the middle-aged women to me.
SL: I have definitely heard both theories however I think that everyone is trying to put a label on a very small yet burgeoning audience - and it's still anyone's guess at this point. The great thing about Starwave is that our collection of brands resonates with a variety of audiences.
---
GOD: Second, where do you stand? Is this a business that needs to be driven by a core group of "hardcore" cheerleaders who post on message boards and spread your message virally, or does it make more sense to target that very, very large segment of gamers that most likely don't even self-identify as "gamers" (the Moms that play games at Pogo, etc)?
KL: This business, like all business, needs a core group of "hardcore" cheerleaders to introduce the casual users. It will be extremely difficult to directly address the casual users directly because they are too broad.
SL: Early adopters are always important as evangelists but we can't rule out any group at this point because mobile is such a universal platform.

Traffic Mayhem
GOD: Lastly, the mantra for a while now has been that the main hurdle in front of mobile gaming and more content in general is awareness. How is this hurdle overcome? Is it even possible to communicate to a casual gamer that enjoys Tetris that they might also like Traffic Mayhem, and successfully translate that into a call to action?
KL: Awareness is definitely a big problem even though this has improved dramatically over the years. But I believe the people not knowing what they are getting is a bigger problem right now. We've been hearing from the major carriers that the shopping experience will be better in the close future (preview, gifting etc.), and this will really help increase the market.
SL: Again, the best marketing approach is still being defined in this young industry and only time will tell. Starwave works closely with our carrier partners on this issue and we are constantly evaluating various marketing tactics.