---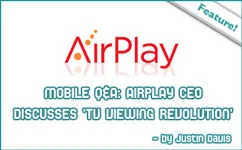 AirPlay is one of the more interesting young players in the "mobile gaming" space, specifically because of its definition of just what "mobile gaming" is. AirPlay's technology allows TV viewers to interact with live TV broadcasts in real-time, via their handset.
The company
recently closed
$14 million in series B funding, which indicates tremendous investor faith in the company, or at least in CEO Morgan Guenther. The former TiVo CEO spoke with us recently about the company's roadmap, whether an AirPlay sale would ever be considered, and what major challenges still lie ahead, among other subjects.
GamesOnDeck: First off, for those unfamiliar with AirPlay, can you give me a little background on yourself, and what AirPlay is all about, at its most basic level?
Morgan Guenther:
Sure. As for me, my last paying job was as President of TiVo where we also ran a "television meets new technology" business. After TiVo I spent some time on the beach, joined a few boards and kept my eyes open for new opportunities in the consumer media arena – with the caveat being that the opportunity needed to be massive, the technology groundbreaking and it had to be fun! AirPlay met all three criteria. The company takes the power of television to aggregate audience and matches it up with the social networking capabilities of wireless to create a "don't just watch TV, play TV" experience. If there's TV programming that resonates with you – football, basketball or other sports, reality programming, game or award shows, presidential debates, etc. -- we can create a real time, multiplayer game around it for you and your friends.
GOD: The Series B funding, and the telecom companies behind it, certainly shows a lot of faith in AirPlay's business model. Can you share your timeline or roadmap to profitability? Is there a specific time when you believe that corner can be turned?
MG:
AirPlay is an entirely new entertainment experience. As such, the first step is to educate the consumer – what is AirPlay, how do I play, why is it fun? That's what we're trying to achieve today with our football launch on Sprint. From there we move to different genres of content delivered across multiple carrier networks and that's where we begin to see the leverage in the business model -- recurring revenues from game fees, advertising and prizing paired with operating leverage from a broadcast or multicast infrastructure. In terms of roadmap to profitability, we think of it more in terms of market penetration then specific timelines. In the US alone, if you assume an addressable market of 110m television households and 200m wireless handsets, we get to profitability at well below 1% penetration. That's what I meant earlier about this being a massive opportunity.
GOD: In more general timeline terms, it seems obvious that football is where AirPlay's current focus is, and where the value of the service really shows itself. You've mentioned other sports, award broadcasts, and game shows as being other potential uses for AirPlay, but are there a concrete plans for expansion? Can you share what AirPlay will broadcast next, and when?
MG:
We certainly see mass market sports like football, basketball and baseball as foundational content for AirPlay. So you'll see us doing deals and delivering games in all of those categories over the next year as well as branching out into more cutting edge sports such as ultimate fighting, wrestling or x-games. But AirPlay isn't just about sports. In August we delivered a live game synchronized with the nationwide Emmy's broadcast, where players could compete against a national audience and a celebrity contestant (Jeff Probst from Survivor) in predicting award winners real time, as each envelope was opened. That application was a tremendous success and provides a blueprint for the Oscars, MTV awards, live concerts and similar events. For the '07 television season, we expect to be delivering games in multiple areas, including sports, award shows as well as offerings in the reality and game show spaces.
---
GOD: It appears AirPlay's flagship AirPlay Live Football is up and running. Do you have any data you can share about member pick-up, games played, paying vs. free trial memberships or anything else?
MG:
We're currently in "soft launch" mode on the Sprint network, which means that we are offering the game for free via download off the carrier deck but are not otherwise marketing or promoting it. The idea here is to get people playing the game and in the process work out any kinks in the network and production environments. Although the game is currently available on just a few models of Sprint phones, we've got people playing in every NFL game and the game downloads are in the high five figure range. So we feel pretty good about the early consumer response and we'll be moving into a true market launch with a $3.99 per month offering for the second half of the NFL season.
GOD: Would AirPlay benefit from having a corporate owner, such as a telecom like Sprint or media company like Disney (ABC, ESPN), or is the company better off remaining independently owned? Would AirPlay consider any offers?
MG:
If you want to build a big business in this space, and in the process create an entirely new category of consumer entertainment, you need to partner with industry leaders that share your vision. That's why we've already partnered up with Qualcomm, Sprint and Motorola and are about to announce new relationships with several leading content owners. But that doesn't mean they have to own us, especially at this early stage. As we execute on our plan we'll build significant shareholder value and the rest will take care of itself.
GOD: To succeed as a business, and not just a proof of concept, AirPlay very much needs to penetrate the mainstream, be it football fans, or film (Oscar) fanatics. As a start-up it isn't always feasible to run TV spots on ABC or ESPN. What is AirPlay's current marketing mix, if there is one? If the company is too young for a big marketing push, what do you envision the marketing mix will look like?
MG:
You're absolutely right – this is a mainstream business as opposed to a business focused only on gamers or sports fans. If you watch television and have a cellphone, you're part of our market. That's the good news. The challenge is to educate and drive adoption through messaging which segments this market across multiple content, demographic and geographic categories. Over the long run that's television and other targeted media ad buys. But in the short run, especially as a start-up company, you look to leverage partner resources and to create win-win programs like trading revenue share for customer acquisition. And you also leverage the community and social networking foundation of AirPlay itself – I want to share the experience with my friends and will find ways to make that happen.
GOD: Beyond the "stickiness" (fun factor) of the program itself, does AirPlay have a rewards or loyalty system to keep players interested?
MG:
AirPlay games like live football are "games of skill," which means that we can collect fees for the game and still offer rewards and prizes to players in most states. And as we look at rewards for game play, the focus is on prizes associated with the content experience itself – like a Payton Manning jersey or an invite to the half-time meeting with Phil Jackson – as opposed to cash or straight merchandise. But don't underestimate the impact of the multiplayer competition itself -- one reason we're not leading with prizing at launch is that playing against my friends and a national audience for fun, bragging rights and "proving my football IQ" is quite sticky itself.
GOD: When we spoke last spring we talked about the technical hurdles being overcome - primarily network latency. Can you share some specifics on how this was overcome? Did AirPlay have to develop proprietary solutions? Is it still something being worked on? A network drop here could mean the loss of one's top standing on a leaderboard, not just a dropped call.
What we do is technically very difficult and that's one reason it hasn't been tried before. So our technical team is blazing new trails and solving problems that no one else has even thought about yet. One set of problems involves latency -- not only across multiple types of wireless networks but also across concurrent television broadcasts. When I set up a group competition for tonight's Cowboys-Steelers game with my two buddies, we need to have the same real time experience whether I'm on Verizon and they're on Sprint and T-Mobile and whether I'm live at the game, you're in New York watching at a bar and he's at home in San Francisco watching on his TiVo. Throw in the hundreds of different handsets out in the market and you've got a tough nut to crack. So, yes, we have developed a proprietary platform for the delivery of this real time wireless game experience that offers a turnkey solution to broadcasters, advertisers and content owners. Oh, and by the way, if you lose that network connection during the game you pick up where you left off when you get back in!
GOD: Since all games need to be "broadcast" live over AirPlay's service, and sometimes there are many games running concurrently, how has AirPlay dealt with the issue of manpower? How many people does it take to AirPlay-enable a single football game? How has AirPlay dealt with so many broadcasters being needed on a Sunday afternoon, when few/none are needed during weekdays?
MG:
I mentioned earlier the leverage inherent in our broadcast or multicast operations model. The same two production associates produce a single football game for 1000 people or 10 million people. So the only issue for us is the number of simultaneous events occurring at one time, when it comes to production costs, and the number of simultaneous users in a particular game, when you look at server side capacities. And in some instances the real time production environment itself can be automated and it can also be streamlined by pre and post production services inserted in the content streams themselves.
[This interview was produced in association with Modojo.com.]