---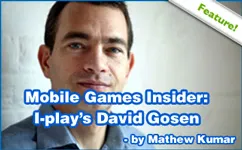 Last week, prior to E3, Digital Media Wire ran, in conjunction with I-play Nokia and QUALCOMM, the Mobile Games Insider event, an exclusive mobile games event for "one hundred of the industry 's key movers and influencers." Games On Deck talked to I-play CEO David Gosen about the event and I-play's recent purchase by Oberon.
Games On Deck: How was the Mobile Games Insider event?
David Gosen: The event was attended by over 150 people, we had some really influential panellists and speakers - Lucy Hood from Jamba, Rocky Pimentel from Glu, Larry Shapiro from Disney. We also had Dr Mark Olilia from Nokia and Mike Yuen from Qualcomm. So really high profile speakers who were very good at expressing their views, giving their opinions and stimulating some enjoyable, lively debate and discussion.
GOD: What kind of things were discussed?
DG: I think the focus was understanding what makes mobile gaming successful. What has made mobile gaming successful today, and what needs to happen to ensure that it grows from the 3 billion dollar industry it is today to a 10 billion dollar market or thereabouts by 2010. It was a discussion about the success factors that are the focus of many of the panellists and many of the delegates.
GOD: So what has made it successful, and what will ensure growth?
DG: Well, the conference went on for about four and a half hours, so I'll try and condense that down! What I would say is that there seems to be broad agreement that the mobile games market has come a long way in terms of quality. The level of quality in this industry is exceptionally high. Of course, there are the jokers in the pack that bring the overall quality level down, but we've really come on leaps and bounds over the last 12-18 months.
I think the other areas that were clearly focused on is the need to drive awareness, accessibility and to improve discoverability for mobile games. There was some recent research from Strategy Analytics that said that it takes on average 17 clicks on deck to download a game. Once we've made people aware that they can play games on their mobile phones, which, in itself is a challenge, we need to make sure the games are accessible, making sure downloading the games is a simple and intuitive as possible. That was really where a lot of the discussion was.
GOD: Do you think the carriers have a lot to answer for?
DG: The main route for mobile games today is through the carriers. And if we look at the way the deck is organised, merchandised, typically there hasn't been the great leap forward in visual appeal for the consumer. What we would love to see, and what we do see a number of carriers working on, is a way to make that purchasing process and the merchandising, far, far more intuitive. Currently, the restriction can be as strict as 12-14 characters. That's all you get to describe the game you're trying to sell.
What we need to see is an approach that treats the mobile phone screen, that game deck, like a retail shelf in Wal-Mart, for example. Where you can see a range of merchandise, products, strongly visual, sometimes featuring promotional activities, and the retail approach was a real focus at the Mobile Games Insider event in terms of the way we could improve the rate of download.
Another thing that came up was in parallel with working with the carriers, clearly the off-deck direct to consumer market is something that has great promise. Because you work in an environment that is more accommodating. The online experience has a larger screen, better technology, and therefore you have a better potential to communicate in a more consumer friendly manner. There was a lot of discussion about working with carriers to drive that merchandising approach on the decks, but also the potential we have in the off-deck online world to drive huge awareness thanks to the higher accessibility.
---
GOD: Is it just a matter of time - waiting for mobile devices to improve?
DG: If you look at what is going to drive that growth, I think you've also got to look at technology. What is fantastic to see is research from M:Metrics showing people with 3G devices are two, three times more likely to download content. That's great. As we see migration to "all-you-can-eat" data plans, there's a tremendous improvement there in terms of downloads, it's like the broadband effect but on mobile. Technology is a key driver of growth in this market. Today, 3G penetration is probably only as much as 15%, so, we've got a lot of positives to come from technology in the next 12 or so months.
GOD: You were quoted recently that you saw the lack of mobile at E3 as a snub. Why do you think that the PC and console games industry overlooks the mobile games industry?
DG: I think E3 is focusing on its roots. It's a function of going from a huge show down into a much smaller, even elitist gathering, as it were. If you look worldwide you can see that the mobile games industry is understood to be a significant opportunity by the rest of the industry, with moves such as EA purchasing Jamdat, Ubisoft's ties with Gameloft, there's no question that the mobile games industry isn't important.
It's just that this year E3 didn't want the focus to drift to mobile gaming, they wanted it to stay at its core roots with the console manufacturers.
GOD: How have things been with I-play since the purchase by Oberon?
DG: We're finding it to be a very complimentary fit indeed. I-play is going to continue to drive mobile gaming, and we expect to see some major advantages by working with Oberon in terms of cross-platform development and we're looking at how we can work with them to open up the off-deck opportunities (while obviously still working with carriers) to raise that consumer awareness.
We're looking to work towards, for the first time, a true "triple-play" controlling the three screens of online, mobile and iTV. I think that's a pretty compelling proposition.
GOD: Oberon obviously has a huge amount of their own IP - is I-play maintaining it's commitment to its own IP and new IP?
DG: That's a really good question, as you know the mobile market is pretty much dominated by licensed products. We will absolutely be looking a taking some Oberon IP to mobile, but likewise we want to take our IP from mobile to web in return. What's been interesting as well is the response from our partners, now that we represent the perfect opportunity for brands to be launched or extended across multiple platforms in a synchronous way. So you could be launching a movie, and on that day and date that you release it, you can release games on mobile, web, on Live Arcade, across a number of different platforms. That opens up significant opportunities, not just for us and Oberon, but for our partners as well.